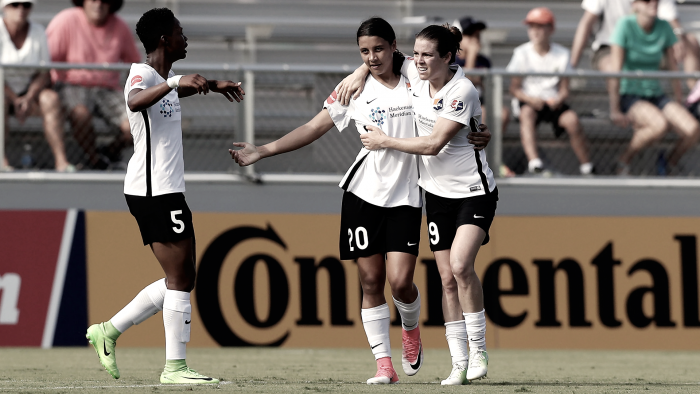 FC Kansas City are in New Jersey for the second time this year to face Sky Blue FC. Sky Blue are coming off a big road win against the Courage, while FCKC is coming off a loss at home against the Dash.
When the teams met earlier this year in New Jersey, Sky Blue got their first win at home. A late goal from Raquel Rodriguez put Sky Blue up and sealed their 1-0 victory. The match will take place at Yurcak Field and kickoff is set for 7:00 p.m. ET. The match can be watched on the go90 app or website.
Sky Blue FC gearing up for home stretch
Sky Blue is getting ready for a long stint of matches at home; they have played eight of their first thirteen games away from home. This Sky Blue team has been great on the road, earning 10 points in the eight road games they have played. However, they will play seven of their next ten games at home.
It was back in April that Kailen Sheridan got her first clean sheet when Sky Blue got a 1-0 win over FCKC. Sheridan recorded her second shutout of the year on the road in week 10 against the Courage. Sheridan made four saves against the Courage, totaling her saves to 50 on the year. The rookie is in second for league saves, three behind Haley Kopmeyer.
Sam Kerr had the game-winning goal against the Courage. Now, the Australian has scored four goals in as many games. Kerr was named NWSL player of the month in back to back months of May and June. She is three goals behind Megan Rapinoe for leading goal scorer but tied with Marta at six goals.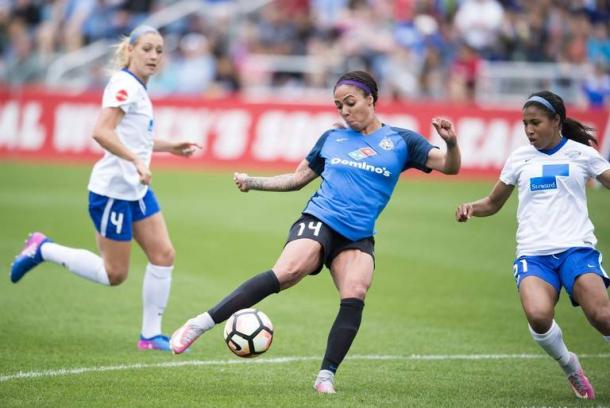 FC Kansas City in a slump
The story is not the same for Kansas City, as they are gearing up to play five of their next seven matches on the road. That could be a good thing for FCKC as they are the second-ranked road offense in the league. The Blues have scored nine goals in six games, five more goals than they have in their six games at home. However the Kansas City side are winless in their last five games, three were on the road. Nicole Barnhart and Becky Sauerbrunn will look to stop Kerr and break out of their recent slump.