The Portland Thorns made amends to their semifinal lost last season, as they nipped the North Carolina Courage 1-0 at Providence Park.
Australian Hayley Raso scored the only goal in the 70th minute, with the home side claiming all three points.
Few chances created in first 45
Ashley Hatch had the first attempt on goal for the North Carolina Courage seven minutes into the contest. She cut the ball back to the top of the box before hitting a weak attempt to Portland's Adrianna Franch.
In the 23rd minute, Allie Long took an audacious shot from well outside the area. It was not a well hit ball, and as a result, Katelyn Rowland watched it roll into her arms.
North Carolina created a good looking half-chance 11 minutes before the interval. Makenzy Doniak floated an excellent cross in towards the far post. It was a good thing Franch was able to catch the delivery, because Hatch was waiting at that side of the frame.
Two minutes before the break, the visiting side created one of the better opportunities of the first half. Taylor Smith made a good, diagonal run with ball from the right side of the pitch into the box. She then tried to find Hatch at the near post. The end product was the last thing missing from that move, as Hatch fired her header wide.
Raso scores only goal
The Thorns had been mounting a bit of pressure to start the latter half, when North Carolina created an opportunity in the 54th minute. McCall Zerboni hit one from some distance away from goal. While it was going wide, Franch made sure she had it in her hands.
Debinha snuffed out a Portland pass before finding Jessica McDonald inside the area. McDonald, who's coming off an injury, kept the ball neatly before getting a weak shot away.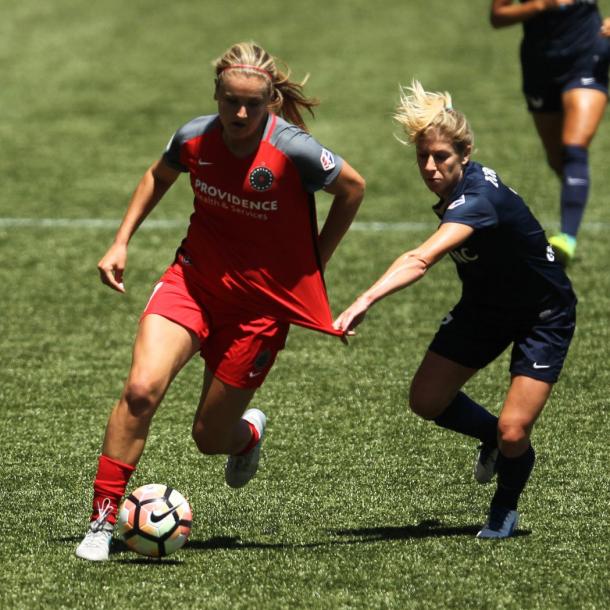 A goal looked to be coming in this half, and it did in the 69th minute. Lindsay Horan tracked down a poor clearance by Smith before playing a pass back to Meghan Klingenberg. Klingenberg sent in one of her trademark crosses, right to Hayley Raso, who nodded in the header easily.
North Carolina continued to look for the equalizing goal, and in the 85th minute, they nearly found one. Elizabeth Eddy sent a dangerous ball into the area, but Franch read it well and came off her line to nab it. If the Portland goalkeeper was not there, a Courage player was making a run to that far post.
On the 90th minute, one of the best opportunities of the match occurred. Smith collected the ball, and fired a shot from long range. It dipped and Franch got a touch on the ball before it hit the crossbar.
Coming Up
The Portland Thorns continue their homestand next Saturday night, where they welcome in struggling Washington Spirit.
North Carolina, meanwhile, will continue to play away home, as they take on FC Kansas City.