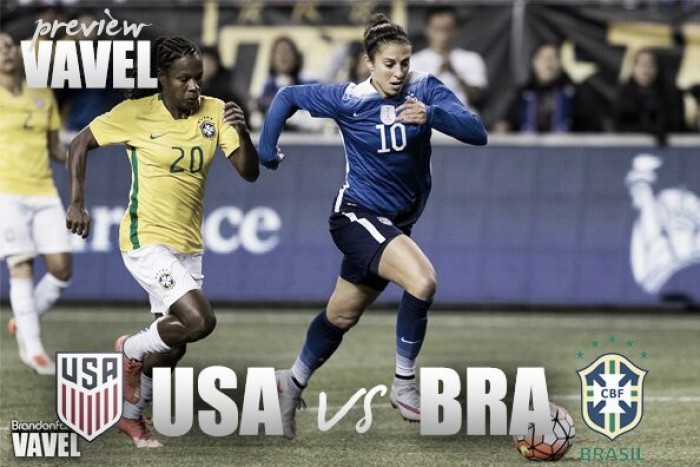 The 2017 Tournament of Nations continues this Sunday, and host nation USWNT will play the second game of the day when they take on the Brazil Women's National Team. Both teams are looking to climb the tournament table, but the USWNT may be in very big trouble if they don't earn results from this match.
In the first time in history, the USWNT has lost to the Australian Women's National Team. They suffered this lost on opening day of the Tournament of Nations, when forward Tameka Butt put a goal in for the Westfield Matildas in the 66th minute. Although goalkeeper Alyssa Naeher made plenty of impressive saves, it wasn't enough. The USWNT was unable to answer the goal, and they were only able to manage three shots on goal for the whole game. Frustration runs through the USWNT and it will fire them up for this next match against Brazil.
Brazil was able to find a very late equalizer against Japan in the tournament's opening match. It was Orlando Pride's Camila with the wonder strike from distance that helped her country split points. They currently are tied with Japan for second place, and will look to continue climbing the rankings starting in their match against the USWNT.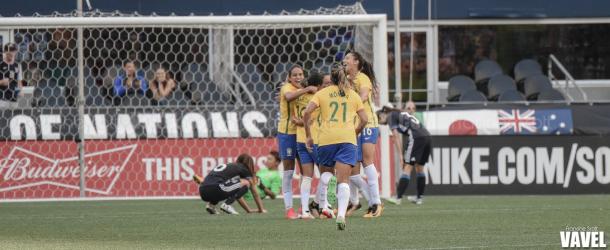 For the USWNT, doing poorly in another tournament on home soil that they created will not look too good. The experimenting continues for head coach Jill Ellis, and so far the results don't look too good. Although the three-back attempts seem to have stopped, Ellis' lineup against Australia was something else. Giving players a chance in a round robin tournament is great, but it seems like the USWNT have lost their style of play - or any style of play, really - in the process. If Ellis wants results against Brazil, she may have to put out a more experienced starting XI on the field. Being able to maintain possession is key for them, as well as putting away the chances they receive.
Brazil looks pretty comfortable at the moment. Once the nerves got out of the way, Brazil's backline was comfortable and taking care of business. If they continue to grow on their performance, handling the USWNT frontline will be a lot easier. Marta and company will definitely be a challenge for the USWNT's experimental backline, and younger stars like Camila will continue to rise to the occasion for her country. Brazil's crafty play and quick attacks can work in their favor against the USWNT, especially if they can strip possession from them as easily as Australia did on Thursday night.
The USWNT face Brazil on Sunday, July 30 at Qualcomm Stadium in San Diego, California. Kickoff is scheduled for 8 PM Eastern Time and will be aired on ESPN2.