With a quick turn around, both teams head into Week 17 with a win under their belt. The Portland Thorns moved up into 2nd place with a 3-2 win over Chicago and FC Kansas City went into 8th after beating Houston 1-0. Both teams will compete for another win as the playoffs get closer and closer.
History
The two teams have played each other twice already this season. With the first one back in May, the two teams settled for a 0-0 draw in Kansas City. Although Kansas City out shot Portland 12-9 both teams only had two shots on goal which goalkeepers, Adrianna Franch and Nicole Barnhart, were able to handle to keep the game scoreless.
The teams then met again in June when the Thorns took a 3-0 win over the Blues. Both teams had 11 shots but it was the Thorns that had six of those shots on goal and three of them hitting the back of the net. The scoring started off early when Christine Sinclair scored her first of the night in the 15th minute. In the 32nd minute, the Blues went down another as Hayley Raso shot from a difficult angle and watched it go into the top left corner of Barnhart's goal. Finally, in the 75th minute, the two goal scorers helped each other in yet another Sinclair goal. A Raso assist gave Sinclair a brace on the night as her shot from outside the box and watched it go past Barnhart and into the net.
Kansas City leads the regular season game series history with a record of 5-3-4.
Portland looks to extend unbeaten streak to six
Portland has won four of their last five games and tied the other one. As mentioned above. the Thorns are coming off a 3-2 win against Chicago that put them ahead of the Red Stars and into 2nd place, only five points behind North Carolina. Although the Red Stars had more shots, shots on goal and possession, the Thorns were able to take all three points with goals from Hayley Raso, Christine Sinclair, and Emily Sonnett.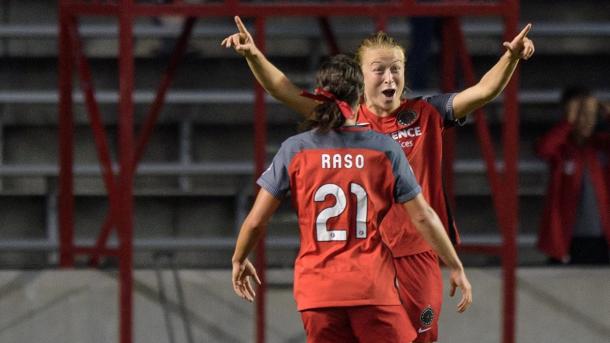 Portland is still without US international, Tobin Heath but by the looks of it, they have been able to deal with this loss. Australian international, Hayley Raso has stepped up big lately and has been able to create many chances for her team. Also, with the move of Canadian international, Christine Sinclair to more of a center midfielder, the Thorns have more ability to create opportunities. Another key player for the Thorns at the moment has been center back Emily Sonnett. Sonnett has come in big with two game winning goals in the last two games. Sonnett and the Thorns will look to continue their unbeaten streak against FC Kansas City.
Kansas City giving one last fight
With only seven games left, the fight for playoff spots is getting pretty tight. Just last week, the Blues sat at the very bottom of the table with not much hope for the playoffs. Now, they have moved up and currently sit in 8th, four places away from playoffs. In their next five games, Kansas City will play Portland, Chicago Red Stars twice, Orlando Pride and Sky Blue FC. All four teams still in the race for the top four spots. You may look at these games and think the Blues are for sure out but they aren't giving up hope. After taking a 1-0 win over Houston, the Blues are more than ready to get more wins under their belt and inch up the standings.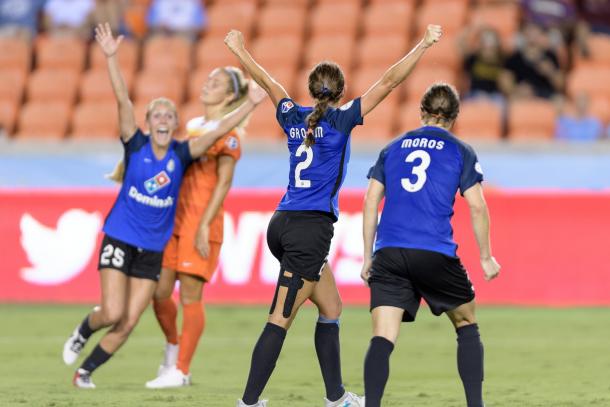 Goalkeeper Nicole Barnhart was able to to get her first shutout against Houston since May. As the Blues were also able to get their first win since then as well. With a goal from Shea Groom, the hopes of Kansas City have begun to rise. Although they have lost three of their last fives games they weren't necessarily a huge loss. Two of those losses were by one goal. The Blues have the ability to get another win and do it at home it's just whether or not they will to be able to do it against a very strong Portland Thorns team.
The two teams will battle it out on Wednesday, August 16th at 8:00 pm ET. The match will take place at Swope Soccer Village in Kansas City, Missouri. You can stream the match live on the go90 app or at nwslsoccer.com.