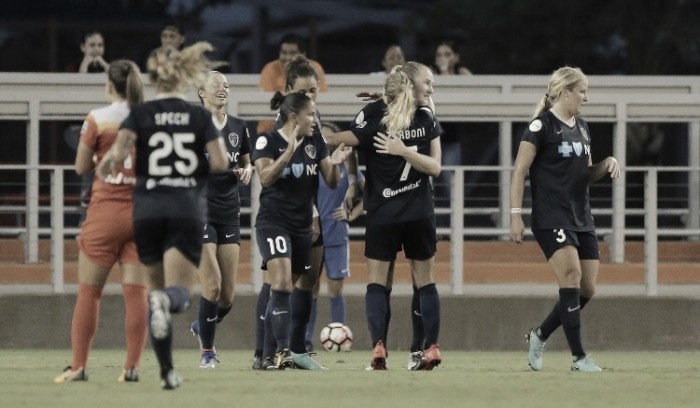 Tonight, the North Carolina Courage traveled to Edinburg, Texas to reschedule a match with the Houston Dash at H-E-B Park. From tonight's results, the Courage stands at 16-6-1 and is tied with the 2014 Seattle Reign for the most wins in a single NWSL season.
Competing for early goal opportunities
Within the first several minutes, the Dash set the bar high with their playing level of intensity. In the ninth minute, Dash midfielder Amber Brooks took a free kick and Courage goalkeeper Sabrina D'Angelo quickly took charge to make sure that forward Sarah Hagen didn't have an open opportunity for a header from Brooks kick.
The Courage came back relentlessly and in the 13th minute, Sam Mewis dribbled her way through the Dash defense and took a low shot on goalkeeper Jane Campbell, who wasn't able to save the ball, and Mewis scored her sixth goal of the season, which gave the Courage an early 1-0 lead.
North Carolina continued to find the ball and defender Abby Erceg almost completed the second goal for the Courage, but her shot in the 20th minute was deflected by the crossbar. In the 38th minute, Ashley Hatch passed the ball to Lynn Williams who then dribbled the ball all the way to the goal on the left side of the field, cut the ball past two Dash defenders, and then took a right foot shot to increase the Courage's score to 2-0. When the 45th minute came around, one minute of stoppage time was added and the score remained the same. The Courage confidently walked away from the field with two goals to their advantage while the Dash needed to re-group to see goals reach the back of the net.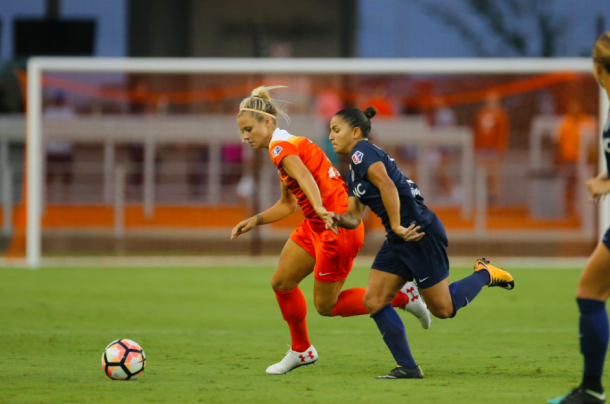 The Courage breaking NWSL records
Coming off a first half high, North Carolina took the field and were already on the run. In the 51stminute, Mewis was on the run once again, she nonchalantly gets by the backline until she can no longer keep the ball and passed it to Williams at the center, who flicked the ball to midfielder Débora Cristiane De Oliveria, also known as Debinha, who scored the third goal of the match.
Five minutes after the Courage celebrated their third goal from Debinha, Hatch had an opportunity on goal with a ball from Debinha and scored her seventh goal of the season as she brought the score up 4-0. Two minutes of stoppage time were added, but when the whistle blew, North Carolina earned their 12th shutout of the season, which is the most in the history of the NWSL and they also earned the NWSL Shield.
North Carolina Courage will host their last home match this Saturday, September 30th against the Orlando Pride, which will take place at 7:30 p.m. ET. The Houston Dash will travel to face FC Kansas City as their next match will be on Sunday, October 1st.