 It had been 17 months since the United States Women's National Team played Canada in the Olympic qualifying. The game ended 2-0 in a thriller in which the USA scored two second-half goals from Tobin Heath and Lindsey Horan.
The Canada-USA rivalry goes back to 1987 and since then the Canadian side has gone 3-6-47 and was looking to try and get their first win since 2001. Included in the 47 that they lost is the 2012 Olympic semifinals in which the USA won 4-3 with an AET goal from Alex Morgan.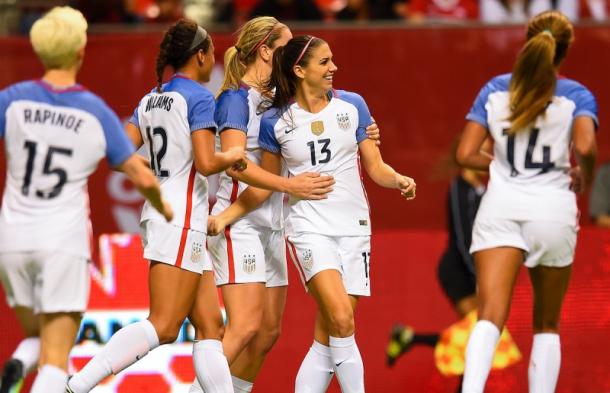 How the United States Played
The United States has been in a bit experimenting phase since their sad quarter-final exit at the 2016 Summer Olympics in Brazil. Since then they've used the dreaded 3-5-2 and it didn't help that they but a midfielder in the center back spot. But thankfully they locked in a 4-4-2 or a 4-3-3. Overall the US played well for going against a strong Canadian team. There were times where the backline was really tested and stretched thin, but with Becky Sauerbrunn they were able to keep Christine Sinclair from scoring. It seemed like Abby Dahlkemper was having an off night, but hopefully, she'll get her mind back into the game and have an amazing game on Sunday.
How Canada Played
Canada has been such a good team in the past year and a half to two years. Hosting the 2015 FIFA Women's World Cup and then winning the bronze at the Olympics. Last nights game I thought that this was one the best Canada has ever been. They pressured from the opening whistle, which leads them to getting tired as the match went on. There was a slight scare when goalkeeper Stephanie Labbe went down in the 20th minute, but after receiving treatment she went on to play the rest of the match. Despite going down early they only pressured more and got a goal back. Sunday's game should be interesting, because it went like how last night's went, then we are in for a wild match.
What to look for on Sunday
Sunday will bring the USA back on home turf and hungry for a win. Expect Lloyd in the lineup and perhaps Ashlyn Harris in goal for the USA. As for Canada, Labbe might play but newcomer Kailen Sheridan might get the nod in goal in what would be her 5th cap and her first against the United States. Also, expect Maegan Kelly to see some more minutes off the bench if she doesn't start but she might base on her performance last night. Overall expect another great rivalry matchup and who knows, Canada might just get the win.