 The Seattle Reign will have a new addition to their squad for the 2018 season. English striker, Jodie Taylor, is packing up her bags and heading to the NWSL. The forward is saying goodbye to Arsenal Women, heading to Australia for six weeks and than to the rainy city of Seattle.
Back in 2016, after Taylor signed with Arsenal, she tore her anterior cruciate ligament. During the 2017 season, Taylor scored two goals in three appearances for the Gunners and is looking to further strengthen her play in America. Before heading to the NWSL, Taylor will play in the Westfield W-Leauge season with Melbourne City. The W-League will not be a new thing for Taylor. She has played with Canberra United, Sydney FC and Melbourne Victory, where she scored a total of 23 goals.
The forward has also played in the NWSL before. In 2014, Taylor played for the Washington Spirit where she scored 11 goals in 22 appearances, leaving her as the 3rd highest goal scorer that season as well as winning Player of the Week. Before joining Arsenal Women in 2016, Taylor played with the Portland Thorns in 2015. Taylor scored three goals in seven appearances for the Thorns.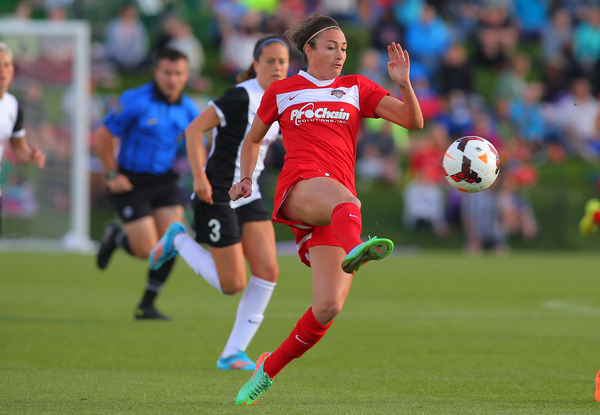 Jodie Taylor is no stranger to women's soccer. Taylor is a star player for the England Women's National Team and has been a part of key, high class games. During the 2017 UEFA Women's Euro tournament Taylor won the Golden Boot after scoring five goals for her English team. Opening up the tournament, England beat Scotland 6-0 with Taylor scoring a hat trick. As well as scoring the only goal in England's 1-0 win over France in the quarterfinals. To add to her resume, Taylor has scored 15 goals in 30 internationals appearances.
The signing of Jodie Taylor will be the first major move for new head coach, Vlatko Andonovski. Not only will the addition of Taylor be great for the offensive side for Reign, being able to bring Taylor back to the NWSL is a great step forward for the league as a whole.