 Earlier today, Sam Kerr was crowned the Asian Football Confederation's Women's Player of the Year for 2017. The Australian won the award over Japanese international Saki Kumagai, a rising star from DPK Sung Hyang. Kerr joins two other Matildas who have won the award: Katrina Gorry in 2014 and Caitlin Foord in 2016. Kerr is the third Matilda to win the award in four years.
2017 has been an amazing year from the forward. She scored 17 goals for Sky Blue FC in the NWSL, becoming the only person to score four goals in a single match. Kerr became the leading goal scoring for a single season, and overall in the NWSL with her 17 goals for the 2017 season. She went on to win NWSL Golden Boot and NWSL MVP.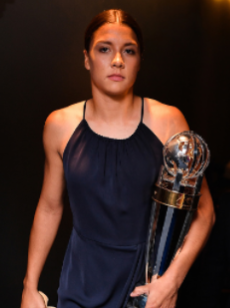 On top of her NWSL season in the 2017 Tournament of Nations Kerr scored the most goals in the tournament with four, three of which were scored in a hat-trick against Japan. Kerr is also up for three CONCACAF awards due to her performance in the 2017 NWSL saeson. She is nominated for Player of the Year, Female Best XI Forward, and Goal of the Year.
In the international level, Kerr has scored 11 goals in six straight games for the Matildas. Scoring four goals in the two matches against China and two against Brazil in September.
"It's been a bit of a crazy year but I just want to say thank you to every one of my support staff for their help this year, they know who they are, and most importantly to my teammates because without them none of this would have been possible," Kerr said when she received the award earlier this morning.
Fans can vote for Kerr for CONCAF Player of the Year until Thursday, December 7th at 11:59 E.T., CONCAF Female Best XI-Forward, and CONCACAF Goal of the Year until Wednesday, December 13th at 11:59 E.T.