 After winning Goalkeeper of the Year in the NWSL, Adrianna Franch of Portland Thorns FC can add another award to her shelf: CONCACAF Goalkeeper of the Year.
Franch was originally drafted by the Western New York Flash (now the North Carolina Courage) in 2013, going sixth overall. She started and played in all 22 regular season matches, plus the two playoff matches. Franch made the second best XI, as well as receiving a league best of 0.91 goals-against average and led the league with 98 saves. In preseason for the 2014 season, she tore her ACL and missed the entire season.
For the 2015 season, she did not play in the NWSL but went overseas to play with Avaldsnes IL in Norway. She appeared in 15 matches for the club.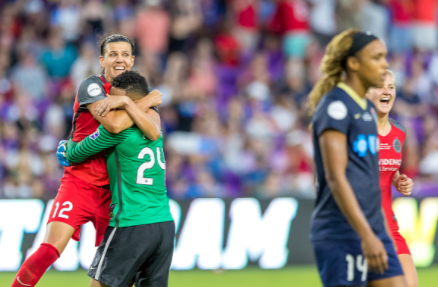 Franch has been with the Thorns since the 2016 season. During the 2016 season, she started and played in six matches, logging 540 minutes. For the 2016 season, she averaged 0.50 goals against and tallied 19 saves. The Salina native recorded her first shutout for the Thorns against the Boston Breakers on May 1st. Also on that same day, she surpassed 100 saves in the NWSL. She recorded three shutouts during the 2016 season.
The 2017 season was her best by far. Started and played in all 24 matches, as well as the two postseason matches. She now leads the league in shutouts with 11. Franch was fourth in the league in saves with 80. Two of those saves were PK saves. She won Save of the Week in week three. She also set a Thorns club record for the season when she got her eighth shutout. At the end of the season, she was named NWSL Goalkeeper of the Year, along with a Best XI selection. Franch was also named the Thorns' MVP and Community MVP.