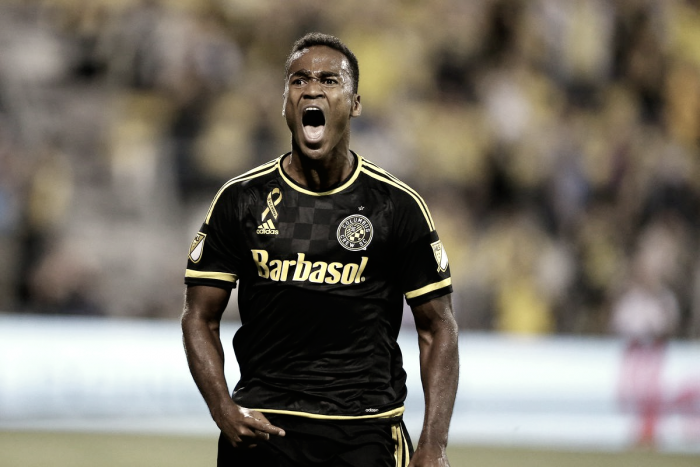 One of the most dangerous strikers in MLS in Ola Kamara has moved to the LA Galaxy in exchange for Gyasi Zardes and $400,000 in allocation money moving to the Columbus Crew. Columbus has the chance of getting another $100,000 if Kamara goes on to score 12 goals or more in 2018.
Ola Kamara has earned the right to be mentioned in the same category of strikers as David Villa, Bradley Wright-Phillips and some of the other most dangerous strikers in MLS since his arrival in 2016.
Zardes' time in Los Angeles
Gyasi Zardes began his professional career in 2013 when he signed a homegrown deal with the Galaxy in the offseason prior to the 2013 season. Zardes made his debut in April that season and scored his first professional goal just a few weeks into May after coming on as a substitute against the Vancouver Whitecaps.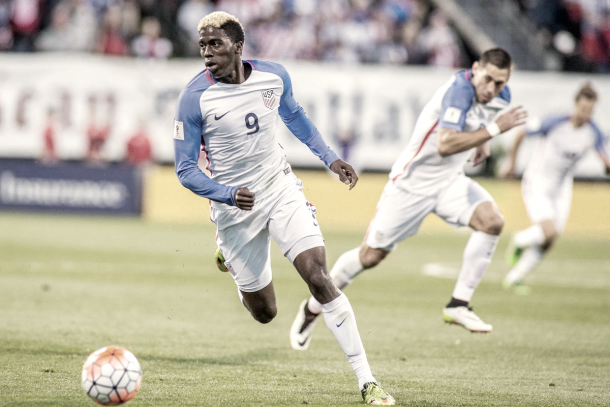 The following season was much more successful for the forward as he managed 16 goals which is a record for a homegrown player in a single season. That same season, Zardes became the first homegrown player to score in an MLS Cup final as he helped the Galaxy become the first club in MLS history to win 5 MLS Cups.
Zardes has failed to replicate his 2014 form since despite earning more minutes in the 2015 season. Grabbing six goals in 2015, and matching that total in 2016, Zardes seemed to be heading towards a downward spiral after a magnificent 2014.
Last year, in 2017, Zardes bagged just a pair of goals and a pair of assists in just under 2000 minutes. However, a change of scenery may be just what the forward needs to reach the level fans know he can play at. Zardes finished his LA Galaxy with 34 goals in 5 MLS seasons.
Kamara's time in Columbus
Ola Kamara joined the Crew in 2016 and didn't take too long to make a name for himself. In just his third start for the club, Ola managed a hat-trick in a 4-3 win over Real Salt Lake. Kamara went on to score in the following match against the Philadelphia Union to set himself up for a good career in Columbus.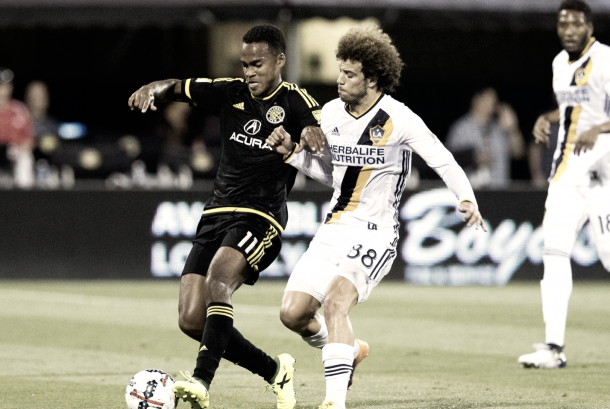 Kamara went on to score in four of his next five starts including a brace against Sporting Kansas City. Kamara finished the season with 16 goals in 20 starts. However, that was just the beginning.
In 2017, Ola Kamara helped the Columbus Crew get to the playoffs where they managed to upset both Atlanta United and New York City FC. To get his club in the position to beat these clubs, Kamara led the Crew with 18 goals and also added three assists. Like Zardes, Kamara also has 34 MLS goals, though he managed to do it in 72 fewer appearances.
2018
The move should benefit both Kamara and Zardes in the 2018 MLS season. For Kamara, he leaves the club who he grew frustrated with due to his contract. For Zardes, after years of trying to reach his 2014 form, a change of scenery may be just what he needs.