 The Chicago Red Stars announced their official schedule for the 2018 National Women's Soccer League preseason. This will be the team's sixth season competing in the league, and they look to make it all the way to the championship. For this year's preseason the Red Stars will play five matches, three of which will take place as part of the Thorns Spring Invitational.
The Red Stars will play their first presesaon match against Marquette University on Saturday, February 24. Kickoff is at 2:30 pm Central Time, but this scrimmage will be closed to the public. They will play again the following weekend on Sunday, March 4 as they take on the University of Wisconsin at 7 pm Central Time. This match will also be closed to the public.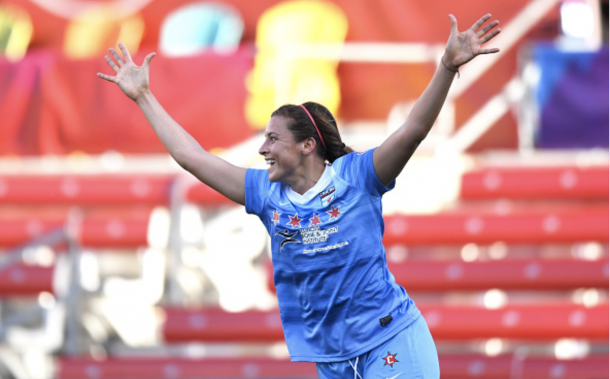 The Chicago Red Stars will then make their way to the Pacific Northwest, where they will take part in a week long tournament hosted by the Portland Thorns. They will begin their tournament taking on the hosts themselves on Sunday, March 11 at 7 pm Eastern Time. They will face the Houston Dash three days later on March 14 at 3:30 pm Central Time. Chicago will then close their tournament play against the US U-23 Women's National Team on Saturday, March 17 at 3:30 pm Central Time. The Thorns will be selling tickets to these matches starting next week. The full schedule for the Thorns Spring Invitational can be found here.
2018 Chicago Red Stars Preseason Schedule
Saturday, February 24*
Marquette University – 2:30 p.m. CT
Sunday, March 4*
Univ. of Wisconsin – 7 p.m. CT
Sunday, March 11
Portland Thorns at Univ. of Portland – 7 p.m. CT
Wednesday, March 14
Houston Dash at Univ. of Portland – 3:30 p.m. CT
Saturday, March 17
US U-23 WNT at Univ. of Portland – 3:30 p.m. CT
*closed to public