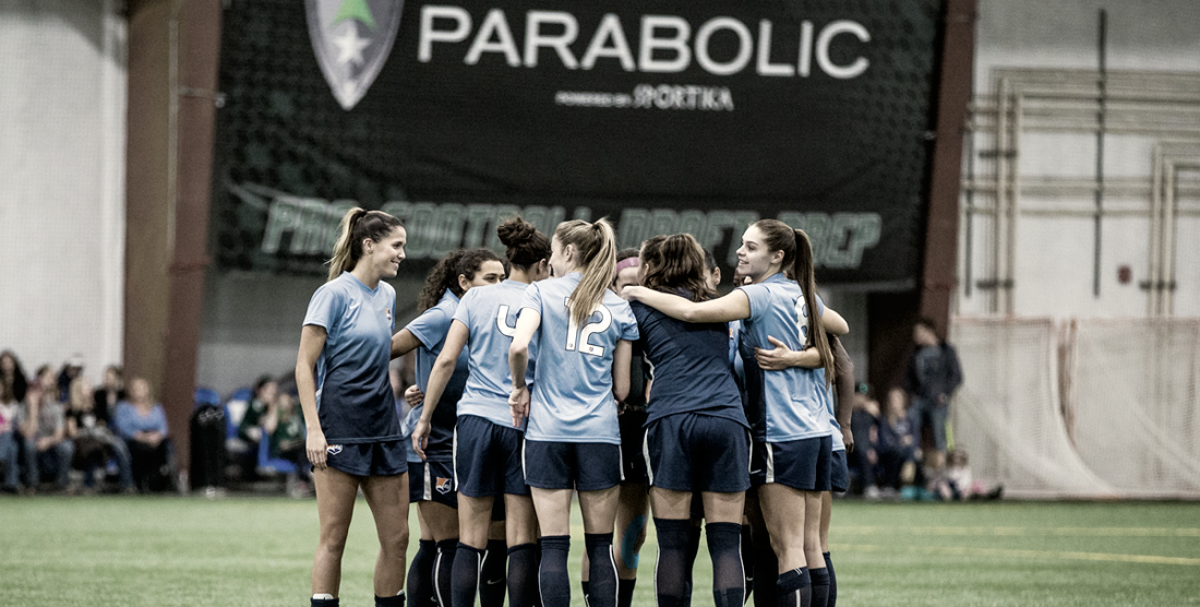 Sky Blue FC has named their official roster ahead of the 2018 season. The squad has 12 returners but has 13 new faces. Along with the new players is a new head coach, Denise Reddy, who is a New Jersey native. Sky Blue FC finished in sixth place last season after a strong middle of the season saw them in playoff contention. Departing from Sky Blue this season were Sam Kerr, Kelley O'Hara, Leah Galton, Maya Hayes, Nikki Stanton, and Taylor Lytle. Sky Blue will play their first match on the road on March 31st at the North Carolina Courage. On April 15th Sky Blue will host the Seattle Reign for their first home match.
Goalkeeper notes
Caroline Casey is now in her third season with Sky Blue. Kailen Sheridan enters her second season and is likely to be the number one keeper for the team. Sky Blue retains the rights to Casey Murphy. Murphy was drafted from Rutgers University during the 2018 College Draft. Murphy is currently abroad in France playing for Montpellier Hérault.
Defender notes
Sky Blue released three defenders: Cassidy Benintente, Mary Fiebernitz, and Monica Flores. Benintente and Flores are both New Jersey natives. Flores has spent time with the Mexican Youth National Teams and has been called into camp for the senior Mexican National Team. Benintente went to Rutgers University along with Sky Blue teammates Erica Skroski and Madison Tiernan. Benintente was signed late in 2017 due to injuries to multiple defenders, where she appeared in one match.
Midfielder notes
Sky Blue has new faces in the midfield: Carli Lloyd and Thaisa Moreno. In her third season with the New Jersey team is Sarah Killion. Also returning are Daphne Corboz, Raquel Rodriquez, and Madison Tiernan. Corboz is currently playing in France with FC Fleury 91, but will return to New Jersey for the 2018 season. Sky Blue also released midfielder Kelly Conheeney. Conheeney has spent time previously with Sky Blue, making the roster in 2016.
Forward notes
McKenzie Meehan is the only returning forward for Sky Blue. Adriana Leon and Savannah McCaskill were both picked up during the Dispersal Draft of the Boston Breakers players. Michaela Abam was drafted the 2018 College Draft from West Virginia University. Abam is ranked number eight in career goals at 32.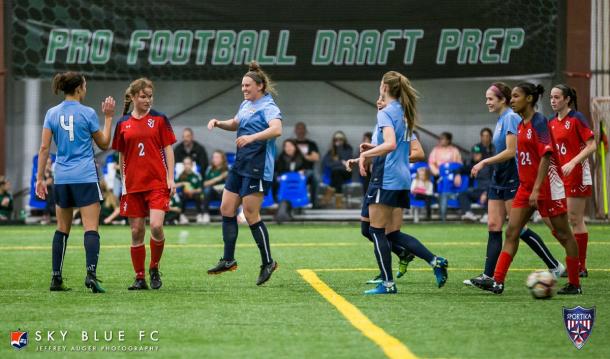 Offseason trades
Sky Blue did quite a lot of trading in 2017 offseason. Christina Gibbons and Shea Groom were acquired in a trade with the Utah Royals that sent O'Hara and Lytle to Utah. Rebekah Stott and Katie Johnson come to New Jersey from Seattle in exchange for the rights to Australian Caitlin Foord. Lloyd, Janine Beckie, and Jen Hoy come to Sky Blue from the three-way trade between the Houston Dash, Chicago Red Stars, and Sky Blue. That trade sent former Sky Blue players Kerr and Stanton to Chicago.
Full Roster and Key
GOALKEEPERS (2): Caroline Casey, Kailen Sheridan (FED-CAN)
DEFENDERS (8): Mandy Freeman, Amanda Frisbie (PEN), Christina Gibbons, Kayla Mills, Amandine Pierre-Louis (INTL-CAN), Domi Richardson, Erin Simon (D45), Erica Skroski, Rebekah Stott (INTL-NZL)
MIDFIELDERS (6): Daphne Corboz (LOA), Sarah Killion, Carli Lloyd (FED-USA), Raquel Rodriguez (INTL-CRC), Thaisa Moreno (INTL-BRA), Madison Tiernan
FORWARDS (8): Michaela Abam, Janine Beckie (FED-CAN), Shea Groom, Jen Hoy, Katie Johnson, Adriana Leon (FED-CAN, DD), Savannah McCaskill (DD), McKenzie Meehan
FED – Federation Player
INTL – International Roster Spot
ROSTERED PLAYERS NOT COUNTED AGAINST ACTIVE LIMIT:
D45 (45-Day Disabled List)- Player on the 45-Day disabled list
LOA (Loan)- Player is loaned out to another club
PEN (Pending)- Player will join club on a future date
DD (Dispersal Draft)- Contracted players acquired via the Dispersal Draft