After a busy mid-week, the Utah Royals return home to host the Orlando Pride. The Royals are coming back to home turf after a disappointing 1-0 loss to the Seattle Reign. The Pride are also in a similar boat, having endured a 92-minute weather delay on the road in Houston only to lose 3-1 to the Houston Dash. This is the third meeting between teams, with the past two face offs ending in draws.
Utah looks to stay strong at home
The NWSL newcomers have made it clear throughout the season that they remain dominant on their home turf. They've only lost one match at home so far, and they look to keep it that way as they host the Orlando Pride. Utah sits at sixth place on the table, and a win this weekend would push them closer to playoff position. It's not all said and done just yet for the Royals, but every point is going to count if they want to ensure a playoff spot by the end regular season comes to an end.
The additions of Christen Press and Sam Johnson have been tremendous for the Royals, but their defense will be lacking. The Royals will be missing defender Becky Sauerbrunn for the second time this week because of a left tibia stress reaction. They will also be without Johnson, due to accumulation of five yellow cards throughout the season. The Royals will have to make do without two starting defenders, but Laura Harvey's team has always been able to perform despite the circumstances.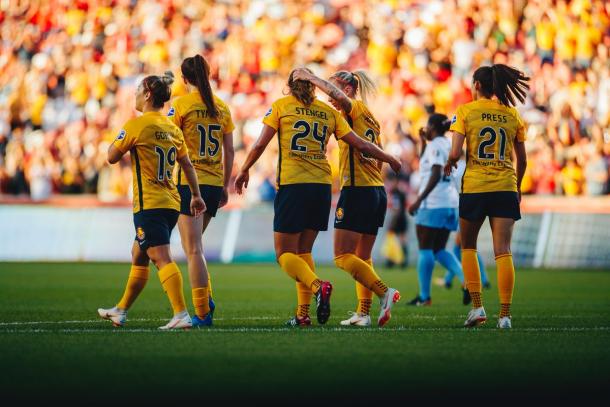 Orlando looking for consistency
The Pride dropped points against Houston earlier this week. They'll be looking to make up for that against Utah. Orlando's been having difficulty finding consistency, winning only two of their last five matches. They currently are tied for third with the Chicago Red Stars, both with 25 points, but the playoff race remains tight and being able to pick up points every week is crucial to secure a postseason spot.
However, the Pride will have to enter this match without Marta. The forward received a red card in stoppage time against the Dash and will have to sit out of this weekend's match. The Pride boasts of a threatening attack on the field and off the bench though, and players like Rachel Hill and Chi Ubogagu are just as qualified to get the job done offensively. Camila has also returned to the Orlando Pride offense, earning her first start this past week after recovering from an ACL injury she suffered at the end of last season.
The Utah Royals host the Orlando Pride at Rio Tinto Stadium on Saturday, July 14. Kick off is scheduled for 7 pm Eastern Time and will be broadcasted on ESPNews.