The first place North Carolina Courage host the fourth place Orlando Pride. Coming with three points will be crucial for Orlando as the regular season draws to a close. The Pride are currently tied at 30 points with the Chicago Red Stars, but the Utah Royals are just two points behind. However getting three points on the road against a team who has only had one loss will not be easy. Orlando is coming off a 2-0 loss to the Portland Thorns at home. The Courage drew the Red Stars in week 20, but they have already clinched the NWSL Shield. The match is set for Saturday at 7:00 pm at Sahlen's Stadium in Cary, North Carolina.
Defensive struggles
Orlando had their chances against Portland but none were good enough to put past Adrianna Franch. In both goals against Orlando, their defense was nowhere to be found. Alanna Kennedy who was center-back for the night was marking Lindsey Horan on a set piece, where the odds are always in favor in favor of Horan. Kennedy was the only one near the back post and Horan just got her body in front of Kennedy. On the second goal, Hayley Raso received the ball in the midfield turned towards goal and only had Kennedy to beat. Orlando's defense will have to be tighter and more compact if they want to make it into the playoffs. With only a few more games to play Orlando has allowed more goals than they have scored, with 29 goals for and 30 against.
Orlando's offense is being led by Sydney Leroux who has six goals and two assists in 18 matches. Alex Morgan, Rachel Hill, Chioma Ubogagu, and Marta all have four goals.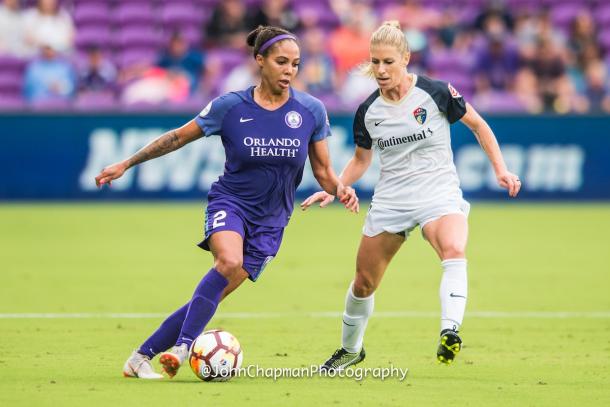 More records could be broken
The North Carolina Courage could be the winningest in NWSL history. The Courage currently sit out of everyone's reach at 50 points, having already clinched home-field advantage for the semi-finals. North Carolina could break the record for wins, points, and goals. With two wins out of their last three matches, they would claim most regular season wins. Seattle Reign FC currently hold the record for points in a single season with 54 points. The Reign also hold the record of goals scored at 50. The Courage currently have 44 goals, from ten different goal scorers.
North Carolina's Lynn Williams is second in the golden boot race, to Lindsey Horan, with ten goals and four assists. Crystal Dunn and Debinha are not too far behind with seven goals each, but five and two assists respectively. Jessica McDonald is also up there with six goals and six assists.
The only thing missing from the Courage's impressive two seasons as a club is the NWSL Championship. The Courage have been focused since day one of the 2018 and are ready for another chance to be NWSL champions.