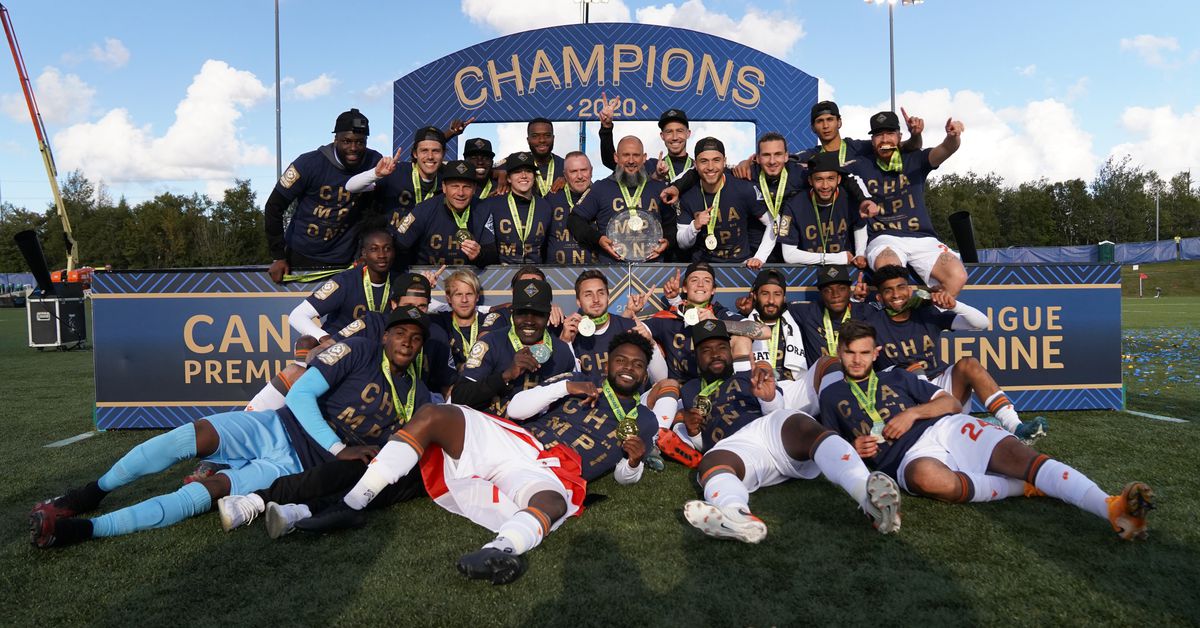 Forge FC are the CPL Champions for the second consecutive year after winning in the Final of this year's 2020 Island Games by a score of 2-0 vs HFX Wanderers FC. Goals from the swede Alexander Achinioti-Jonsson in the 60th minute and Canadian Max Tissot in the 90th to seal the title for The Hammers. In the Photo: Team with the North Star Shield.
For the Runners-Up, they proved many wrong this year as they finished dead last in the inaugural season. A complete roster turnover as 16 players left the Wanderers' ground. A decision that gave Head Coach Stephen Hart results in the bubble tournament. He gave his overall thoughts on the last couple of weeks in PEI:
''More than just a performance, their attitude in this entire tournament was one of complete professionalism. I'm very impressed, especially by the young players. Of course, there are some players that are disappointed because they didn't get to play as much as they would have liked. We showed throughout this tournament the ability to play and then when we were faced with difficult adversity, we showed our mental character. I think that will serve this team very very well. You could see today they weren't just satisfied with being in the final. Anybody that it's in the club now knows the expectations of everybody in the club. Anybody that has the ambition to come to the club knows exactly what they are coming to. It takes a while for anybody to build a certain character, that has a certain culture. I think we're well on our way to do that if we can retain the majority of the squad''
Although he missed a few games due to injury, and Jason Beaulieu stepping in prior, Christian Oxner was arguably the best goalkeeper of the Island Games after having multiple performances that made the difference. Hart elaborated on this:
''He's done well all tournament. From the time he came in. He has been tremendous throughout this [Season]. He has great qualities and can go very far.''
In the case of Forge FC; they defend the title from last year after keeping 90% of their squad. Chemistry and culture were is a strong point for this club. Bobby Smyrniotis talked about this and more post-match in a press conference with Media:
''We know winning championships is not easy. We've done it now two years in a row. The hardest thing to do is repeat, and the hardest thing after that is to do it for the third year. But we want to always put ourselves in a position to do that. That is done through our management, through our coaching staff, and through our players. And the way we bring players into this club. New players also understanding the culture that they're coming into. We've been here for I think 42 days and we've gone through many battles. Before today, and today we claimed the war. We've done a great thing for our fans back home, for all of our organization, and increasing the ability to build this culture. This is what I told the guys, the most challenging football experience. When it really matters, we're there. The focus is 100%. The desire to win. It's knowing you don't get these opportunities often. This is a unique event. We've started a positive beginning to out History.''
He was also asked about his future as a coach to move up:
''I'm definitely a person in my life that focuses on today. Today I focused on this game and tomorrow will focus on how I can make this club be even better going forward. Whether that's in CONCACAF League or the Canadian Championship, whenever we'll be able to play that game. I've personally got a big network around the world - And of course, if something were to come along in the future, that is something that is interesting as a project you always have to look at it. But I am 100% happy here in what I'm doing in Forge and continuing to build.''
Final Score: Forge FC 2-0 HFX Wanderers
Statistics of the Match
| Statistic | Forge FC | HFX Wanderers FC
| | | |
| --- | --- | --- |
| Shots | 11 | 7 |
| Shots on goal | 5 | 2 |
| Possession | 44.3% | 55.7% |
| Corners | 11 | 2 |
| Fouls | 18 | 18 |
Highlights from Onesoccer, Official Broadcasting Partners:
This wasn't the only thing that was awarded today. The CPL Awards were also given. HFX Wanderer's Forward Akeem Garcia was named Golden Boot winner the league announced. Having scored six goals for the Trinidad and Tobago International. Beating out Pacific FC's Marco Bustos and Kyle Bekker in the process.
While the season may be over for the seven clubs, for the defending champions they still have work to do. Having won last year as well, they qualified for the CONCACAF League as well as next year's edition. This year the tournament takes place from October 20th, 2020 to January 28, 2020.
The draw will be held on 21 September 2020, at 7 pm ET in the CONCACAF HQ's in Miami, Florida, USA. Forge placed in Pot 2 with Verdes, Managua, Comunicaciones, Antigua, and Cibao.
For the Hamilton-based club it's a good thing since they will be in rhythm as they will have to face Toronto FC in the Final of the Voyageur's Cup, with the winner of that will have the honor of representing Canada in the 2021 CONCACAF Champions League with a date To be determined from Canada Soccer.