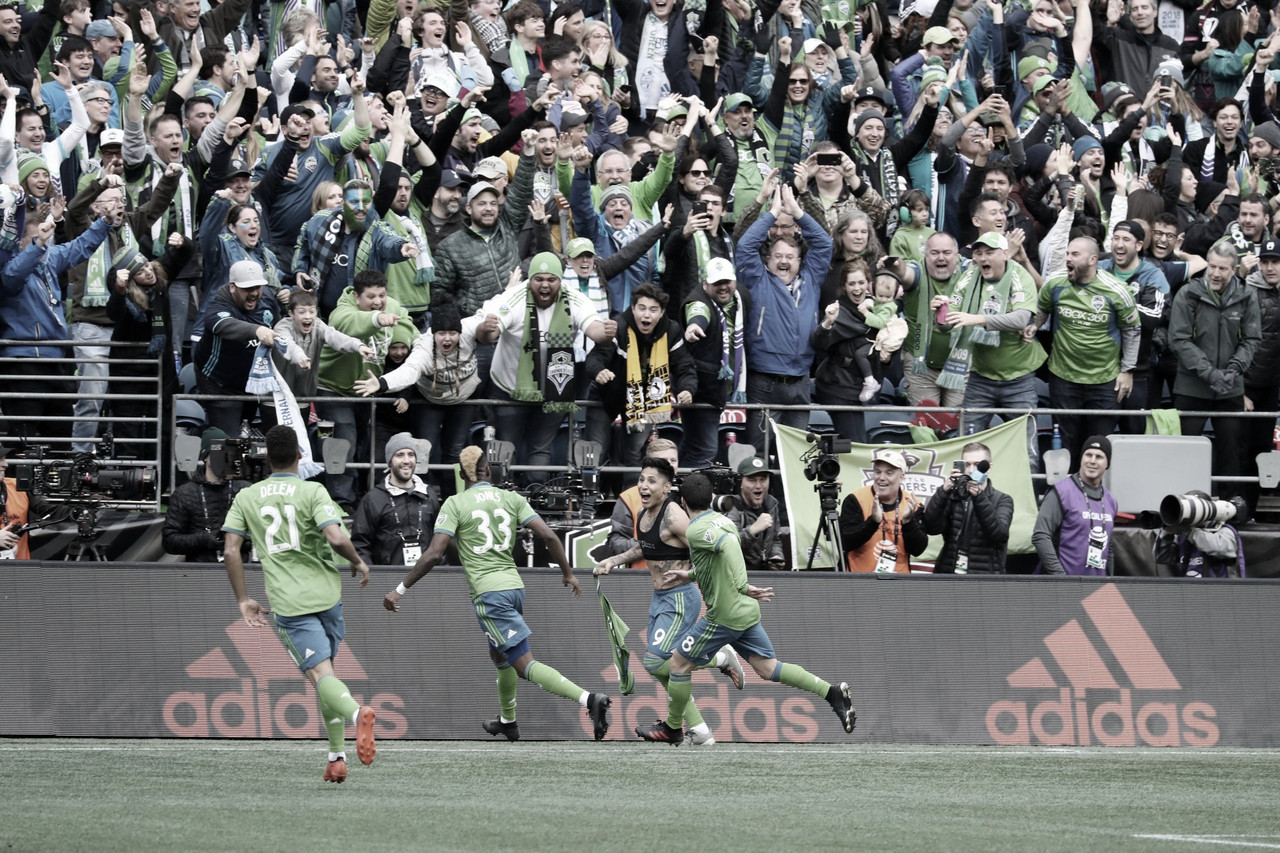 This Monday, the Vice President of Communications for MLS gave an exclusive interview to VAVEL and spoke about the league's projections on and off the field. Dan Courtemanche assessed the progress since the foundation, the current scenario and what the company expects for the coming seasons.
Without a doubt, American soccer is one of the fastest growing in the Americas and in the world. Both in technical terms as investments in infrastructure and market value. The league follows unique molds in the four lines, for example, there's no relegation and promotion. In addition, they follow a unique "financial scheme" and are extremely strict with fiscal responsibility.
"Major League Soccer has quickly become one of the top soccer leagues in the world, and the commitment, dedication and investment from our owners remain the driving force behind the league's success. MLS started as a 10-team league back in 1996, and will soon have 30 clubs, making it the globe's fastest growing soccer league. Led by our visionary owners along with the passionate soccer fans in the U.S. and Canada, MLS has elevated the profile of soccer throughout North America.
Prior to the formation of the league, our founders reviewed many other professional sports leagues in North America and throughout the world. The analysis of those other leagues factored into the MLS' decision to establish a single-entity business structure. Under this structure, our owners purchase the right to operate a club in a local market. Owners and club presidents make decisions on which coaches to hire and they secure all of their players, but certain revenues -- such as national and international media rights -- are shared amongst our clubs.
The single-entity structure has served as the foundation behind the league's success and had helped us grow the league during the last 25 years", said Dan Courtemanche to VAVEL.
Asked about Major League Soccer's plans, goals and objectives, the representative spoke about the arrival of new teams, the creation of new stadiums, the development of athletes and much more.
"Since 2005, 20 teams have joined Major League Soccer -- an unmatched run for a major professional sports league in this century. With six new clubs scheduled to debut in the next three years and seven more stadiums opening during that time, MLS remains a growth story.
Since MLS is a league that competes in two of the largest geographic nations in the world with a combined population of more than 355 million people, the league has the ability to have 30 clubs. This season MLS has 26 clubs, and during the next three years we will expand to 30 teams, with Austin debuting in 2021, Charlotte in 2022 and Sacramento and St. Louis in 2023. In addition, new soccer stadiums are being built in Columbus, Austin, Cincinnati, Nashville, Sacramento and St. Louis, with several more – including a stadium for Inter Miami CF -- in the planning stages. The average cost of these stadiums is more than $300 million.
We're fortunate to have the most diverse group of players in the world as MLS clubs are home to players born in 75 countries. Our league features a mix of world-class international players, U.S. and Canadian national team stars, and top young players developed in MLS team youth academies. As billions of dollars have been invested in stadiums, training facilities and initiatives such as our MLS NEXT player development program, we expect to see our teams develop many additional players who will have an impact on their club and play a prominent role on their country's national team in the coming years.
Those players are competing in front of some of the largest soccer crowds in our hemisphere, as clubs like Atlanta United and Seattle Sounders regularly draw upwards of 70,000 fans. As MLS has more than doubled in size during the last decade, the popularity of soccer has reached an all-time high in the United States and Canada. A recent Gallup poll stated that soccer ranks second in popularity as a "sport to watch" among people 18-34 in the U.S., behind only gridiron football. During the last decade, soccer's popularity in the U.S. has tripled, and the sport has also seen similar growth in Canada.
There is tremendous momentum behind our league, and it's an exciting time for everyone involved with MLS as our best days are still ahead of us."
The championship is increasingly competitive. Since 2007, the league has attracted great players worldwide. However, since 2015, this flow has been intensifying. However, not only with experienced athletes. There's an immigration of young promises to both North American countries.
"Major League Soccer has quickly become a league of choice for players, coaches and fans. While high-profile players such as Gonzalo Higuaín and Blaise Matuidi are signing with MLS clubs, the league has become extremely attractive for rising stars such as Argentina's Cristian Pavon and Uruguay's Brian Rodriguez -- two players who are becoming regulars with their respective national teams while playing in MLS.
Players enjoy coming to MLS because of the intense competition on the field, world-class facilities, passionate fans and strong economic foundation. They also like playing in a league that provides competitive balance due to the compensation structure. With 10 different MLS Cup champions during the last 13 seasons, every player and MLS fan begins the year with the belief their club can win MLS Cup."
Major League Soccer's success is reaching a global scale thanks to broadcast rights negotiated by league leaders. This benefits in the negotiations of young athletes that arouse interest from different clubs around the world. In addition, it adds market value.
"MLS matches are televised in more than 190 countries, reaching soccer fans all over the world. When David Beckham joined the LA Galaxy in 2007, he elevated the profile of MLS and was a catalyst for the incredible growth we have seen during the past decade. Some of the most prominent television networks broadcast MLS matches, including SKY Sports, ESPN Latin America and DAZN Brazil.
Our players come from nearly every continent, and we are fortunate to have fans across the globe who watch us on television and buy club merchandise. Of course, player signings will have an impact. When Carlos Vela came to MLS we saw more interest from Mexico. We are now seeing the same reaction in Argentina with the arrival of Higuain. Soccer fans in England, Germany and Spain are also watching MLS closely, looking to see if the next Alphonso Davies, Miguel Almiron or Tyler Adams will sign with their club."
In 2026, the United States will host the FIFA World Cup together with Mexico and Canada. An excellent opportunity to develop soccer, expand business and showcase your infrastructure to the world.
"The 2026 World Cup will bring to the U.S., Canada and Mexico unprecedented attention to our sport, clubs, training facilities and stadiums. The 2026 World Cup will mark the 30th anniversary of Major League Soccer's debut, and what better way to celebrate the founding of the league that was also born out of a World Cup. It will certainly be a historic moment for the sport in the United States and Canada.
Also, it is rare in business to have the opportunity to be able to plan for a special moment. By winning the right to host the 2026 FIFA World Cup, we now have a six-year run-up to the world's most important sporting event. We certainly see the next few years as a terrific opportunity to continue growing the league and broaden our fan base", said Dan Courtemanche.
Remember that the United States hosted the World Cup in 1994, when Brazil was consecrated champion against Italy at the Rose Bowl.