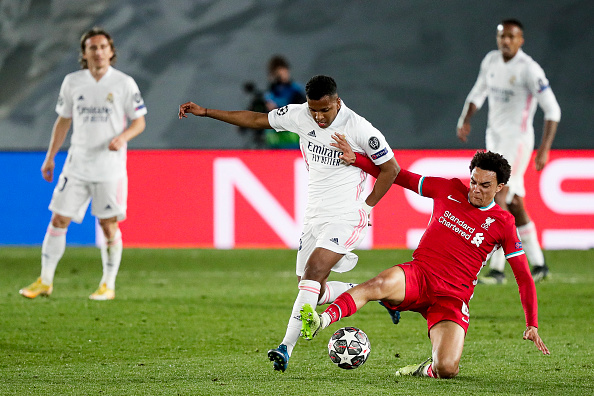 Real Madrid officially landed in Liverpool as they get set to face their English opponent in the second leg of their quarterfinal with a healthy 3-1 lead on aggregate.
As usual, on Tuesday it was time to face the English and Spanish media ahead of the big game with the German Jurgen Klopp speaking before the legend in Zinedine Zidane.
Klopp told VAVEL USA what he thinks it will take to get the breakthrough vs Real Madrid on Wednesday night.
" To beat Real Madrid you have to defend Real Madrid on the highest level because the offensive qualities are incredible, if you deny them well then these things are possible and that's what we will try and we cannot invent things just because we are 3-1 down and we will use the usual tools of football"
Once again they will be without the likes of defensive superstar Sergio Ramos or even Eden Hazard while Rafael Varane is out due to the positive Covid test.
" I think what we are trying to do is get through tomorrow, we know the sort of game to expect tomorrow, it's going to be difficult but we need to continue what we have been doing recently, we need to compete well, defend well and attack when we get the chance, were very prepared to face this game tomorrow Zidane told the Spanish media.
Tomorrow's game at Anfield will be played behind closed doors once again due to Covid and Zidane gave his thoughts on whether he would prefer a stadium full of fans or empty.
" We can't do anything about it can we, it is what it is, we didn't have fans at the home leg in the first tie, we just got to accept it and play without the crowd".
Tomorrow winner will get a semi-final spot either against Chelsea or Porto and that is where the motivation lies even if the home side finds themselves staring down a scenario where they need to score two goals and avoid conceding one.
" We are 3-1 down and it looks like we are already out, it looks like we don't have a lot to lose so we will give it a try and I think that's the job we have to do and that's exactly how we will go through it.
Kickoff is scheduled once again for 9:00 pm local time at Anfield in Liverpool.