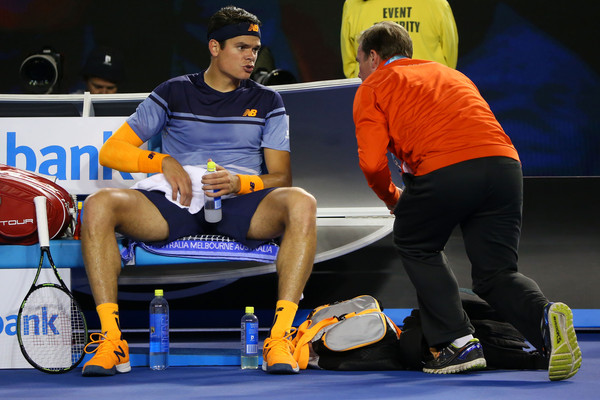 Milos Raonic scored arguably the biggest win of his career on Monday, defeating 2014 Australian Open champion Stan Wawrinka 6-4, 6-3, 5-7, 4-6, 6-3 to reach the quarterfinals for the second year in a row. Raonic had not even taken a set against Wawrinka in four previous tour-level meetings, although he had beaten the Swiss in Abu Dhabi earlier in the month in an exhibition match. This time was different with Raonic's serve on fire and his net game gave Wawrinka nightmares.
Raonic Powers Through First Set
The big Canadian, primarily known for his powerful serve, wasted no time getting into a rhythm on his return. The 13th seed pushed Wawrinka to deuce in the opening game of the set. After that, both men settled into rhythms on their serves. In an interesting choice, Raonic often opted to drive his powerful serve straight at Wawrinka rather than going for the ace. The tactic was very effective, often resulting in missed returns or easy winners. With the set tied at 4-4, Raonic made his move. He raced out to a 15-40 lead on the fourth seed's serve. Those were the first break points of the set and Raonic converted when the Swiss dumped a forehand into the net. The Canadian followed up the break by easily serving out his first ever set win against Wawrinka.
Wawrinka Lapse Allows Raonic to Roll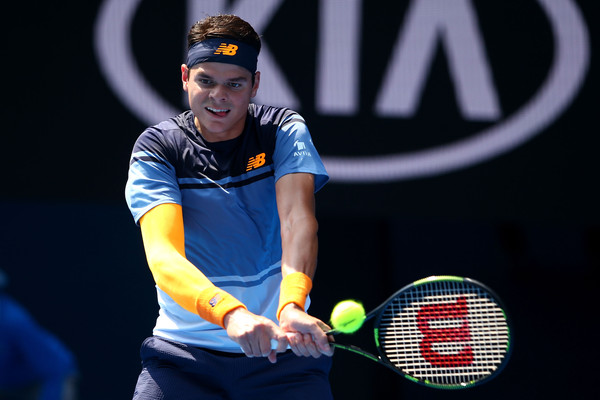 Down a set against Raonic for the first time, Wawrinka quickly rebounded in the second set. He brought up his first break point of the match in the second game and converted on a Raonic unforced error. The Canadian bounced back immediately, taking advantage of some sloppy play from the 2014 champion to break him twice during a run of four straight games to lead 4-2. With Wawrinka serving to stay in the set at 3-5, the 13th seed continued to pour on the pressure. Raonic saved a pair of game points before bringing up a set point, which he converted when Wawrinka was forced into a wild error. That left Raonic ahead two sets to love.
Wawrinka Strikes Late to Stay Alive
Raonic was not going to let his foot off gas in the third set, winning his first eleven points on his own serve in the set. He had a chance to blow the match wide open when he held a break point in the 4th game, but Wawrinka saved it with a massive forehand that Raonic could not handle. The Canadian continued to cruise on his own serve, while putting pressure on Wawrinka. He forced the Swiss to deuce in the 8h game, but still Wawrinka held on. At 5-5, Raonic finally made some mistakes and Wawrinka found himself at double break point. Raonic did not panic, saving the first with an ace and the second with a volley winner. Wawrinka would break though on his third time of asking when Raonic drilled a forehand long. The 4th seed served out the set with relative ease.
Momentum Helps Wawrinka Even The Match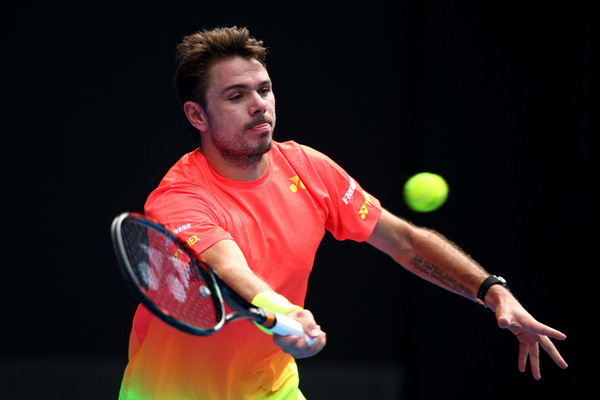 Confident after that late break in the third, Wawrinka came out firing in the fourth and forced Raonic to save a pair of break points. The game required seven deuces for the Canadian to hold in the first game. Three games later, it was Raonic's turn to reach break point, but he could not convert. A game later, Wawrinka broke through as he converted his second break point when Raonic could not handle a volley. At 3-4, Raonic had four break points to even the set, but could not convert any of them as Wawrinka held. Two games later, the Swiss would even the match by serving out the set at love.
Raonic Holds On for Victory
Milos Raonic had never lost after leading two sets to love before and showed no signs of panicking despite Wawrinka's momentum and his own increase in unforced errors. He faced early pressure on his serve again, but this time held to start the set after only two deuces. Both men continued to hold easily until Wawrinka was serving down 2-3. Wawrinka had a pair of chances to close out the game, but could not convert. Raonic brought up a break point, but could not win it. On the second break point, Raonic took a risk by letting a passing shot by Wawrinka go past him. The gamble paid off as the passing shot went long and Raonic broke for a 4-2 lead. With the way Raonic was serving, the break was essentially a death sentence for the Swiss. Wawrinka was forced to save a match point on his serve at 3-5, but he was only delaying the inevitable. One game later, Raonic served out the match at love, finished by drawing a soft return with a drop shot and finishing with a forehand volley.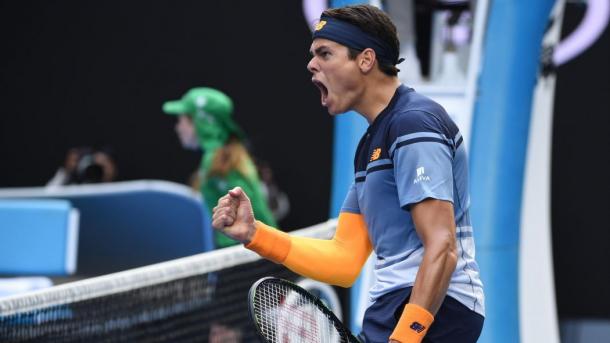 By the Numbers
Raonic broke Wawrinka's serve five times in the match. In their previous four meetings, he had only broken the Swiss twice. In total, Raonic won five of 15 break point opportunities, while Wawrinka was limited to eight break points total. He converted three. Raonic blasted 24 aces and 82 winners past his 4th seeded opponent. He also hit 53 unforced errors. Most of those unforced errors came in the last three sets, as Raonic only hit 15 unforced errors in the first two sets. Wawrinka finished with nine aces and nine double faults, along with 52 winners and 31 unforced errors. The big statistic of the match was Raonic's 83 net approaches, winning 65 percent of those points.
Raonic now returns to the Australian Open quarterfinals for the second year in a row. It is the first major where Raonic has reached the quarterfinals twice. The victory over Wawrinka is his first over a top five opponent or major champion at a Grand Slam event. It was also his first top ten victory at a major since he beat number ten Mikhail Youzhny during his breakout run at the 2011 Australian Open. He will play Gael Monfils in the quarterfinals.