 Jo-Wilfried Tsonga defeated Sam Querrey for the fourth time in his ATP career. While Querrey put up a respectable fight, Tsonga was too much to handle in the third round of the BNP Paribas Open. The Frenchman's continued forehand attack and strong play on first service points powered him to a 6-3, 6-4 victory in an hour and 14 minutes.
Tsonga Sets Tone Early
In the very first point of the match, Tsonga pounded home a forehand winner. Two points later, he did the same with his backhand. He then held the first game unscathed, winning it at love. The second game seemed to be more of the same as the Frenchman was able to jump out to a 30-0 lead. Querrey quickly combated Tsonga's 6-point run with a 4-point run of his own to hold his first service game. After holding, Tsonga found himself at his first break point chance of the match, up 30-40. The American was able to battle back and respond, however, by knotting the set up at 2-2.
Both players were able to hold serve until 4-3 in Tsonga's favor, when the 7th seed earned another break point chance. The 31st seed was able to save it once, but Tsonga would have his way as his drop shot winner was followed by a failed drop shot by Querrey. That break would give Tsonga a 5-3 lead that he would hold en route to a 6-3 win in a first set that lasted 33 minutes.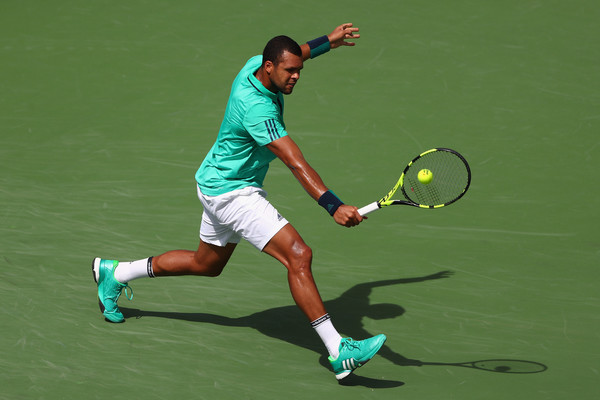 The biggest advantage Tsonga held was his first serve. He won all ten of his first service points, three of which being aces. In contrast, Querrey crushed the Frenchman in first serve percentage 65% to a mere 37%. The American couldn't capitalize as he squandered eight of his 21 first services.
Tsonga Builds On Strong First Set
As mentioned earlier, Querrey would not go down without a fight. He quickly won the opening service, holding at love. The 36th ranked ATP player was able to extend his streak to five points, but a Tsonga winner and ace quickly put it out. Two consecutive overhead smashes put Querrey up 30-15 on his service, but by followed them with two shots into the net, Tsonga was given his fourth break point opportunity of the match; the 30-year-old from France didn't let it slip away, and Querrey was broken for the second, and last, time.
With the one break he needed to take the set, Tsonga weathered the storm and won 6-4. The Frenchman continued his dominance on first service points, losing only four of twenty. Consistency was also key. By not giving Querrey a single break point chance and constantly pressuring him with a relentless forehand attack, Tsonga was able to win the match with relative ease.
Tsonga will move on to the round of sixteen, where he will face-off against Dominic Thiem who defeated Jack Sock in the third round, 7-5, 6(5)-7, 6-1.