 Julia Goerges met Nao Hibino for the second time of the year this morning at the Miami Open. She won once again, but this time she wrapped up the win in straight sets.
Goerges starts slowly but fights back to win opening set in tiebreak
The German was the dominant player in the first set. She was the one who held her service games easily and she was also the one who got break point opportunities quite early too. After missing three break points opportunities, Goerges was put in danger for the first time at 3-3 when Hibino stepped up her game to gain her first break points. The Japanese eventually got the first break of the match thanks to a lucky netcord. She even went on to consolidate her break and take a 5-3 lead. But Goerges reacted in time as she got the break back to level up the match at 5-5.
The two players held their service game one more time to eventually reach a tiebreak. The German was thought to have a slight advantage coming into the breaker, but it was not the case. After a few mini breaks, neither player would just not give in. Hibino saved the first set point at 5-6 down with a tremendous backhand winner, but Goerges, the more experienced player, eventually closed out the first set out with a big overhead winner.
German stays focused and holds nerves to grab win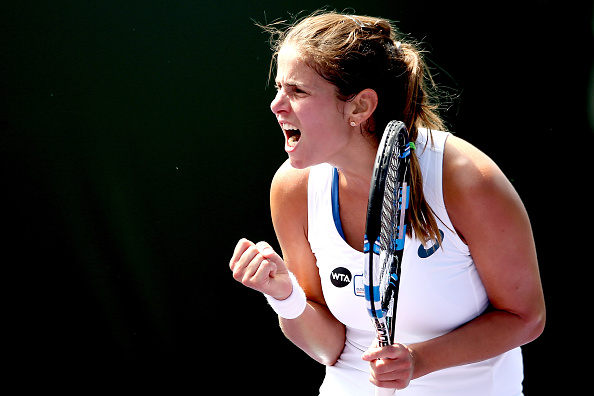 At the beginning of this set, Hibino was mentally affected by the loss of the first set, conceding her service game straight away in the opening game. The German stayed vigilant and went on to consolidate her break, offering herself a 2-0 lead. Back to the wall, Nao Hibino did not give in and fought back to level up the match at 2-2. But the German increased her level at the right moment to break her opponent in the important 7th game.
With a new break in her pocket, Goerges stayed composed and kept encouraging herself out loud. Nevertheless, she came up against some trouble when she had to close the match out. After wasting one match point, she eventually saved a new break point brilliantly and went on to win a laborious match 7-6(6), 6-4.
Samantha Stosur awaits in the second round
With her today's win, Goerges booked her place in the second round where she will face the 26th seed Samantha Stosur. They have already met each other four times, and Goerges leads the head to head by 3 wins to 1. Nevertheless, it is hard to make a prediction on this encounter as their last meeting dates from 2012 where Goerges won in three tight sets.