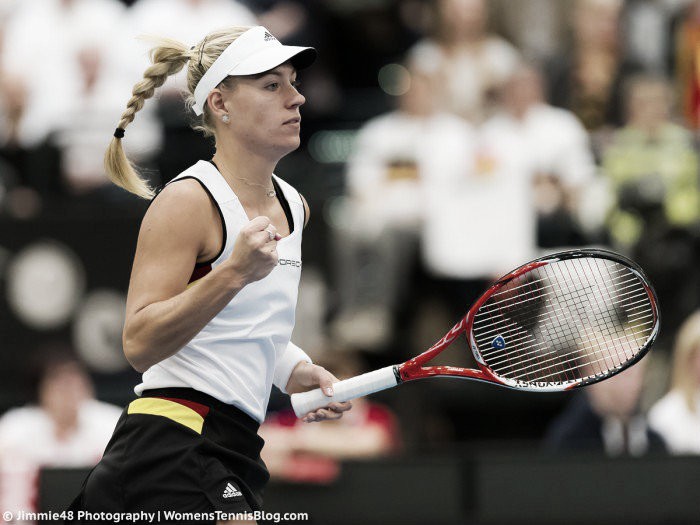 With the tie equal at 1-1, Angelique Kerber and Simona Halep went head to head at this year's Fed Cup looking to give their team a crucial win. After a tight couple of games at the beginning of the first set, Kerber was the first one to break, and never looked back, taking the first set 6-2. Things started to look better for Romania as Halep got the first break of the second set. But a couple of forehand winners from the German saw her get the break straight back. Each player held serve 3-2, as Kerber then broke again for a 4-2 lead. Two more games in a row saw Kerber take the rubber 6-2 6-2 to give Germany the lead 2-1.
Kerber runs away with the first set
Both players started out serving great, each with holds to love. That didn't last long, though, as Kerber broke immediately with gifted unforced errors from the Romanian. Halep, who hasn't had the best season so far this year, broke back in the very next game with a backhand cross-court winner. Things looked to be back on serve, but a 3-2 a marathon game happened in which both woman had their chances, but Kerber prevailed, and broke again for a 4-2 lead.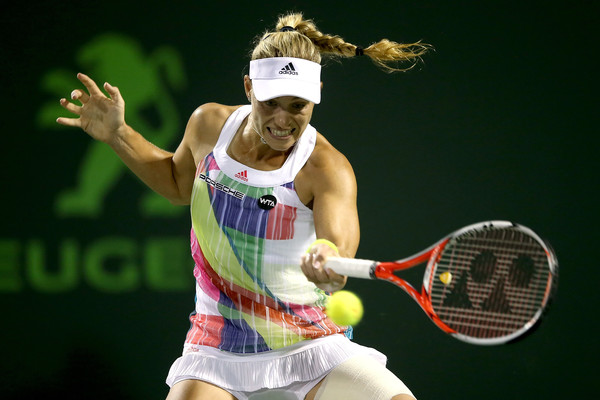 The Romanian then responded on Kerber's serve, forcing two break points. But Kerber was too good, and she consolidated the break for a 5-2 lead. The German then broke again, a netted backhand giving Kerber the break and the set.
Little resistance from Halep as Kerber takes the second set.
The second set started out in favor of the Romanian, as Halep grabbed the break on her first opportunity. Kerber then responded greatly, a well-placed forehand winner helping her get the break to love. The German then held her serve easily, a missed passing shot by Halep would help her make it 2-1. Kerber then held a break point in the very next game, but a fantastic backhand cross-court winner by the Romanian kept Kerber at bay. A netted forehand by the German gave Halep the game.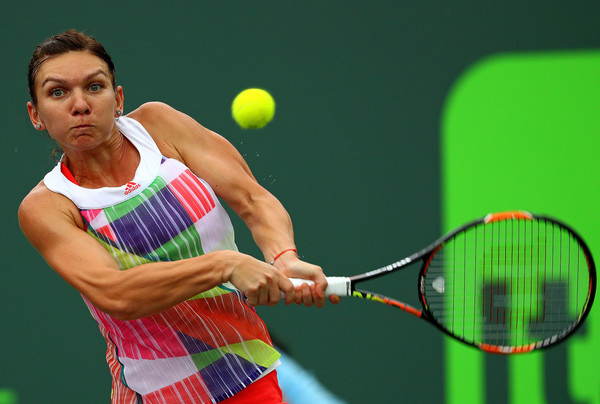 Great defense from Kerber would again get her a fairly easy service game to make it 3-2 in favor of the German. Kerber's attacking tactics would grant her two break points on the Romanian's serve in the very next game. A lucky net cord from Halep would save the first break point, but not the second. A forehand winner for the German's racquet helping her get a break lead. Another fantastic cross-court forehand winner from Kerber got her to consolidate the break and gave her a 5-2 lead. Serving at 5-2 down, Halep seemed helpless as she got down 0-30. The Romanian sprouted a mini comeback to get it back to 30-30, but another forehand winner from the German earned her a match point. Kerber would take the match at her first opportunity, an uncharacteristic forehand sailing wide from Halep as the German closed out the match 6-2, 6-2 in 1 hour and 7 minutes.
Winner's Comments
"I tried to play aggressively and I succeeded in doing that. I carried out my match plan well," said Kerber.
"It was a tough match. Simona is a tough player. I am really happy about my performance today. The atmosphere here is amazing and I really enjoyed it."