 Carla Suarez Navarro needed just over an hour to breeze her way into the Porsche Tennis Grand Prix thurd round after a solid win over the French teenager, Oceane Dodin. The Spaniard fired four aces and won over 60 percent of the points en route to her routine opening round victory.
Spaniard Finishes Strong After Slow Start
Carla Suarez Navarro and Oceane Dodin took Center Court in Stuttgart for their first career meeting. The first game of the first round encounter saw Oceane Dodin close out an early break after ripping a backhand down the line return winner to start proceedings. The qualifier consolidated for an early 2-0 lead. The next two games went in the way of the server, despite the Spaniard having chances to level the set. The seventh seed was in danger of going down a double break, but Suarez Navarro came up with strong off the ground to stay within a game of her opposition. Dodin served up three games to two, but failed to hold as a backhand slid wide to level the set.
The Spaniard's forehand continued to cause trouble for the 19-year-old as she grabbed her first lead of the match. The hard-hitting Frenchwoman's errors piled up to hand Suarez Navarro the crucial break for a 5-3 advantage. Carla Suarez Navarro cruised to a first set win after sealing the 6-3 set with a one-two punch tactic. The 40-minute opening set saw the Spaniard clinch five straight games to hold the momentum heading into the second set.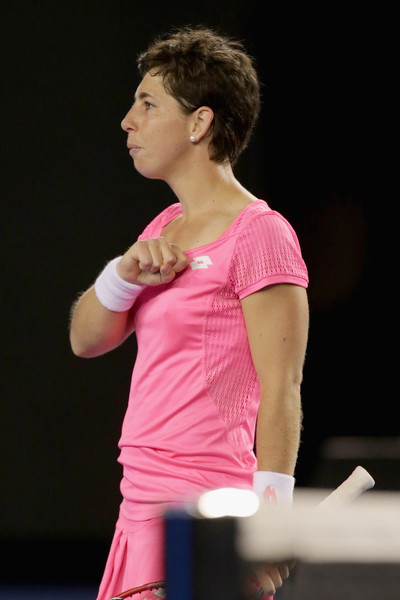 One-way Traffic For Seventh Seed
Carla Suarez Navarro stayed steady in the early set stages as the errors continued to spring off the Dodin racquet. An early break for the world number 11 left the French qualifier with no answers, with the last 25 minutes having gone in the Spaniard's liking. Suarez Navarro rolled on to gain a double break lead to put herself within three games of the Porsche Tennis Grand Prix second round.
The crafty seventh seed clinched a first round 6-3, 6-0 win in an hour and three minutes after a Dodin backhand return seeped long. The final game marked as Suarez Navarro's 11th straight game of the match after a shaky start to her tournament campaign in the luxurious indoor stadium of Stuttgart, Germany.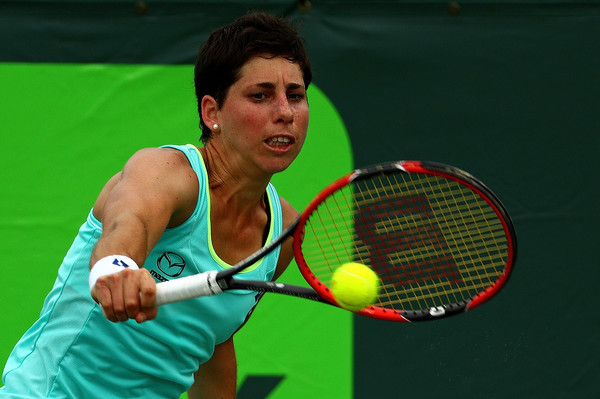 Suarez Navarro Books Clash With Friedsam
Carla Suarez Navarro will face a home-crowd hope in Anna Lena Friedsam in the second round. The Spaniard and the German have never faced each other but will battle it out on the red clay on Thursday for a spot in the quarterfinals of the prestigious kick-off to the WTA's European clay court season. An intriguing second round encounter will see heavy hitting off the ground and a possible upset as the German holds the home-crowd advantage.