 fSimona Halep came into Stuttgart after a worrying fall she took last weekend at Fed Cup in her match against Andrea Petkovic as she rolled her ankle in the first set of their match. However, Halep played the next day against Angelique Kerber, losing that match in a straightforward manner.
Questions had been asked as to whether she should even play in Stuttgart, but Halep said that she wanted to play and that she did not think her injury was that bad. The same thing cannot be said now, after losing the match against the wildcard, Laura Siegemund, where she seemed to be struggling with her movement.
Siegemund up with a firing start.
Siegemund had a confident start to the match and managed to hold without any problems. The German got a lot of balls back and Halep looked as if she was still getting used with the surface as she had only been training on it since Monday. With three break points on Halep's serve, Siegemund took them on her second chance with a great dropshot. Halep was there on the ball but couldn't send it away. Siegemund was getting more fired up point by point as Halep, on the other hand, didn't seem to get herself in a match state of mind, missing most of the balls and not closing points at the very first opportunity. Afterwards, Siegemund easily got a 3-0 lead.
The intensity of the German was increasing with every point she won, and the high level of tennis she was producing got her another break. Halep looked like she had been ambushed, having no exit from a constant battle to at least win a point. There were so few errors from the German whilst Halep was unable to keep up the rhythm. Siegemund got up to 5-0 in just 18 minutes and Simona had to serve to stay in the set.
Halep managed to get herself on the board by putting Siegemund in the position to serve for the set. Halep got lucky with a net court ball and tried to extend more the points, stay in the rallies and play her game, but the German wasn't about to give up her confortable advantage, so she took the set thanks to a backhand error from Halep who could have easily gotten a winner out of it. At that moment Siegemund had won 20 points out of 26.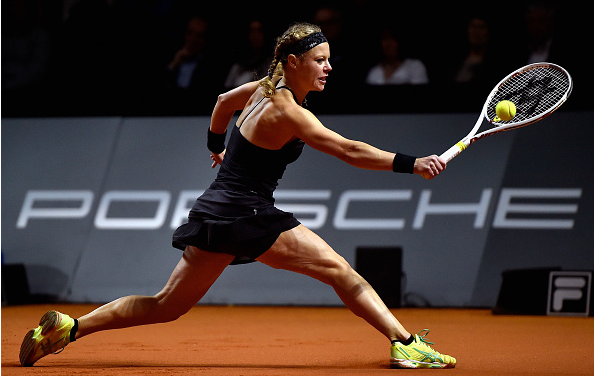 Halep can't get back in the match.
Having three break points, Siegemund played everything perfectly to get the early break. Halep was looking to somehow get back in the match, but Siegemund's tactic of strong groundstrokes and dropshots were extremely effective. Halep's movement was nowhere near what she wanted; at times she was able to reach the dropshots but the execution was just not there. Halep put more pressure on Siegemund serve in the early start of the second set, but failed to break Siegemund's serve.
Immediately afterwards, Halep asked for the trainer and seemed worried as she was walking off of the court to receive the medical treatment. According to the Tennis Island Twitter account, as Halep was receiving the medical time-out Siegemund said to her coach "looks like she has more issues on her BH. She's probably going to retire or start firing all cylinders".
Instead, Halep came back a little bit more concentrated and managed to hold her serve. Moreover, on her first break point she converted. Simona Halep tried fighting really hard to stay in the rallies and she did so but not for much time, she also took advantage of the Germans errors which started to multiply. But the German continued her tactic of dropshoting Halep, trying to move her as much as possible, and her tactic paid off as she got the break on the first opportunity.
Siegemund kept Halep on the move, pingher guessing on her next shot and also kept up the depth of her shots. Halep tried to dig deep, but the question of how deep can she go got its answer a few minutes later as Siegemund broke and was serving for the match at 5-2.
Simon Halep was definitely not at her best on this day, and her ankle must have been a decisive factor in the final outcome of the match. She only had three winner compared with the 28 of the German and in every part of the statistics, her numbers looked bad. On the other hand, the way Halep played takes nothing away from Siegemund, who stayed concentrated, did everything she should have done in order to beat Halep and get the biggest win of her career. In the quarterfinals she will meet Roberta Vinci.