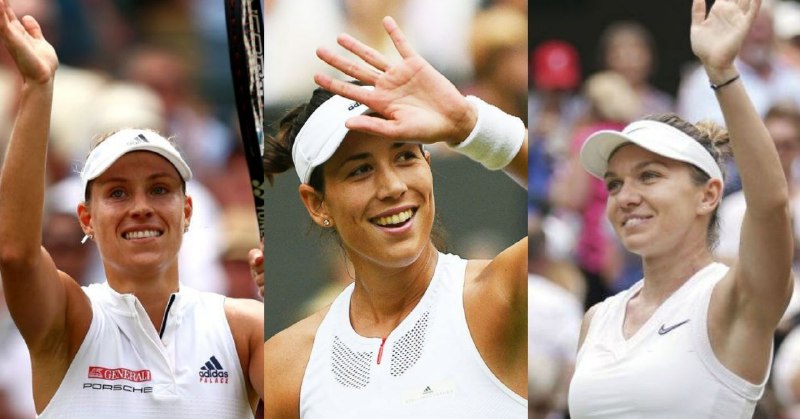 When then-defending champion Garbiñe Muguruza was knocked out in the round of 16 at the 2017 edition of Roland Garros, in a tight three-setter to local Kristina Mladenovic, it sent the Spaniard out of the world's top 10 for the first time in nearly two years.
That, in a twist, however, was the start of resurgence for the Spaniard, who duly sealed her return to the top 10 by the end of the grass court season, a month later – doing so by capturing her career's second Grand Slam title, at Wimbledon.
Like her title run at Roland Garros the year prior, Muguruza's 2017 success at SW19 also saw the birth of a streak of first-time champions on the British lawns in London.
It is worth mentioning that the aforementioned two streaks are still active till this day, the latest addition at each Roland Garros and Wimbledon being Barbora Krejcikova and Ashleigh Barty, respectively – the latter lifting the title last weekend over Karolina Pliskova in a three-setter title match.
The Barty-Pliskova final was, notably, also the first ladies' singles final at Wimbledon to go to a decider since 2012 (Serena Williams defeated Agnieszka Radwanska 6-2, 5-7, 6-1), and the first to feature a tiebreak set since 2009 (Serena defeated older sister Venus 7-6(3), 6-2).
Moreover, since 2014, four of six Roland Garros winners have gone on to become Wimbledon champion in the next edition of the latter, held the year after their triumph at the former – save Jelena Ostapenko (2017) and Iga Swiatek (2020).
We now revisit the title runs of Muguruza, as well as her successors in Germany's Angelique Kerber (2018) and Simona Halep of Romania (2019) – the winners of the closing three editions of Wimbledon in the 2010s – each of whom defeated a Williams sister in their respective championship rounds.
2017 Champion: [14] Garbiñe Muguruza
Road to the title
Round of 128: Ekaterina Alexandrova (Russia) 6-2, 6-4
Round of 64: Yanina Wickmayer (Belgium) 6-2, 6-4
Round of 32: Sorana Cirstea (Romania) 6-2, 6-2
Round of 16: [1] Angelique Kerber (Germany) 4-6 6-4 6-4
Quarterfinal: [7] Svetlana Kuznetsova (Russia) 6-3 6-4
Semifinal: [PR] Magdalena Rybarikova (Slovakia) 6-1 6-1
Final: [10] Venus Williams (United States) 7-5, 6-0
Championship point moment
Muguruza challenged a backhand by Williams that was called in, which was then shown by Hawk-Eye to have gone wide.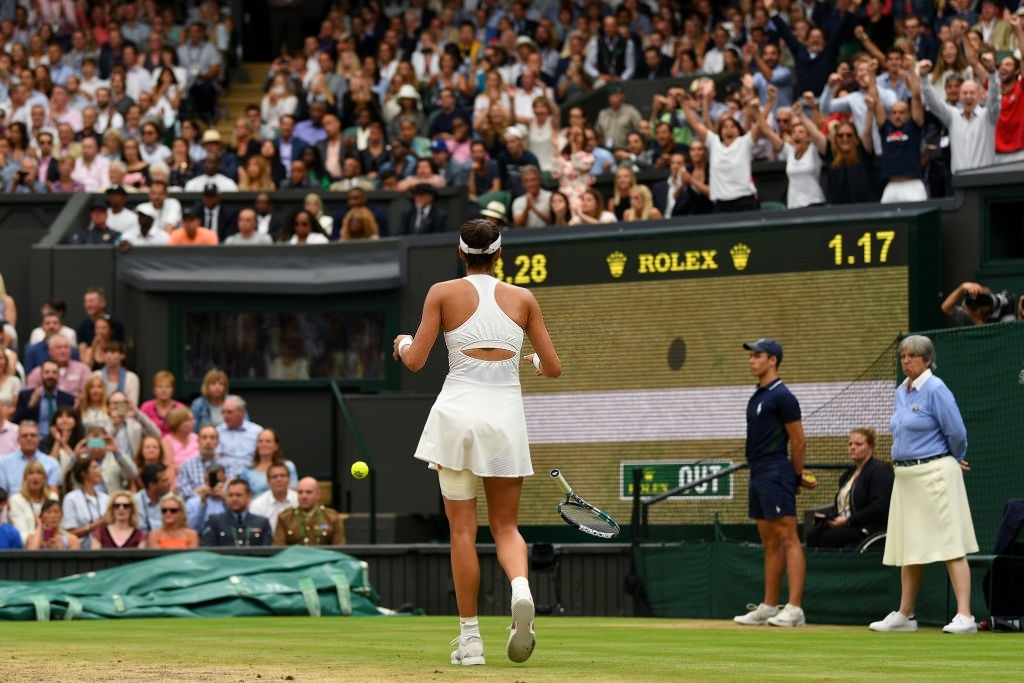 Reflections
"I had the hardest match today against Venus. She's such an incredible player. I grew up watching her play – sorry," said Muguruza as she acknowledged her opponent.
"I feel incredible to be able to play her here (Wimbledon). Of course I'm nervous because I always dreamed about winning it, but I was composed."
Trivia: Muguruza had already become the second player male or female born in the 1990s to win a Grand Slam singles title, after Petra Kvitova won Wimbledon in 2011 (and again, in 2014), hence the Spaniard's Wimbledon title in 2017 saw her equalise Kvitova's two Wimbledon crowns. However, Muguruza's own double Grand Slam singles title feat saw her stand out from Kvitova as she became the first player of either gender born in the 1990s to win multiple Grand Slam singles titles across different Grand Slam tournaments (and different surfaces).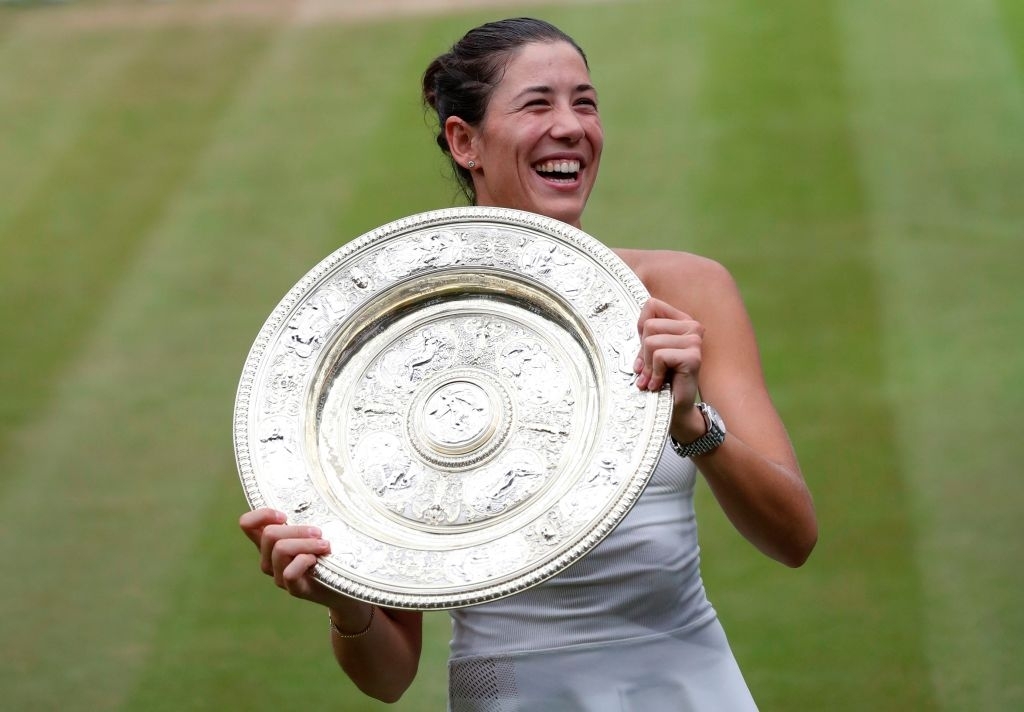 2018 Champion: [11] Angelique Kerber
Road to the title
Round of 128: [Q] Vera Zvonareva (Russia) 7-5, 6-3
Round of 64: [Q] Claire Liu (United States) 3-6, 6-2, 6-4
Round of 32: [18] Naomi Osaka (Japan) 6-2, 6-2
Round of 16: Belinda Bencic (Switzerland) 6-3, 7-6(5)
Quarterfinal: [14] Daria Kasatkina (Russia) 6-3, 7-5
Semifinal: [12] Jelena Ostapenko (Latvia) 6-3, 6-3
Final: [25/PR] Serena Williams (United States) 6-3, 6-3
Championship point moment
An error on backhand return at the advantage side of the court by Williams which netted.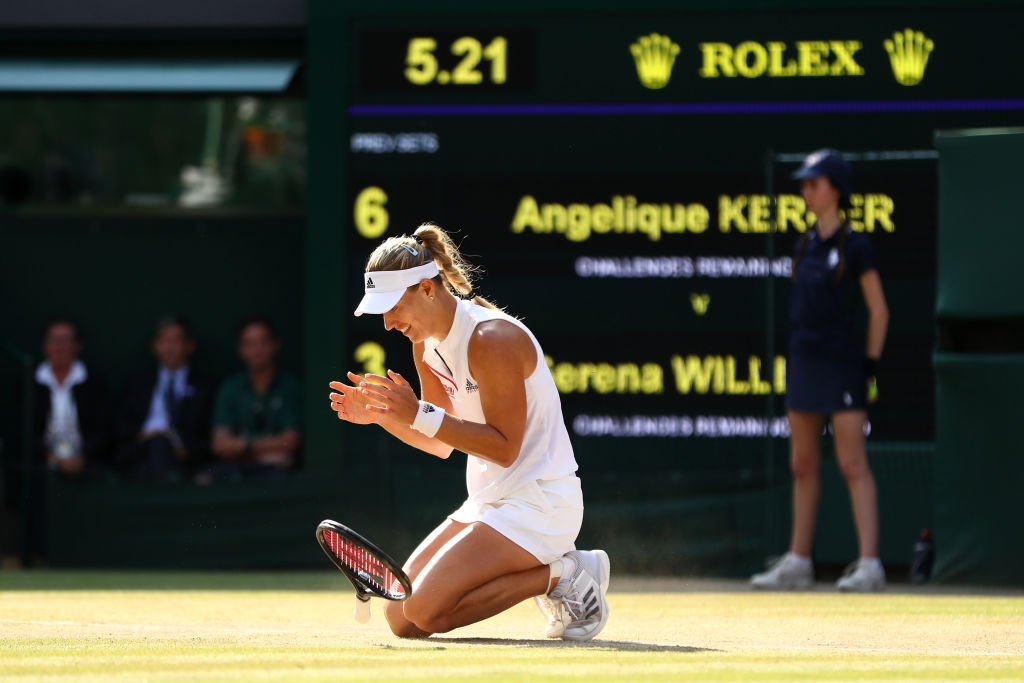 Reflections
"I knew I had to play my best against a champion like Serena. It is always an honour to share the court with her," Kerber relished her victory, the final being a rematch of the one two years ago, where she lost to Williams.
"It is my second chance to play in front of you on Centre Court (in a Wimbledon final). I enjoyed every second of the last two weeks so thanks for the support," she added as she acknowledged the crowd.
Trivia: Kerber became the first German to win Wimbledon since Steffi Graf in 1996, and the first player born before the 1990s to win more than two Grand Slam singles titles, since Kim Clijsters at the US Open in 2010. To date, Kerber also remains the most recent such player to win a Grand Slam women's singles title.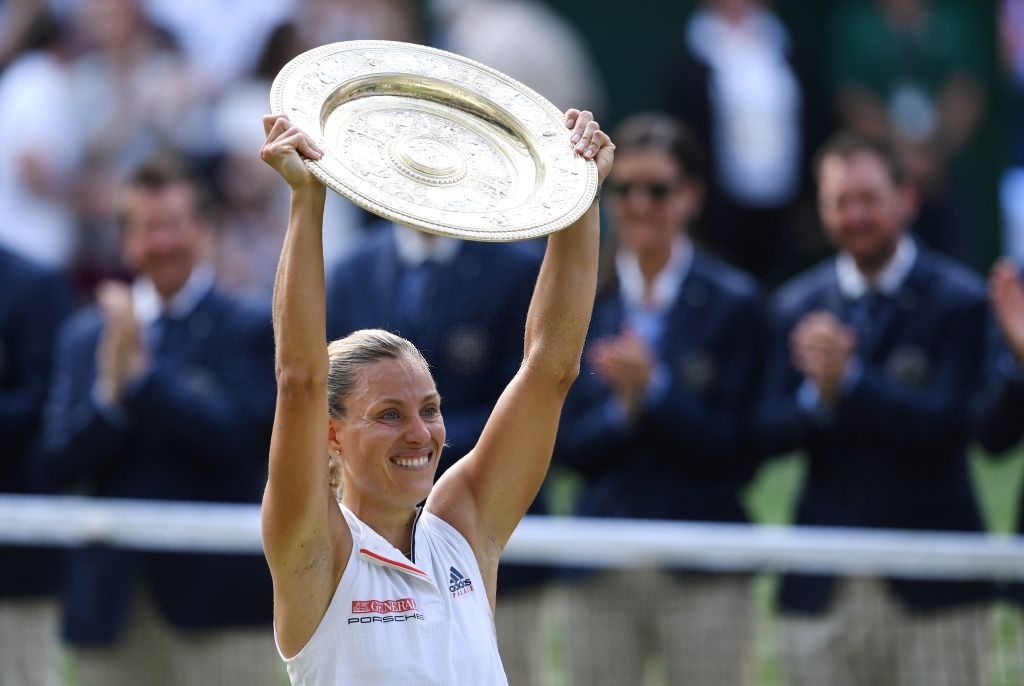 2019 Champion: [7] Simona Halep
Road to the title
Round of 128: Aliaksandra Sasnovich (Belarus) 6-4, 7-5
Round of 64: Mihaela Buzarnescu (Romania) 6-3, 4-6, 6-2
Round of 32: Victoria Azarenka (Belarus) 6-3, 6-1
Round of 16: Coco Gauff (United States) 6-3, 6-3
Quarterfinal: Zhang Shuai (China) 7-6(4), 6-1
Semifinal: [8] Elina Svitolina (Ukraine) 6-1, 6-3
Final: [11] Serena Williams (United States) 6-2, 6-2
Championship point
Like the previous year, Williams netted an unforced error to seal the result of the final, this time coming from her forehand wing in a rally.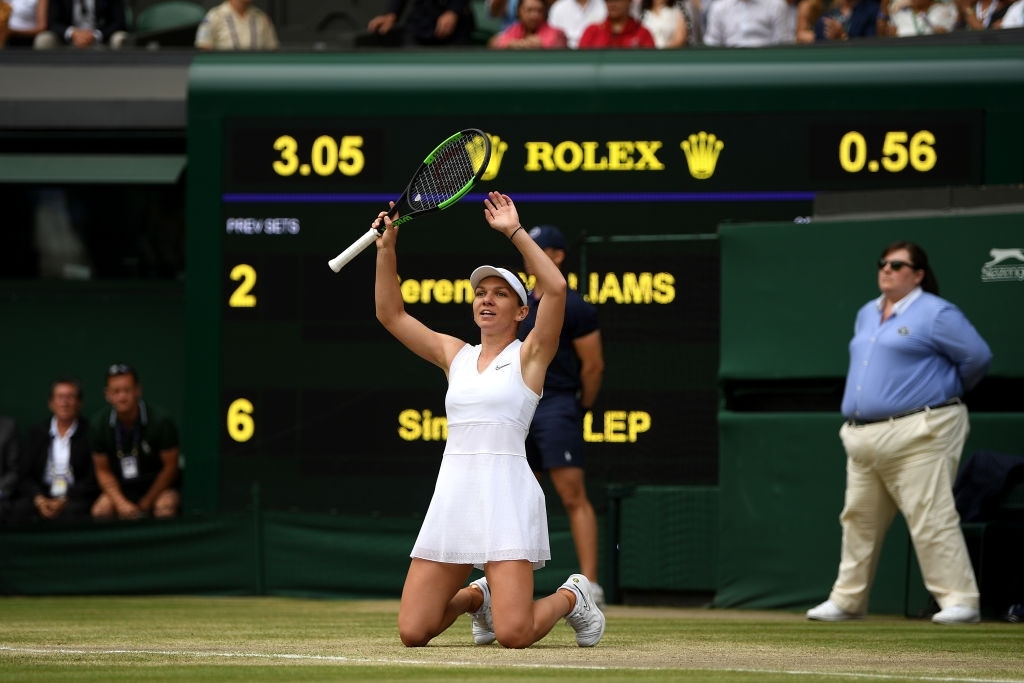 Reflections
"I had nerves. My stomach was not very well before the match. But I had no time for emotions and just came out and tried my best," Halep admitted.
She also relived her childhood memories: "It was my mum's dream when I was about 10. And the day came and my mum is here to see it."
"I have worked a lot to change a little bit my game to play on grass. I started to feel this year when the ball comes to me I knew what to do with it. I can't wait to come back here," she added.
Trivia: Halep only needed less than an hour, 56 minutes – one minute more than the 2014 final where Kvitova outclassed Eugenie Bouchard – to claim the champion's trophy, in a clean display of tennis, dropping just four games whilst committing no more than four unforced errors. The title for the Romanian also meant that for the first time in history, the reigning singles champions of all four Grand Slam tournaments were born in the 1990s, dating back to Osaka's 2018 US Open title win.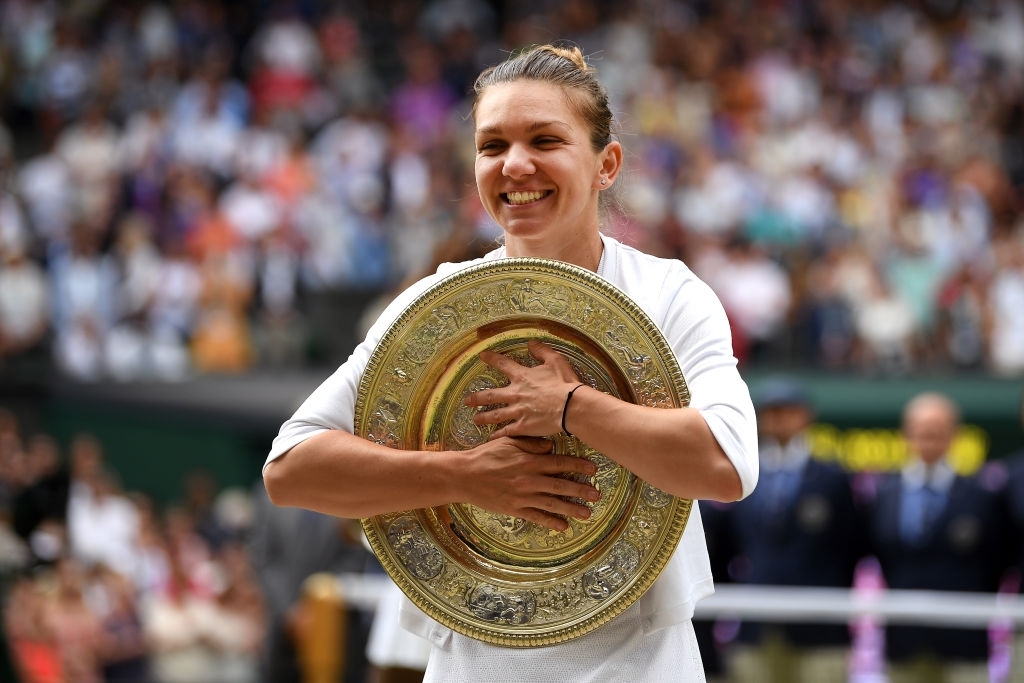 More trivia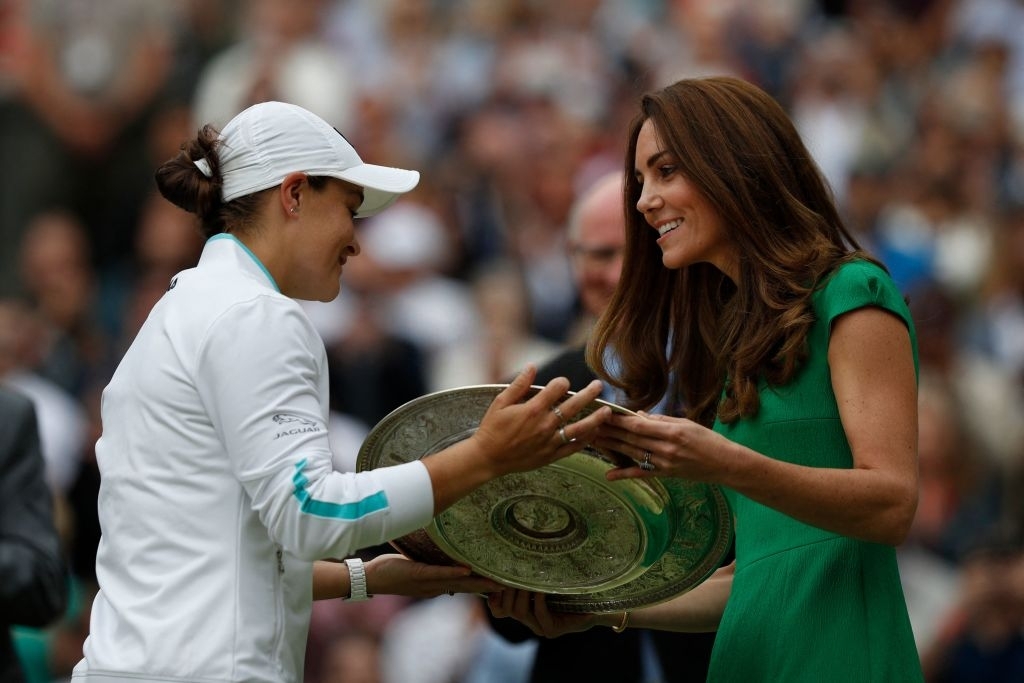 Some other similarities are noted as each of Muguruza, Kerber and Halep only dropped one set throughout their respective successful Wimbledon campaigns, the latter pair in the second round, besides defeating a Wimbledon semifinal debutante in the last four.
Honourable mention – with Australia's Barty joining the likes of the three champions above this year, the streak of four first-time Wimbledon ladies' singles champions (since Muguruza in 2017, with the tournament cancelled last year) is the first such occurrence at Wimbledon, in the Open Era, since 1968-71 – Billie Jean King, Ann Jones, Margaret Court and Evonne Goolagong, in order - Goolagong herself, like Barty, an Australian too.
Among the four latter women, King and Court had each tasted success at SW19 prior to the commencement of the Open Era, the former in 1966 and 1967, and the latter, in 1963 and 1965.