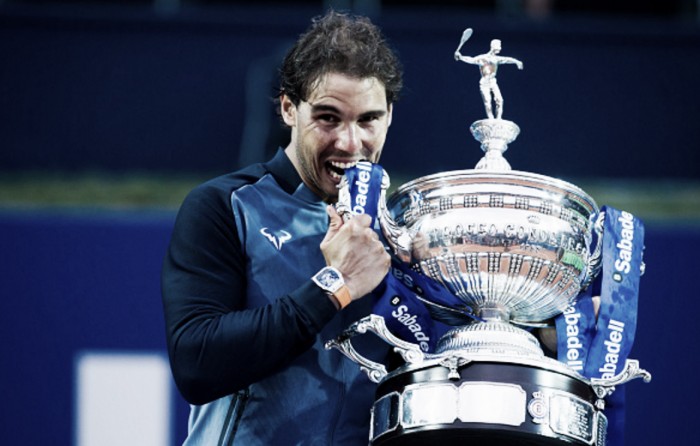 Rafael Nadal has filed a lawsuit against former French government minister Roselyne Bachelot. The world number five was accused of doping by Bachelot in 2012 when the Spaniard missed seven months, and the former French Secretary of Sport said that he missed those seven months, serving a silent ban for doping. Nadal missed seven months in 2012 due to tendinitis.
Nadal Speaks on the Lawsuit
"I intend to defend my integrity and my image as an athlete but also the values I have defended all my career," the Spaniard, 29, said in a statement. He added, "I wish to avoid any public figure from making insulting or false allegations against an athlete using the media, without any evidence."
Toni Nadal Not Too Happy With Comments
In a past interview with RadioMarca, Toni Nadal said, "We are very tranquil, we will take legal actions against Mrs. Bachelot, who is aware of what she says. Nadal has never used doping."
Toni Nadal also added, "She may look for prestige, a former minister saying that it's just awful. I hope she does not go unpunished, now stop, we are tired to always listen to the same music."
Nadal Dominant Since Comments
Since those comments were made back in mid-March, Nadal has picked up two titles and made one semifinal. He lost in the semifinals of the BNP Paribas Open to world number one and eventual champion Novak Djokovic. At the Miami Open however, his fate was not as good as it was in the California desert, forced to retire in his opening round match against Damir Dzumhur due to dizziness from the heat.
With a move to the European clay, the 14-time Grand Slam champion has been relentless so far on the European dirt. To kick things off, he defeated the likes of Dominic Thiem, Stan Wawrinka, Andy Murray, and Gael Monfils to work his way to a ninth title in the principality of Monte Carlo. He followed that up by knocking out Kei Nishikori for his ninth title in Barcelona as well. Nadal will take the week off with the Mutua Madrid Open kicking off next week.