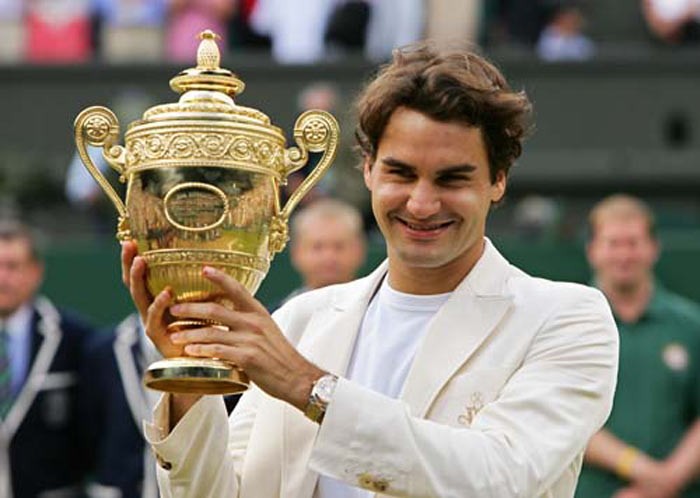 Roger Federer is widely considered to be one of, if not the greatest tennis player of all time. Of course, after several years of Novak Djokovic and Rafael Nadal dominating, it is easy to forget how dominant Federer was at his absolute peak. As great as Nadal and Djokovic are, nothing they have accomplished can truly compare to Roger Federer at the height of his powers. Even Djokovic's coach agrees.
Federer at his peak came in 2006. After two of the most dominant seasons in tennis history in 2004 and 2005, Federer was going to be hard-pressed to raise his level yet again. But he did, and the result was one of the most stunning and successful seasons the tennis world has ever seen. A season that no one has matched since.
By the Numbers
A year after falling one set short of matching the highest winning percentage in the Open Era, Federer faced the difficult task of matching his dominant season. While his winning percentage was slightly lower, he would win even more matches. He went 92-5, the most matches he would win in a season in his legendary career and the most wins in a season by anyone since Ivan Lendl in 1982.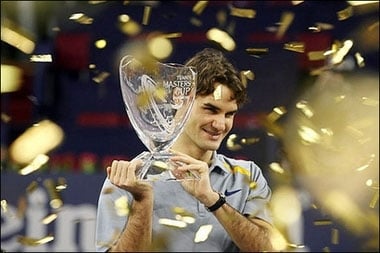 He won a career high twelve titles, a number that has not been matched since. He nearly reached the final of every tournament he played, only falling before the final once in 17 tournaments. He reached all four Grand Slam finals in a season for the first time in his career, winning three out of four for the second time. The feat put him in a class alone with Rod Laver as the only men to win three out of four slams twice, only Federer had done it in three years, while Laver's were seven years apart. Federer spent the entire year ranked number one in the world.
Highlights
All Four Finals
In 2004, Federer won three Grand Slams in a single season for the first time. However, he washed out in the third round of the French Open to Gustavo Kuerten. Federer would not fail to reach the quarterfinals again until 2013. In 2005, Federer stumbled in the semifinals of the year's first two majors. Finally, he managed to break through and become the first man since Rod Laver to reach all four Grand Slam finals in a single season.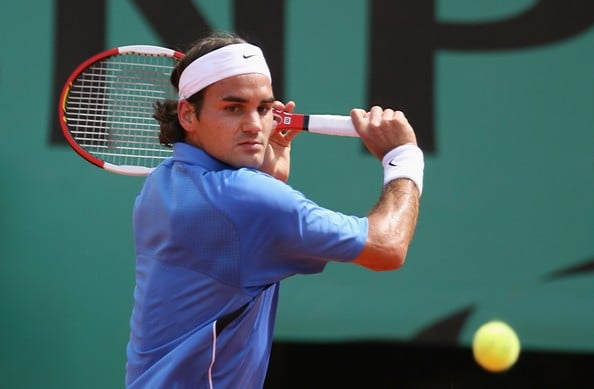 He started the year by winning his second Australian Open crown, which was also his third consecutive Grand Slam title. He went into Paris hoping to reach his first final at Roland Garros, and maybe even complete the "Roger Slam" and set himself up for a Calendar Grand Slam. He had his career best run, only dropping two sets on his way to the final, where he stormed to an early one-set lead over Rafael Nadal. In the end, Federer could not hold of the Spaniard for long, falling in four sets. It was his best shot at a Grand Slam yet, and arguably ever. Despite the disappointment in Paris, Federer stormed through the last two majors of the year, winning Wimbledon for the fourth straight year and the US Open for the third time in a row.
Hard Court Dominance
Hard courts are meant to be a neutral surface, but they hardly gave the opposition a better chance at beating Federer. The Swiss maestro was at his most dominant on hard courts in 2006. He entered the season on a massive winning streak, extending it to a record fifty-six consecutive wins on hard courts, the longest streak on the surface in history. He was finally defeated by his rival Nadal in the Dubai final. He would lose again on hard courts in Cincinnati to Andy Murray, at which point he ran the table, not losing on hard courts again in 2006. After the loss in Cincinnati, he would not lose again for 36 matches, the second longest hard court winning streak in history.
General Tour Dominance
Federer was at his most dominant in 2006, and that is saying something considering that Federer is one of the most dominant players of all time. The Swiss won 19 matches against top 10 opponents in 2006, the most he has ever won in a single season in his career. More impressively, he only lost once to a player ranked below number two in the world, making him 90-1 against players ranked third or lower in the world in 2006.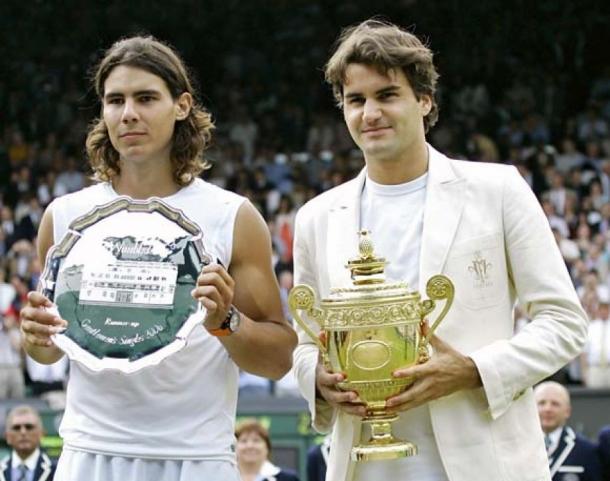 In 2006, Federer only lost to two different men. World number two Rafael Nadal accounted for four of Federer's losses, three of them coming on Nadal's preferred surface of clay. Federer's lone loss in 2006 came to a little-known Scot, ranked 21st in the world, by the name of Andy Murray. That loss has since been redeemed, as Murray is now a two-time major champion and a member of the big four.
Career Best Season
2006 was statistically the best season of Roger Federer's amazing career. It was the most match wins, titles and finals of his career. It was arguably the closest he had ever come to complete the Calendar Grand Slam, as it was the only time in his career that he led a French Open final after winning the Australian Open. It was the closest Federer would come to reaching the final of every tournament that he played, the lone exception being his round of thirty-two loss in Cincinnati to Murray. Federer, nor anyone else, has since matched what the maestro accomplished in 2006.
Why is it So Great?
Statistics are Amazing
What Federer accomplished in the mid-2000s was unheard of in the modern game. His twelve titles in a season is tied for the fourth highest total in the Open Era. His ninety-two wins are seventh most in a single season in the Open Era. While neither totals are at the top of the Open Era list, his season is the only one this millennium to rank in the top 10 in both wins and titles. His total match wins ranks in the top 10 for the most in a season ever by a man.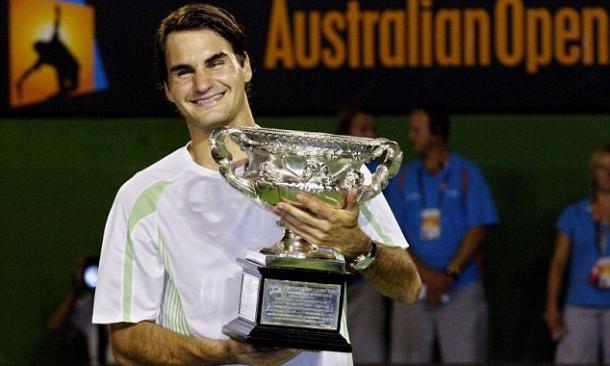 Moreover, only once since the mid-1980s had there been a season remotely comparable to Federer's 2006 season. In 1995, Thomas Muster had a nearly equal season in terms of titles and wins, but his results were nearly entirely on clay, while Federer succeeded on all surfaces. Not since the days of Ivan Lendl and John McEnroe in the first half of the 1980s had a player dominated and won with the consistency that Federer did in 2006.
The Near Grand Slam
The Grand Slam remains a rarity in the men's game, with no man accomplishing the feat since Rod Laver in 1969. Federer is the all-time Grand Slam singles title leader on the men's side, and arguably the greatest of all time, but even he has not managed to complete the Grand Slam, despite winning three Grand Slams in a single season three times (2004, 2006, 2007) and reaching all four Grand Slam finals in a single season three times (2006, 2007, 2009).
2006 was the first great chance Federer had to complete the Grand Slam. After winning the Australian Open, he reached his first final at the French Open, even taking the opening set 6-1 over defending champion Rafael Nadal. However, that was where his Grand Slam bid would end, as Nadal would roar back to take the next three sets and the title. Federer would go on to win Wimbledon and the US Open, meaning his French Open loss to Nadal was the lone blemish on his resume in 2006, going 27-1.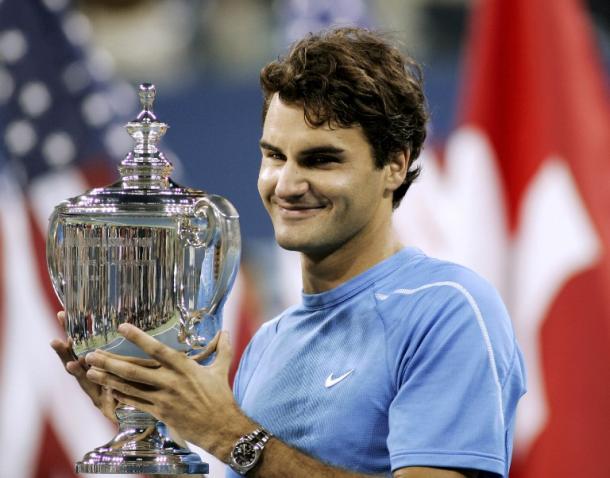 It was the first time since 1969 that a man reached all four finals in a single season. In the end, Federer would fall two sets short of the Grand Slam. 2006 may have been the best for Federer to complete the Grand Slam, as it was the only time he would ever lead Rafael Nadal in a French Open final (in 2007, Nadal won the opening set). Not only that, he won the first set easily and had momentum, only for Nadal to break it. Still, the fact that Federer came so close was a testament to his greatness, considering that he came closer than anyone had since 1969. No one has come that close since (though Djokovic was also two sets away in 2015).
Chasing Laver
Going into 2006, Rod Laver's legacy was built on unmatched accomplishments. While Bjorn Borg and Pete Sampras have had great careers and put themselves in the debate of who is the greatest of all time, they had done so while not being able to match some of Laver's accomplishments. What made Federer's 2006 season so spectacular was that he managed feats that had not been done since Laver.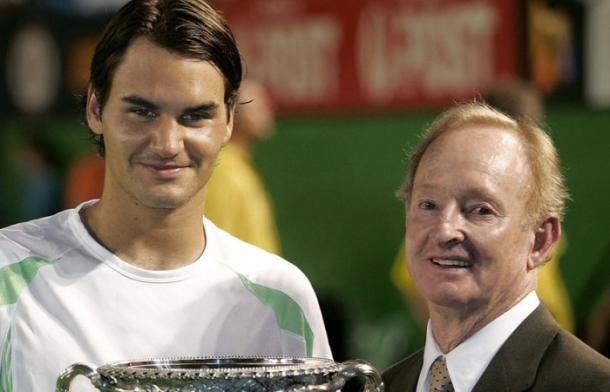 Federer joined Laver as the only men to win three Grand Slams in a season twice in their career (since joined by Djokovic). However, Federer did it in the span of three years, while Laver's three slam seasons were seven years apart. Federer was also the first person to reach all four finals since Laver. Federer, however, did it in the hard court era, while Laver's Grand Slam accomplishments came when three of the four majors were played on grass. Almost forty years after Laver's historic 1969 season, Federer was finally matching the legendary Australian's accomplishments.
All Hail King Roger
2006 was when Roger Federer well and truly established himself as the legend that he is known as today. His 2004 and 2005 seasons were fantastic, but 2006 took it to the next level. It was the best year of his career, with career highs in most categories. It was also Federer at his most dominant. In 2006, the tour well and truly became Roger Federer and everyone else. Only one person beat Federer multiple times in 2006, and that was Nadal. No one else was considered a threat to Federer in 2006. Even in 2005 and 2007, other players could push, even beat Federer. But not in 2006.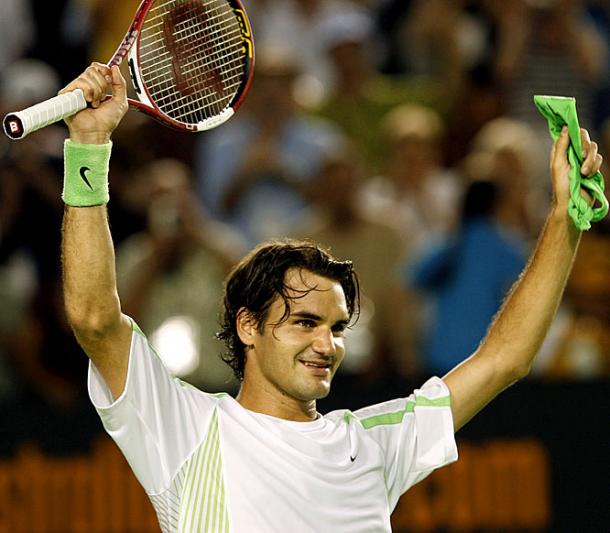 After 2006, Federer was not only clearly the best player in the world, but he was now being considered one of the greatest of all time. It was his utter dominance in 2006 that firmly established Federer as one of the greatest. And despite what Rafael Nadal and Novak Djokovic have accomplished since, neither has matched Federer's 2006 season. Statistically, they have not managed to match it. They have also never had the air of invincibility that Federer had in 2006. And even if they did eventually match it, they would already have 2006 as a precedent, whereas there had been nothing like Federer's 2006 season in thirty years.
To many, Roger Federer is the greatest of all time. His dominance and skill has never been matched and it could be a long time before anyone rules over tennis the way Roger Federer did in 2006. His 2006 season was so spectacular that, in today's game with a deep tour and all sorts of different surfaces and specialists, it is hard to see anyone managing what the Swiss legend accomplished that year.