Eugenie Bouchard arrived at the last match on Center Court to take on Barbora Strycova. The Canadian, who just yesterday pulled an upset over world number two Angelique Kerber, was looking to book a spot in the quarterfinals at the Internazionali BNL d'Italia. However, the Canadian had one of the most erratic matches of her career. The match who lasted a little bit more than an hour was a reflection of the inconsistency of Bouchard, who only managed to win a game.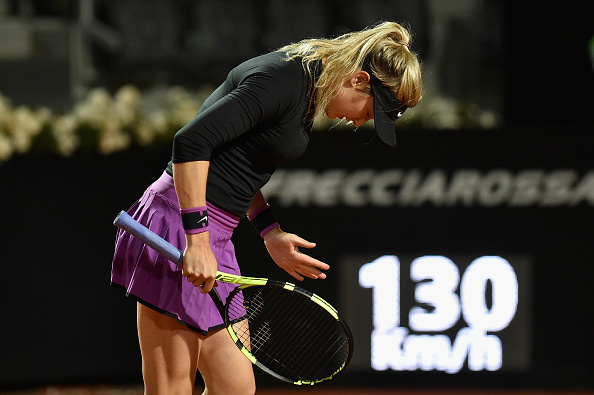 Erratic First Set for Bouchard
There was not a single winner in the first game of the match, but it was Bouchard who committed the most errors to hand the break to Strycova. A really bad start for the Canadian, who had impressed in the last two rounds. The Czech played some smart tennis to hold her serve and confirm the break. A few mistakes from Strycova helped Bouchard to get on the scoreboard. The Czech managed to hold a long game to lead 3-1.
An erratic Bouchard was unable to play long rallies without ending the point in an unforced error and Strycova had no plans to slow down, running away with the second break. The Czech carried on with her dominance, holding to lead 5-1. Nothing was going right for Bouchard who usually is known for her aggressive tennis, but today it wasn't there. The Canadian saved one set point, but a good forehand from Strycova made it impossible to set what had been a dreadful set by the Canadian. In just 31 minutes, Strycova grabbed the first set 6-1.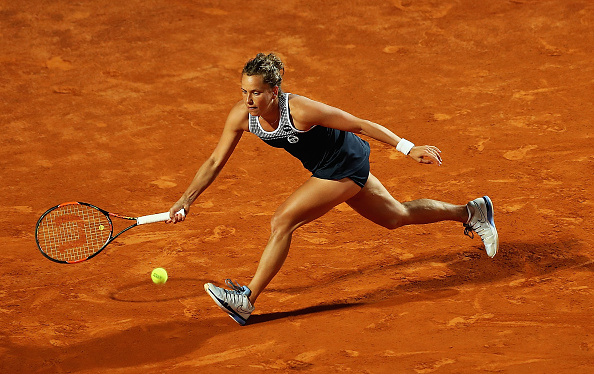 Absolute Dominance by Strycova
The second set was no different from Bouchard. Strycova started the set facing a break point, the first one of the match for the Canadian. However, she was not able to convert, losing the point to an unforced volley error. This would be the last chance for Bouchard to get a break in the match. From then, things went from bad to worst. The Canadian knew she needed to start the set with a hold if she wanted a chance to come back. She saved two break points, but her mistakes continued to affect her game and ultimately lose the game. Strycova's confidence was only getting better and didn't face any problems with her serve.
Bouchard was not able to hold, giving a lead to Strycova of 4-0. Everything was working for Strycova, she was moving very well and she was two breaks up. She held fairly easy to be one game away from the quarterfinals. Strycova needed just one match point to get a very comfortable win over Bouchard 6-1, 6-0 in just one hour and three minutes.
Madison Keys Next
Strycova will take on Madison Keys for a spot in the semifinals. They have met twice in their careers, both having won once. Their last meeting was just a week ago in Madrid, where Keys won in straight sets.