Little there was to do for the Romanian, Sorana Cîrstea, in the match against Garbiñe Muguruza, who played a pretty flawless match to reach for the first time quarterfinals at the Australian Open. The French Open champion won in straight sets 6-2, 6-3 dominating the match from the beginning to the end impressing with her aggressive returns.
For Sorana Cîrstea, this is the best performance at the Australian Open where she previously never moved past a third round. Her road stops in the fourth round, but, nevertheless, this performance sets her for a full comeback. This is the second year for her since injuries had kept her away from the court for almost two years and now she will enter again in the top 60.
She acknowledges the fact that there was nothing she could have done better. "I have to admit that my opponent was better than me. She served well, she returned well, was really aggressive on the return. It also mattered that I have never played against her before and whenever I have to play against someone I never played with, I feel uncomfortable, and it takes longer to get into the match".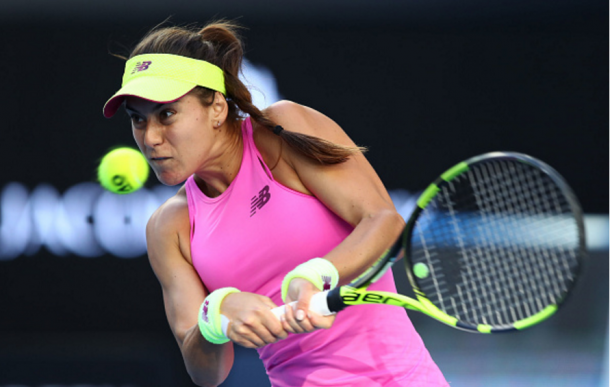 Sorana' unforced errors made it easy to Muguruza to take the first set
The Romanian started the match holding her serve to love, but soon she was finding herself in a tough situation of losing the next 12 points. Muguruza held nothing behind. It was clear that Cirstea needed to keep the Spaniard on the run, but it was Garbiñe who started to hit with great depth, thus making Cirstea's mission almost impossible. In just 17 minutes the Spaniard was 5-1 up taking her opportunities every time a chance showed up. The Romanian started to be more aggressive in the in 8th game when she went 40-15 up. Two break points immediately canceled by two great serves from Muguruza. Then a net cord forehand gave Muguruza the chance to finish the first set with a perfect lob.
The unforced errors were Sorana's undoing in the first set, Muguruza, however took the initiative early in the points and when Cîrstea almost got her way back into the first set, the Spaniard kept her focus, came with a great serve and locked the set in time.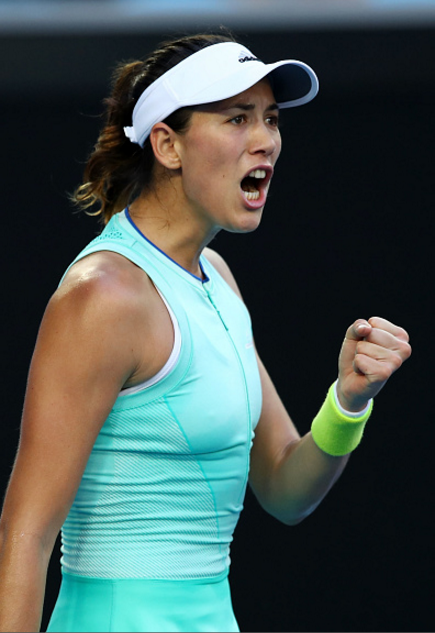 Muguruza stepped in even more to end Sorana's run at the Australian Open
In the second set, not a lot changed, Muguruza kept on returning extremely well, thus taking Sorana's time of reaction. In the second game, Cîrstea had a break point but was unable to make the most of it. It was then Muguruza's time to respond and broke Sorana's serve from 40-0 down for a 3-1 lead.
Muguruza was so good because she wasn't predictable and had plenty variety on her serve as well. With great presence of mind for every point, Muguruza impressed by playing deep cross-court shots changing it on both sides. Taking advantage of her opportunities was one important part of the game which lacked Sorana today who also struggled on her serve. In the seventh gave she saved two break points. Sorana started with an amazing point from the forehand side, Muguruza then came with a backhand full of aggressiveness and Sorana continued with great depth forcing Garbiñe to make the error. On her third game point, Sorana hit a great backhand to set her back into the match. The Spaniard then held her serve to love and converted on her first match point.
Muguruza moves to the quarterfinals in just 1 hour and 5 minutes, a match in which she served well, executed perfectly, gave no rhythm for Sorana to build on. "It means a lot for me, I always come motivated, motivated to keep winning. Sorana is such a powerful girl, but I was concentrated the whole time, it was a great match."
Quite a comfortable win for the Spaniard who will now face Coco Vandeweghe for a place in the semifinals of the Australian Open.