 Elina Svitolina reached her eighth career WTA Final and her most significant one yet with a 6-3, 7-6 win over world number 2 Angelique Kerber in the semi finals of the Dubai Duty Free Tennis Championships. Svitolina has now won 11 matches in a row, stretching back to her Taiwan Open title and including her Fed Cup appearance for Ukraine. Kerber would've regained World number 1 with the title in Dubai but will have to wait until Indian Wells for an opportunity to claim top spot.
Svitolina claims topsy turvy first set
The German started off the match serving and held comfortably to 30 and Svitolina responded by holding to the same margin. Svitolina brought up a break point at 30-40 in the next game but Kerber was able to hold. Another break point was brought up and saved on deuce but Kerber failed to save a third and Svitolina drew first blood to lead 2-1. She looked in control of the next game at 40-0 but Kerber brought it back to deuce. Advantage Svitolina but off a heavy net cord Kerber pulled out an insane chase down to reach the ball and hit a winner past Svitolina, but the Ukranian ultimately held just after for 3-1. Kerber saved two break points in the next game to hold for 3-2 and the brought up three break points, of which she took the second, the level the set at 3-3. She looked in control of the next game but Svitolina forced deuce and took her second break point to lead 4-3. Svitolina showed no nerves after the changeover and held to love to lead 5-3 and brought up 3 set points on Kerber's serve. The first was saved, but the second was not and Svitolina claimed the first set, 6-3.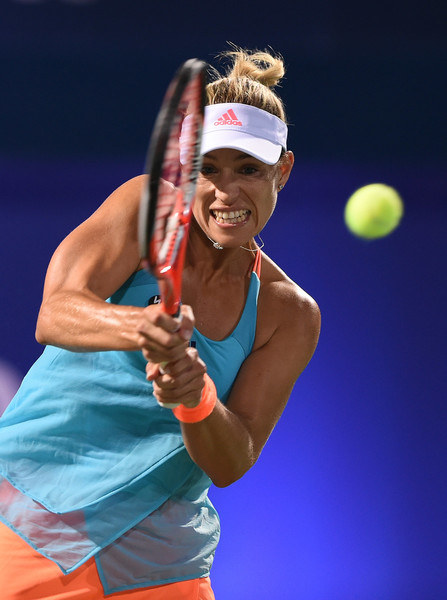 Svitolina takes second set tiebreak to clinch victory
Svitolina opened the second set by serving and was immediately facing two break points down 15-40, and Kerber took the first to grab an early foothold. Svitolina responded though, bringing up three break points in the next game and taking the first to level it up at 1-1. Svitolina held comfortably, before bringing up two more break points on Kerber's serve. The world number two served a double fault to hand Svitolina a 3-1 lead. Kerber broke back though for 3-2 taking a solitary break point at 30-40. At this point, Kerber went off court for a Medical Time Out treating her lower back. Straight after the resumption of play, Svitolina brought up three break points and took the first to lead 4-2. She then held after saving a break point to leave herself one game away at 5-2.
Kerber posed the question of serving the match out to Svitolina by holding her serve to love. A dramatic ninth game ensued, where at 15-15 play was temporarily stopped due to a rain delay. Svitolina saved one break point at 30-40 with an ace, but a second was brought up and Svitolina double faulted to hand it to Kerber. Kerber then held for 5-5 and broke Svitolina's serve at the second time of asking to lead 6-5. Svitolina wasn't done fighting though, and broke back on the second break point to force a tiebreak. Kerber brought up a minibreak straight away to lead 1-0 but Svitolina then won the next two points to lead 2-1. Svitolina was in control of the tie break and after a good forehand winner down the line led 5-2. Three match points were brought up at 6-3 and Svitolina only needed one for a 6-3, 7-6 win.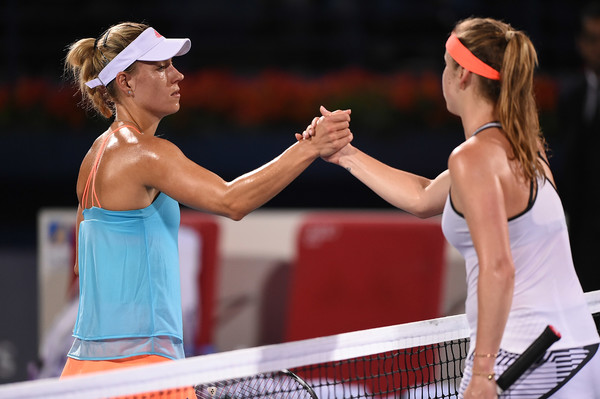 Svitolina will play Caroline Wozniacki in the final for the biggest title of her career. Wozniacki reached the final in Doha last week and has made an excellent start to 2017. Kerber will play Indian Wells next as her battle to reclaim number 1 from Serena Williams resumes.