 Despite being broken on his first service and winning just one of the nine opening points of the match, Granollers wasted no time levelling play. He dominated points from the baseline, drawing in Mannarino with drop shots and utilizing his serve to come to net. After breaking the Frenchman back to level at 2-2, Granollers went on to break Mannarino again in the fifth and ninth games to capture the first set, 6-3.
The next set followed in a similar fashion, with Granollers using a serve and volley combination to pin Mannarino behind the baseline. In a second set that moved even faster than the first, Granollers booked his first career semifinal appearance on the grass surface.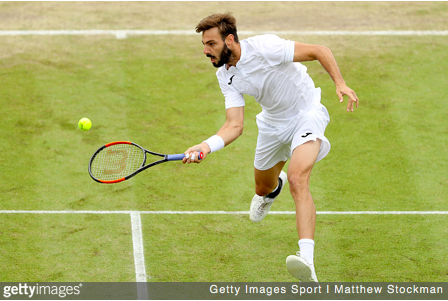 "I think I was playing very smart today from the baseline, using my slice, also mixing up coming to the net. This is a really good result for me," Granollers said.
His second round win over No.6 seed and 2016 finalist Gilles Muller, too, gave him the confidence and preparation he needed to face another left-handed player.
Friday's win marks Granollers' first ATP semifinal appearance since 2015 Zagreb. The Spaniard posted six aces, earned 65 percent of his first service points, and capitalized on five break chances. In just 61 minutes, the world no. 124 eliminated the tournament's No.1 seed, leaving Steve Johnson as the lone seed standing in the singles draw.
Johnson needed just 58 minutes to become the only seed to advance to the semifinals. Though Friday's matchup marked the pair's first career meeting, the American adjusted quickly to establish an early lead. He opened the match on an ace, faced no break points in the first set, and won 84 percent of his first service points.
"I took care of business. I was able to get out of [my service game] in the second set up 2-0 and that was a big game for me. I'm just going to keep putting my best foot forward," Johnson said.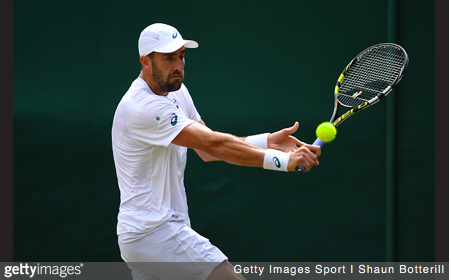 In a match dictated by Johnson, Sela was denied the opportunity to break or ace the American. This trouble was also shared by Johnson's previous opponent Christian Harrison, who fell 6-3, 6-1 to the No.3 seed without earning a break chance all match. With Friday's win, Johnson shatters his two year streak of failing to advance beyond a grass court quarterfinal since 2016 Nottingham, where he captured his first ATP title.
Despite being the new favorite to lift the Van Alen Cup, Johnson has his sights set on his next opponent, instead of on the pressure to deliver a victory on Sunday.
"I'll be on the cusp [of winning the title] when I get closer to serving it out on Sunday. For now, there are four incredible tennis players still in this draw. Marcel [Granollers] will be my main focus first and foremost for tomorrow," Johnson said.