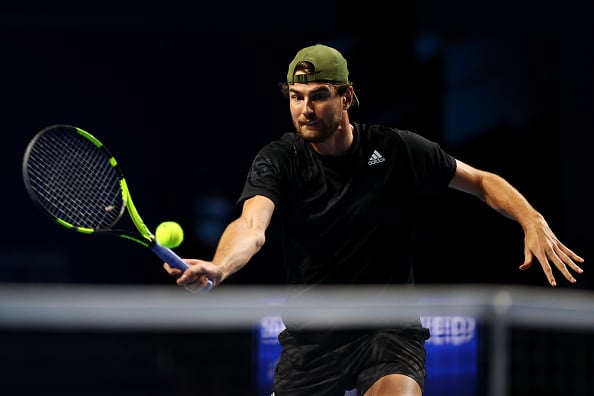 Although the main tour is on break until January, tennis truly does not sleep as the Challenger and Future Circuits are still in play. American Maxime Cressy has taken his played brilliantly, making two finals and capturing a title last weekend in Forli.
Back at Forli, he's looking to make it a double and started off on the right foot with back-to-back wins. Today, we take a look at PrizePicks to see what daily fantasy props should be played. PrizePicks is a free to play daily fantasy app with simple over/under lines where winnings can be as much as 15 times your entry.
Breakdown
Fantasy Score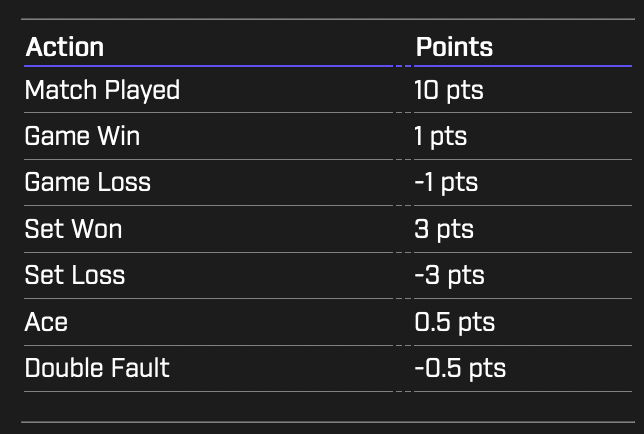 Main Plays
Maxime Cressy Over 22.0 Fantasy Points: After a close call just going over 20.5 games with his 7-6(3), 6-2 win today, the fantasy points for the American seem to be the safer play. Throughout his time at Forli, he's tallied 82 aces to 27 double-faults with a 28-11 line for this event currently.
Last time he played Vitaliy Sachko, he tallied 7 aces to 4 double faults in a topsy-turvy match that went 0-6, 6-1, 6-1 to the former UCLA tennis standout. With the PrizePicks fantasy scoring chart seen above, he just misses out (21.5) on a 22.0 fantasy score even in a three-set match. Cressy has yet to drop a set at Forli and is serving at a ridiculous rate at the moment while Sachko has come off back-to-back three-set matches.
If you don't like the points, another play could be under 22.0 games, a number he's hit in all of his last 10 matches, win or lose.
Pablo Cuevas Under 20.0 Fantasy Points: The 35-year-old Uruguayan is still slugging it out as he sits just inside the top-100 but his recent results aren't anything to rave about. At Florianopolis so far, he's pushed this line of 20.0 fantasy points in a straight-set win and went the distance in his second match despite holding a set and 5-1 lead, putting him at 17 points.
At this event, he's tallied a 9-9 ace-to-double-fault ratio and in his last five, that ratio is 21 to 11 which is nothing to write home about as he was never one to rely on his serve for cheap points. His opponent, Igor Ribeiro Marcondes, qualified for this event and has yet to drop a set. Marcondes also played Cuevas' last opponent, Matias Zukas, twice and defeated him quite handily.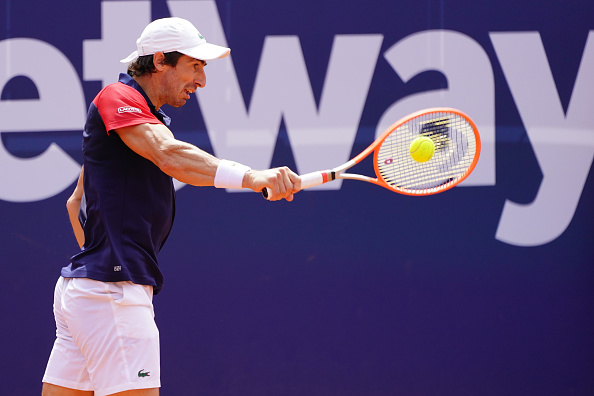 Leans
Kristina Mladenovic Over 20.5 Games: Since reaching a career-high of 10 back in 2017, it hasn't been the smoothest ride on the singles court for Kristina Mladenovic. A dip to her ranking which sees her currently ranked 93 and barely holding on to one of those coveted guaranteed main-draw spots at Grand Slams.
She plays fellow tour veteran Shuai Zhang in the quarterfinals of the WTA 125 in Angers. The trend in Mladenovic's matches has been to go three sets and that's what my prediction is. Serving woes have plagued her for awhile but expect a better performance overall to see this in a tight affair.
Burel Under 17.0 Fantasy Points: This line looks good for the 20-year-old Frenchwoman to go under. Not only have both her matches gone the distance, but her opponent, Natalia Vikhlyantseva, has not dropped a set yet and has two excellent wins under her belt over Ana Bogdan and Vera Zvonareva.
Take those factors into account and add on Burel's issues on serve, the under is screaming to be taken here. At this tournament alone, Burel's ace-to-double-fault ratio is 4-16. Over her last five matches, that ratio worsens to 8-28. A close match here would be the perfect setup for this number to hit which is my prediction as well.
Hugo Dellien Under 19.5 Games: The Bolivian exacted revenge on his second-round opponent Hernan Casanova with a quick 6-0, 6-3 win after the Argentine had won their previous matchup. Expect the 28-year-old to continue his strong run at Florianopolis with another decisive victory, this time against Facundo Juarez.
Nuno Borges Under 19.5 Fantasy Points: Borges doesn't get an easy quarterfinal after some struggles in his last couple of matchups. Kimmer Coppejans comes off two quick wins. Expecting this one to be another tight match for Borges since his opponent has historically performed and preferred the clay more than hard courts, which their last match was on.