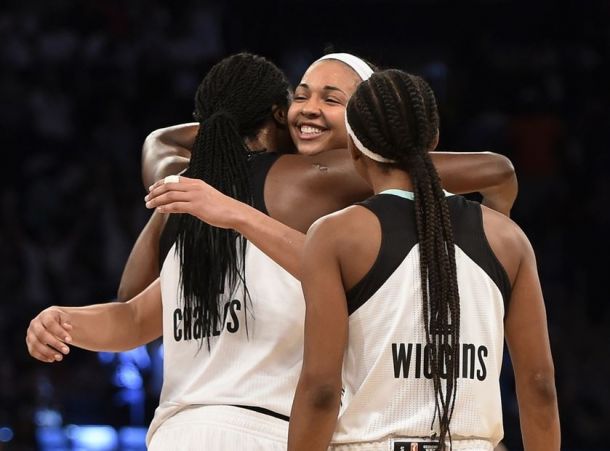 The New York Liberty are in the midst of a great season, one of the best in their nineteen year WNBA history. With a record of 18-8, the Liberty is sitting in first place in the Eastern Conference. They have a winning record in conference, at home and away. Behind the leadership of WNBA Champion Coach Bill Laimbeer, the Liberty is on pace to set single season records.
Tina Charles is an MVP candidate, backed ably by Epiphanny Prince, Tanisha Wright and Essence Carson and veteran leadership provided by Candace Wiggins and Swin Cash. Additional support is also provided by outstanding rookies Brittany Boyd and Kiah Stokes. They are arguably the best defensive team in the league with enough offense to win most nights. With all of the weapons the Liberty possesses, there should not be an issue with their place in the standings - but there is.
That comes in the form of the Indiana Fever. The Fever is also having an outstanding season with a record of 17-9, just one game behind the Liberty. Indiana's most recent win against New York was their sixth in a row and their third win out of four games in the season series.
Indiana now owns the tiebreaker so seeding is crucial to both teams. Fever head coach Stephanie White is a leading candidate for WNBA Coach of the Year and the team is excelling on both ends of the floor. Led by the incomparable Tamika Catchings, Indiana does everything well despite not having the names in the supporting cast New York does.
Solid help does come from Marissa Coleman, Shenise Johnson and Briann January with bench support by way of Maggie Lucas and rookie Natalie Achowna.
While the two teams play each other in their last game of the regular season, Indiana has five games remaining against Eastern Conference teams while New York has six. The division race could go right down to the wire in the last game at Indiana.