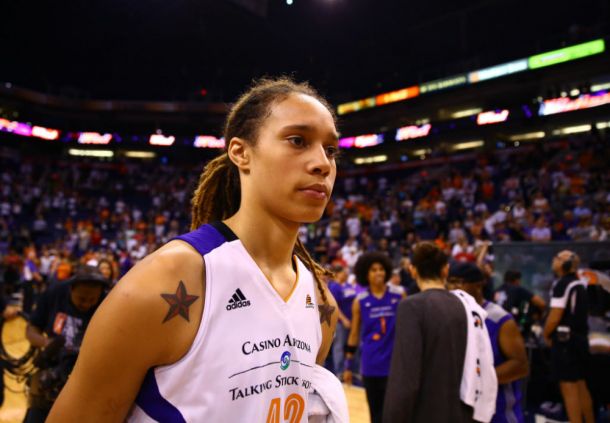 WESTERN CONFERENCE: Phoenix Mercury vs. Minnesota Lynx
How the Mercury got there: The Phoenix Mercury defeated the Tulsa Shock two games to none. Neither game was close.
The Mercury will go as far as WNBA Defensive Player of the Year Brittany Griner takes them. Griner set the tone on both ends of the floor against Tulsa scoring 41 points, grabbing 20 rebounds and blocking 16 shots in only 52 minutes over the two games. When the Shock put pressure on Griner inside, DeWanna Bonner lit it up from outside, Candace Dupree made clutch shots and Monique Currie and Leilani Mitchell ran the offense flawlessly. Minnesota will have a difficult time defending the Mercury.
How the Lynx got there: The Minnesota Lynx defeated the Los Angeles Sparks two games to one, holding serve at home with both of their wins.
It all starts with Maya Moore for the Lynx. Moore is doing it all on both ends of the court and is getting huge help from Seimone Augustus, who is healthy and making a difference in these playoffs. Rebekkah Brunson and Lindsay Whelan did all the little things necessary for the Lynx to prevail the last round. Sylvia Fowles and the bench, particularly Anna Cruz and Devereaux Peters had major contributions. The Lynx are loaded, and when healthy, they are dangerous.
EASTERN CONFERENCE: Indiana Fever vs. New York Liberty
How the Fever got there: The Indiana Fever defeated the Chicago Sky two games to one after losing the first game in Chicago.
The Fever won their series against the Sky with great balance and good defense. Led by the incomparable Tamika Catchings who was outstanding on both ends, she got good support from Shenise Johnson (who was the X-factor in the Game 3 win), Marissa Coleman, Erlana Larkins and Briann January. They will need this balance in the Conference finals to have a chance to beat the New York Liberty.
How the Liberty got there: The New York Liberty defeated the Washington Mystics two games to one after losing the first game at Madison Square Garden.
The Liberty took the last two games in the Mystics series behind some consistently excellent play from Tina Charles, who scored 22 points in each game. Many were of the clutch variety in Games 2 and 3. Epiphanny Prince had a huge Game 1, then was silent for the next two games – until hitting a clutch shot in the last minute of the deciding game. Carolyn Swords had two solid games but missed the deciding game with an injury. Swords being available for the Conference finals is imperative for New York. Sugar Rodgers, Candace Wiggins, and Kiah Stokes were clutch off the bench as well.