 Belarus rallied from an 18-point deficit to stun hosts Brazil 65-63 at the Rio Olympics. The Belarussians were balanced offensively with four players in double figures led by Tatyana Troina with 18 points. Yelena Leuchenka added 15 points and six rebounds. The hosts were led by Damiris Dantas with 23 points, 10 rebounds and four steals while also getting 17 points, 11 rebounds and four steals from Santos.
Brazil gets off to sizzling start, Belarus gets back on track late in first half, close game throughout second 20 minutes
The South Americans got off to a massive start, racing out to a 28-16 lead after the first 10 minutes. Belarus gathered themselves and after trailing 38-20, ended the first half on 15-2 run to cut the deficit to 40-35 at halftime. The second half went back and forth with both teams cooling down in the third quarter, the score level 50-50 after 30 minutes. After exchanging the lead several times in the closing minutes, Brazil took a 63-62 lead on Clarissa Santos' layup, but Troina hit what to proved to be the game-winning three-pointer with just seconds to play. The hosts had one final shot to win, but Iziane Castro's three-pointer that would have won the game was just off the mark as time expired.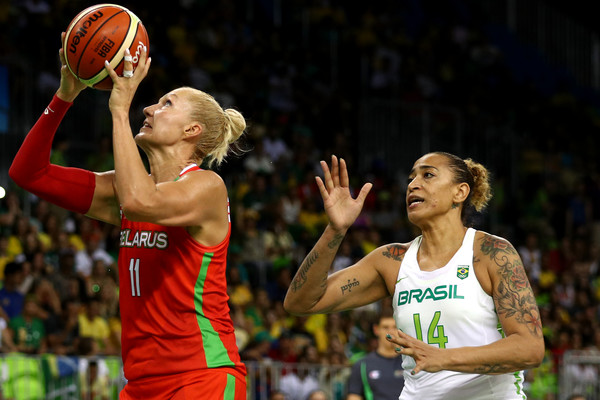 Key stats
Belarus' big advantage was off the bench, outscoring Brazil 21-10 with Troina contributing 18 of those 21 points. They also hit 8 of their 19 attempts from behind the three-point line while the hosts were just 3 for 15. The turnover battle was relatively even, the Europeans giving it up 18 times while their South American opponents coughed it up 19 times. Brazil's big advantage was on the glass, outrebounding Belarus 43-28. They also outscored Belarus 16-13 from the free throw line.
Next games
Belarus will next face Turkey on Thursday. The Turks are winless, getting blown out by Australia, losing a close game to Australia before picking up their first win over Japan. Belarus will fancy their chances against a team on a similar level to them in a game they must win to have any chance of advancing to the knockout stages.
Brazil will also return to action on Thursday, squaring off with France. The French already have two wins, blowing out Turkey, pipping Belarus by a point before being dominated by Australia. The hosts are winless and they will be desperate to get a big win in front of their home fans, but will be a sizable underdog against a team that has medalled in previous Olympics.