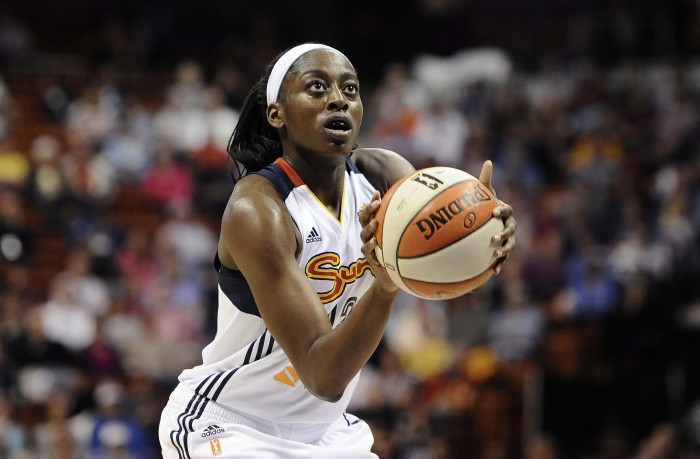 Connecticut Sun forward Chiney Ogwumike underwent successful Achilles surgery Wednesday on her left tendon at Houston Methodist Orthopedics and Sports Medicine. The timetable for recovery from such a procedure is typically six to nine months.
"Battle scars come with the territory," said Ogwumike, the 2016 WNBA Associated Press Comeback Player of the Year. "I firmly believe that every disappointment is a blessing because the person that emerges is stronger than before."
After missing all of the 2015 season while recovering from micro-fracture surgery on her right knee, Ogwumike bounced back in 2016. She appeared in 33 games—18 of them starts—and ended the season as the Sun's leading rebounder (6.7 per game) and was second in scoring (12.6 per). She closed the season with 17 straight double-figure scoring games – tied for the fourth-longest such streak in team history. In that span, she averaged 16.9 points and 9.2 rebounds with seven 20-point games and eight double-doubles.
Ogwumike was the first-round MVP of the Women's Chinese Basketball Association
Ogwumike had a career-high 26 points and seven blocks with 15 rebounds at Dallas on June 20. The seven blocks were tied for third most in a game in Sun history. She also set a franchise record for most shots made without a miss in an 8-for-8 performance against Maya Moore, Lindsay Whalen and the Minnesota Lynx on June 7.
Competing in China this offseason, Ogwumike was the first-round MVP of the Women's Chinese Basketball Association (WCBA), where she averaged 33.6 points and 12.4 rebounds per game for Henan Yichuan.
The first overall pick in the 2014 WNBA Draft, Ogwumike averaged 15.5 points with 29 double-figure scoring games on the way to WNBA Rookie of the Year honors.
"Chiney continues to be an inspiration to me with her positive attitude and a champion's mentality," Sun head coach and general manager Curt Miller said. "She will look at the bright side of this latest set back and see an opportunity to become an even better player, person and teammate. Her determination to attack any obstacle is impressive."