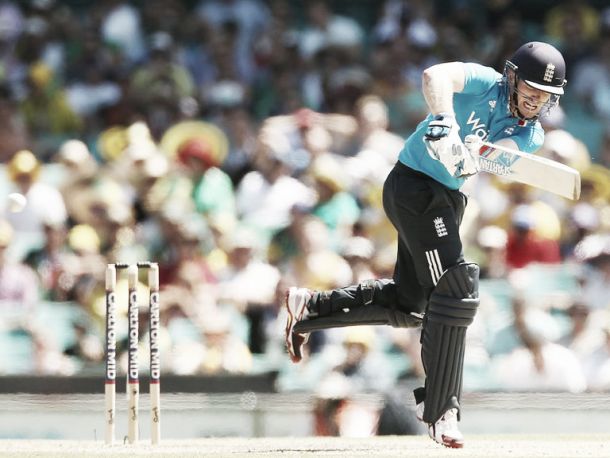 England and Australia will battle for the Carlton Tri-Series trophy on Sunday but the real prize will be the bragging rights leading up to the two countries meeting in the World Cup on the 14th February.
Australia begin the final as clear favourites having defeated their arch-rival twice thus far in the series. The first victory was comprehensive and ended with Australia gaining a bonus point in a comfortable three-wicket victory. The second affair was a tighter finish with Australia sneaking home with one-ball remaining. That result, however, never seemed in doubt.
There is a growing confidence surrounding England amongst the media, the fans and most importantly, the team itself.
When touring Sri Lanka with Alastair Cook still in charge, England's World Cup chances were viewed as slim-to-none. Now, however, the team looks refreshed and has a balance ideally suited to the conditions presented to them in Australia.
The opening partnership looks threatening with Ian Bell proving that the decision by the selectors to choose him over the much-fancied Alex Hales was a wise decision and Moeen Ali continuing to impress on the international stage despite recent poor, unneccessary dismissals.
England will need to bat well against the new ball. Australia will have Mitchell Starc in exceptional form and the returning Mitchell Johnson steaming in to a worn wicket - the same wicket used in England's win against India on Friday.
The middle-order looks well set with Taylor showing why he was lauded as the best domestic one-day cricketer over the previous few domestic summers with a fine start to his international career. Behind Taylor, Joe Root is the ideal man for any situation. Root has the ability to rotate the strike with ease if the side needs to rebuild whilst also able to play the attacking innings if a solid platform is set.
Behind Root, captain Eoin Morgan has had a patchy 12 months in regard to form yet on his day can be the match-winner England will need alongside Jos Buttler, who is maturing superbly into the side and the innings that propelled England into this final was nothing short of world-class on a difficult pitch.
The bowling line-up doesn't have the variation of others. There is no mystery spinner, no left-arm seamer, no out-and-out 'quick'. But all the bowlers are capable of taking key wickets. James Anderson and Chris Woakes are developing a promising new-ball partnership with the tall men Stuart Broad and Steve Finn coming in during the key middle overs.
Finn, in particular, has impressed down under and will play a pivotal role in the World Cup if England are to be successful.
The only question-mark in the side is Ravi Bopara who isn't bowling the key overs he once did for England and is leaving a lot to be desired with his batting. He will need a big innings to ensure his place in the World Cup XI is secure.
For Australia, the Carlton Tri-Series will see the first signs of Mitchell Johnson who has been rested since the World Cup. Johnson will share the new ball with Mitchell Starc who has been exceptional in this series taking 12 wickets at 13.00 and Johnson is looking forward to creating a potent force with Starc.
I'm really looking forward to getting out there again and bowling and working with him. I think we bowl well together in the short form and hopefully we can bowl well together at the WACA. There's actually three left-armers but two opening bowlers.
Australia will likely be without Shane Watson as coach Darren Lehmann wants "to make sure everyone is 100% before playing for Australia".
Much like the general consensus for the World Cup, Australia are favourites for the final. But be wary of England, they're looking promising.
Likely teams:
Australia: 1 David Warner, 2 Aaron Finch, 3 Steven Smith, 4 George Bailey (capt), 5 Mitchell Marsh, 6 Glenn Maxwell, 7 Brad Haddin (wk), 8 James Faulkner, 9 Mitchell Johnson, 10 Mitchell Starc, 11 Josh Hazlewood.
England: 1 Ian Bell, 2 Moeen Ali, 3 James Taylor, 4 Joe Root, 5 Eoin Morgan (capt), 6 Ravi Bopara, 7 Jos Buttler (wk), 8 Chris Woakes, 9 Stuart Broad, 10 James Anderson, 11 Steven Finn.