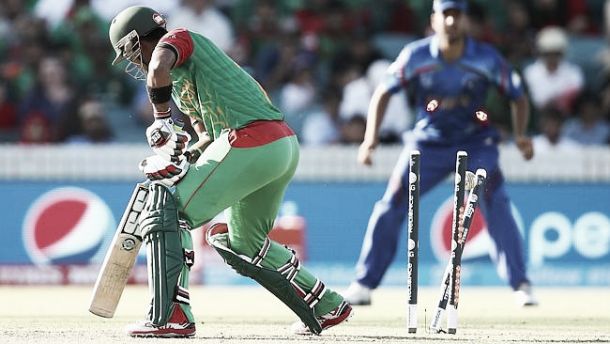 Bangladesh 267 (Mushfiqur 71, Shakib 63, Shapoor 2-20) beat Afghanistan 162 (Nabi 44, Mashrafe 3-20) by 105 runs
Bangladesh spoiled Afghanistan's debut appearance in a World Cup with a comfortable 105-run victory in Canberra.
Afghanistan entered the match looking for another victory against Bangladesh having defeated their opponents in the 2014 Asian Cup for their first victory over a test-playing nation.
Afghanistan's rise has been outstanding and they would have fancied their chances up against a Bangladesh side that has underwhelmed since gaining full-member status in 2000.
The Afghan fans who have dreamed of witnessing their side compete in a World Cup produced a party atmosphere inside the Manuka Oval.
Hamid Hassan, Afghanistan cricket's iconic fast-bowler with warrior-esque face-paint and a headband bearing the Afghan colours, began with a wide.
Not just any wide. A wide bowled by an Afghan in a World Cup. The crowd erupted. The last wide in Australia to achieve such delight was bowled by Steve Harmison in the 2006 Ashes.
The two Afghan opening bowlers, Hassan and left-armer Shapoor Zadran bowled with pace and skill and were unlucky not to take early Bangladesh wickets.
The first Bangladesh wicket to fall was that of Tamim Iqbal to seam bowler Mirwais Ashraf. Iqbal edged behind for 17 but the wicket was created by outstanding wicket-keeping by Afsar Zazai.
Diving full-length to his left, Zazai took the catch one-handed before wrapping his right glove around the ball as it slipped out.
Ashraf then took the wicket of Iqbal's opening partner Anamul Haque, trapped LBW on the back foot for 29 in a spell that yielded two key wickets and 13 balls before a run was scored.
Opening bowler Zadran then took two wickets to leave Bangladesh struggling at 122-4 after 30 overs. Zadran impressed throughout, generating impressive pace and movement whilst steaming in from close to the boundary.
One of Afghanistan's key bowlers is leg-spinner Samiullah Shenwari who was man of the match when Afghanistan defeated Bangladesh in the Asia Cup.
Shenwari only managed seven deliveries in this match as he was warned three times for stepping on the danger of the pitch and unable to bowl for the remainder of the innings.
Bangladesh exploited the absence of Shenwari as Shakib Al Hasan and Mushfiqur Rahim as the duo combined for 114 runs in 15 overs that shifted the momentum of the game toward Bangladesh as they finished on 267 all out.
Bangladesh can boast Al Hasan and Rahim as two players who are of genuine world-class ability and the performance of the two was the decisive factor between the two sides.
The momentum of the partnership continued into the early stages of the Afghan innings as Bangladesh captain Mashrafe Mortaza and Rubel Hossain combined to leave the Afghanistan side reeling on 3-3 after just three overs.
Despite spirited batting by captain Mohammad Nabi and Shenwari who scored 44 and 42 respectively before losing their wickets chasing a spiraling run-rate as Afghanistan were eventually bowled out for 162.