England's winter tour of Australia has been one full of ups and downs, high and lows, and plenty of sweat and toil. Another away Ashes failure was followed by the ever-improving limited overs team securing a comprehensive victory in the 50-over format.
Yet, it will likely be more remembered for the off-field antics that spread over roughly 9,000 miles - from a Bristol nightclub to a Perth bar - both preceded and ran alongside the series', and turned an already-tough tour into a monster that was 100 x harder.
Who starred?
8 - James Anderson
Tests: Wickets: 17 BBI: 5/43 Avg: 27.82 1 X 5 wickets
England's 'Leader of the Attack' certainly played that role during the five-match Test series, albeit with minimal assistance from those around him. Producing his side's only five-wicket haul - and his first in Australia - of the series in favourable conditions under the lights in Adelaide, he was able to use his nous and expertise to tie up an end when given little to work with from the pitch on other occasions. A successful tour for the Lancastrian.
8 - Dawid Malan
Tests: Runs: 383 HS: 140 Avg: 42.55 3 x 50s 1 x 100s
Following a less-than convincing opening Summer in Test cricket, Malan was one of a trio of batsman - along with Mark Stoneman at the top of the order and James Vince at number three - who headed into the series with question marks over his position in the team. However, he quietened the doubters in the best way possible - by making runs. To be your side's leading run-scorer in your first Ashes series is an impressive achievement, and has surely secured his name in the middle-order for the foreseeable future. Can be proud of how he produced when other, more-experienced batsmen did not.
7 - Jos Buttler
ODIs: Runs: 167 HS: 100* Avg: 41.75 1 x 100s
Catches: 6 Stumpings: 2
A reasonable ODI series for the wicketkeeper-batsman, who will look upon his knock at the SCG as one of his finest in an England shirt to date. Using his incredible power he took the match away from the hosts, reaching his fifth ton in the format with the last ball of the innings to show everybody how destructive he can be against the best bowling attacks in the world. Tidy with the gloves also.
7 - Tom Curran
Tests: Wickets: 2 BBI: 1/65 Avg: 100 Runs: 66 HS: 39 Avg: 33
ODIs: Wickets: 6 BBI: 5/35 Econ: 3.97 Runs:46 HS: 35 Avg: 46
The youngster stamped his mark on international cricket with a five-wicket haul in the final ODI match to wrap up the 4-1 series victory for his country. Bowling with a fine blend of composure, nerve and audacity, he showed what a big part of England's limited-overs attack he could be for years to come. In the longest form of the game he bowled reasonably well, yet did not have the pace to trouble the Australian batsmen, who already had the urn retained by the time he pulled on his whites for the first time.
7 - Eoin Morgan
ODIs: Runs: 99 HS: 41 Avg: 19.80
The limited-overs captain endured a modest return with bat in hand, yet was a crucial part of the success with his ice-cool head and tinkering tactics in the field. Often implementing innovative fields or rotating his bowlers at just the right time he must take tremendous credit for his forward-thinking style and the progression he has caused in English white-ball cricket. An outstanding captains display - although in an ideal world he would have liked to yield a few more runs.
7 - Adil Rashid:
ODIs: Wickets: 10 BBI: 3/49 Econ: 5.98 Runs: 19 HS: 12 Avg: 9.50
Leg-spinner Rashid proved his worth to captain Eoin Morgan as he was the leading wicket-taker on either side throughout the series. His variations provide a genuine wicket-taking option and he is demonstrating greater control the more he plays at the highest level. Also boasting a very respectable economy, he is turning into one of his country's most important limited-overs weapons.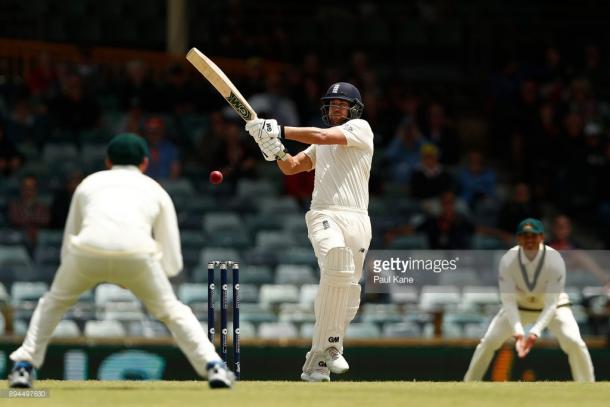 7 - Joe Root
Tests: Runs: 378 HS: 83 Avg: 47.25 5 x 50s
ODIs: Runs: 226 HS: 91 Avg:75.33 2 x 50 s
It was never going to be easy for new skipper Root being thrust into an Ashes series away from home having so little experience in the hot seat; once he lost his deputy in Ben Stokes - so crucial both in leadership and his performances with bat, ball and in the field - his task became unenviable. He produced a respectable series with bat in hand, yet his inability to convert solid starts into big scores, such as those done by his counterpart Steve Smith, is one of huge frustration to Root, coaches and fans alike. For a player of his ability - as undoubtedly one of the best on the globe - to not register a hundred in 15 innings in both formats is almost unforgivable, and until he starts to consistently post big scores he cannot truly be placed into those top echelons of batsmen.
7 - Jason Roy
ODIs: Runs: 250 HS: 180 Avg: 50 1 x 100s
The Surrey batman's huge score of 180 in Melbourne was one of the greatest seen by an Englishman in a 50 over match, moving to the top of the list of highest scores by his countrymen in this format. A reasonably solid series elsewhere, he often fulfilled his role as aggressor at the top of the order to get his side's innings off to a quick start. His style of play typifies the brand of cricket now played by Morgan's men.
7 - Chris Woakes
Tests: Wickets: 10 BBI: 4/36 Avg: 49.50 Runs: 114 HS: 36 Avg: 16.28
ODIs: Wickets: 5 BBI: 2/57 Econ: 5.41 Runs: 170 HS: 78 Avg: 170 2 x 50s
A disappointing Test series for the all-rounder was contrasted by a superb ODI series, in which he was arguably England's most effective performer in all three aspects of the game. He struggled to get any lateral movement during the Ashes and saw his pace reduced from recent times, something which was to be key if he was to be successful, yet was rejuvenated for the five one-day matches where he particularly shone with bat in hand.
7 - Mark Wood
ODIs: Wickets: 4 BBI: 2/46 Econ: 5.47
The Durham man has endured injury frustrations in recent months, yet was back to his hostile best here. Particularly in the opening two matches his out-and-out pace surprised the Australian batsmen as it was a facet seldom faced by them during the Test series. Being the quickest bowler amongst his peers his role in the team cannot be underestimated, especially on the quick, bouncy pitches Down Under. England will be hoping he can remain injury-free from now on.
Solid performances?
6 - Jonny Bairstow
Tests: Runs: 306 HS: 119 Avg: 34.00 0 x 50s 1 x 100s
Catches: 10 Stumpings: 1
ODIs: Runs: 157 HS: 60 Avg: 31.40 1 x 50s
Having firmly established himself as the man with the gloves in the longest format, the Yorkshireman endured an up-and-down series - yet it will likely be most remembered for the 'headbutt' on Cameron Bancroft prior to the first Test, one of a number of misdemeanours off the pitch for the tourists. A respectable if not outstanding average - supported by a classy hundred at the WACA - he will have been disappointed to claim only eleven victims behind the sticks in all five Tests and fail to pass fifty barring his Perth ton. Also given the role as opener at the top of the one-day innings, he again produced a steady return, with one half century to boot. He'll have better tours, but certainly worse also.
6 - Alastair Cook
Tests: Runs: 376 HS: 244* Avg: 47.00 0 x 50s 1 x 100s
The former captain produced one of his infamous mammoth spells at the crease at the MCG in his score of 244*, becoming not just the highest scoring visiting player at the historic ground but also registering the highest Test score by an opener to carry his bat. Yet aside from his huge knock in Melbourne - where he notched almost 65% of his runs for the series in that one innings - he endured a pretty barren spell. He will have been disappointed to have not moved past 50 on any other occasion in the series, and an average of 14.67 without taking into account his double hundred paints a more realistic picture of his series as a whole.
6 - Alex Hales
ODIs: Runs: 100 HS: 57 Avg: 20 1 x 50s
Explosive opener Hales produced a quiet series by his standards - albeit from the lower position of number three in the order, where he was tasked with continuing the free-flowing tempo started by the opening pair - as he hit only one half-century, doing so at the Gabba. Will be disappointed at a series average of only 20, however played his part in a comprehensive series win overall.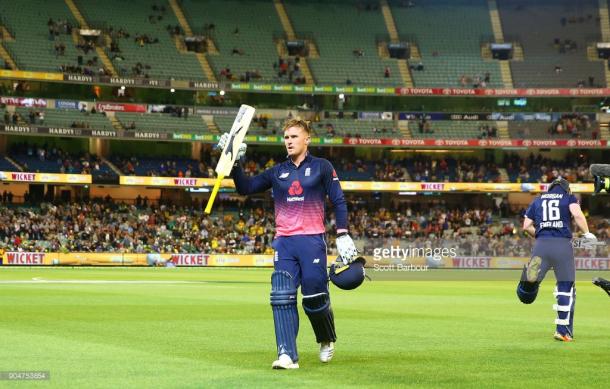 6 - Craig Overton
Tests: Runs: 62 HS: 41 Avg: 20.66 Wickets: 6 BBI: 3/105 Avg: 37.66
Taken in the touring party for his raw pace and bounce, he failed to produce the hostile spells which were needed to trouble the home batsmen. Must take credit for continuing to take to the field with a cracked rib, and also added some crucial lower-order runs in Adelaide. Oh, and a first Test scalp of Steve Smith is also something the Somerset man can be particularly proud of.
6 - Mark Stoneman
Tests: Runs: 232 HS: 56 Avg: 25.77 2 x 50s
A frustrating tour for the left-handed opener, who showed in fits and spells that he has the ability to make it at the highest level however could not produce the ruthless spells of consistency that are required to become a proven Test player. Showed great desire and spirit to survive a terrifyingly hostile spell of bowling late on day three in Brisbane alongside his captain, but will have hoped to firmly stamp his mark at the top of the order and ensure he is undroppable come New Zealand - which is not completely the case. Done enough to earn another shot, but must produce that big score - àla Dawid Malan - to truly show his worth.
6 - James Vince
Tests: Runs: 242 HS: 83 Avg: 26.88 2 x 50s
In many ways, the series itself, on a personal level for Vince, was the perfect microcosm of the Hampshire batsman's Test career thus far: starting off promisingly well before fading away with little impact towards the later stages. An impressive 83 in his first innings of the tour gave hope of a big series for the 26-year-old, however he too often fell as he so often does, tempted into wafting needlessly outside off-stump with big, expansive drives before being caught behind the wicket.
They say it is the hope that kills you, and in Vince's instance that is certainly the case: he has shown that he has the ability to become an established international batsman and has provided sparks of optimism that he could be the long-awaited heir to Jonathan Trott's throne at number three; yet his concentration is just not up to the required level. Has surely wasted his last chance to post a big score and prove himself as a Test match player.
Any failures?
5 - Stuart Broad
Tests: Wickets: 11 BBI: 4/51 Avg: 47.72
The experienced pace man endured a toiling tour which bore little fruition. Averaging nearly 50 he could not provide the control of his bowling colleague Anderson when there was little assistance in the pitch, and without the aid of lateral movement he is so skilled at producing on home soil he struggled to make much of an impact. An inadequate overall performance from England's soon-to-be most senior bowler.
5 - Mason Crane
Tests: Wickets: 1 BBI: 1/193 Avg: 193.00
A tough introduction to Test cricket for the 20-year-old leg-spinner, who made his debut on an SCG pitch on which he had played for New South Wales only twelve months previous. Showed a promising amount of control and guile to suggest there is definitely a future international cricketer within him, and he will have surely learned plenty from facing top-class opposition in a high-profile environment.
5 - Liam Plunkett
ODIs: Wickets: 4 BBI: 3/71 Econ: 6.20
Utilised his natural pace and bounce well during the first two ODIs on pitches that suited him, however picked up a hamstring strain in the third which ruled him out of the remainder of the series.
5 - David Willey:
ODIs: Wickets: 0 BBI: N/A Econ: 4.11 Runs: 2 HS: 2 Avg: 2
Willey found gametime hard to come by in the ODI series, appearing only in the final match of the series. Bowled tidily yet was wicketless, however did go for minimal runs per over.
4 - Moeen Ali
Tests: Runs: 179 HS: 40 Avg: 19.88 Wickets: 5 BBI: 2/74 Avg: 115.00
ODIs: Runs: 51 HS: 33 Avg: 12.75 Wickets: 5 BBI: 3/55 Econ: 4.95
There was much talk prior to the series as to Moeen's ability to play the role of a front-line spinner, tying up an end in the first innings before hunting for wickets later on in the Test. However, a cut to his right index finger during the Brisbane Test - so crucial in an off-spinner's ability to provide turn and control - inhibited his threat and culminated in delivering 50-60 mph deliveries with no turn. Unable to control line and length for much of the time from then on in, the Worcestershire all-rounder was not able to play the role his team so desperately needed. Despite tightening up his bowling in the one-day series and going for a very respectable economy he was devoid of form with the bat throughout the duration, often gifting his wicket in a cheap manner. Needs to rediscover his best form in New Zealand if his position is to not become under serious threat.
3 - Jake Ball
Tests: Wickets: 1 BBI: 1/79 Avg: 115
ODIs: Wickets 0 BBI: N/A Econ: 5.80
It would probably be fair to say that, when leaving Heathrow Airport on October 28, Ball would have envisaged collecting more than one wicket in competitive matches upon the culmination of the tour over two months later: alas, that is how it played out for the Nottinghamshire quick. Having grabbed his solitary scalp in the opening Test in Brisbane, that was to be all for the 26-year-old. Consigned to ferrying drinks for the following eight weeks, he made his second and last appearance in the final ODI, where he went wicketless and collapsed with what appeared to be a heat-exhaustion related condition. A tour to forget.