Chris Froome dominated his rivals in every discipline as he secured his third Tour de France title in four years on the Champs-Élysées in Paris.
From the strength of Team Sky to Froome's domination, how was the race won and lost?
Strength of Team Sky
This year Team Sky backed Froome with what many consider one of the strongest teams in Tour de France history. Team Sky built a team around Chris Froome with one goal in mind: winning a fourth Tour de France title as a team in five years.
In Ian Stannard, Luke Rowe and Vasil Kiryienka, Sky had some of the strongest rouleurs in the world, who drove the peloton on the flat and protected Froome in the crosswinds. In the mountains, Froome was backed with one of the strongest climbing units ever assembled. Geraint Thomas, Sergio Henao, Wout Poels, Mikel Nieve and Mikel Landa are five climbers who could lead most World Tour teams.
Just a look at the riders Sky left at home this year highlights the team's huge strength in depth. 2014 world champion Michal Kwiatkowski, Nicolas Roche, Leopold Konig, Peter Kennaugh, Philip Deignan, David Lopez and Ben Swift are all talented riders and had they been allowed to field two teams then Sky's reserve team might even have challenged their first one.
The strength in depth of Team Sky allowed them to dominate the race. From the flat roads to the mountains, Sky maintained a brutal pace in support of Froome so that his rivals were either too daunted or not able to attack. Riders found that it was tough to drop Froome's team-mates, let alone the man himself.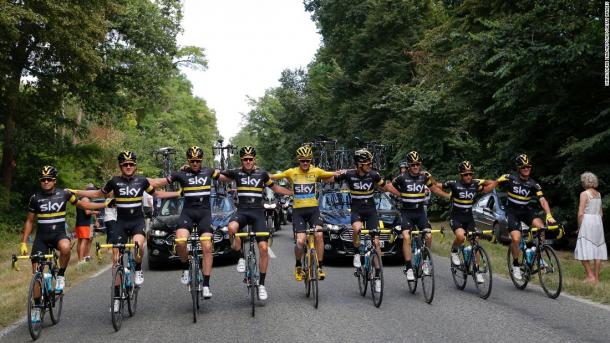 Froome dominant in every discipline
Team Sky's formidable team selection was set-up to be dominant in every discipline over the three weeks, but Froome has shown over the last three weeks how rounded he has become. He has dominated his rivals in every discipline, from the flat to mountain ascents to the terrifyingly fast descents.
First it was the breathtaking and completely unexpected descent off the Peyresourde on stage eight, which saw him ride with his 6ft 1in frame draped over the top tube of his bike in a breathtaking performance, while reaching speeds of up to 90kmh. It was a terrifyingly fast and fearless descent that not only saw him win the stage and take the yellow jersey, but it was a clear statement that he was in-form, motivated and ready to fight for every single second.
He defied expectations yet again on stage 11 with another superb display of attacking cycling, this time on the flat. Froome made the most of windy conditions to attack off the front of the peloton with an audacious and instinctive late attack in the final 10km seeing him further extend his lead at the top of the general classification.
Froome's climbing ability
Froome's attacking display on the descent on stage eight and on stage 11 may have been unexpected, but nobody doubted his climbing ability and he once again showed that he is one of the best climber's in the world.
The events on stage 12 on Mont Ventoux will forever be remembered for the farcical crash that led to Froome running up one of cycling's most storied and iconic climbs. What may be forgotten is this was the ascent where he launched his first major uphill attack of the race and left all of his closest rivals in his wake.
Only Richie Porte was able to stay with Froome as he accelerated up the ascent, before the farcical scenes unfolded. He still gained time on his rivals and if the events had not unfolded how they did perhaps Froome would have caused even more damage to his rivals.
In the rest of the mountain stages, Froome's lead never looked under threat, partly because of the strength of Team Sky, but also because of his own climbing ability. He was able to respond to any attacks by his rivals and even launched his own accelerations to try and extend his lead further.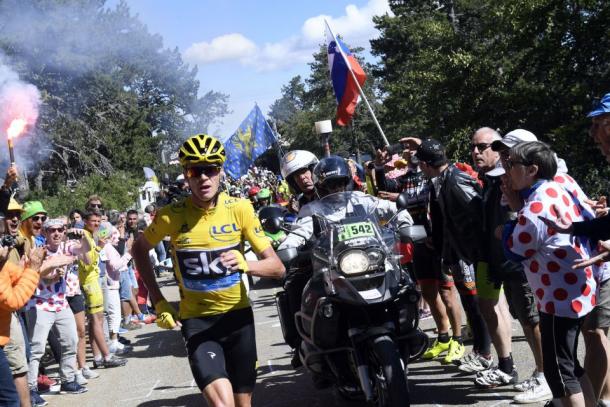 Out of sight against the clock
Having already displayed his superiority on both descents and climbs, Froome then continued his dominance against the clock in the two time trials. Although he missed out on the stage 13 time trial, he beat the times of closest rivals Nairo Quintana, Adam Yates and Richie Porte by about two minutes to show that he was better than his closest rivals in every discipline.
Froome beat all of his closest challengers by more than a minute on stage 18's uphill time trial to extend his overall lead to almost four minutes and effectively bring an end to the race for the yellow jersey. Froome ended up beating Romain Bardet of France by four minutes and five seconds with Colombia's Nairo Quintana in third and Britain's Adam Yates fourth.