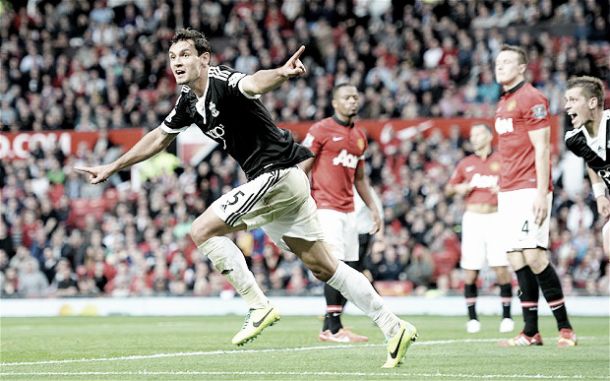 Liverpool Football Club's chase of Dejan Lovren looks to be hotting up. James Pearce of the Liverpool Echo exclusively revealed last night that, while always being LFC's first choice, the Croatian centre back had been subject of a twenty-million pound bid from the Reds. However, Pearce claims that Liverpool have so far been frustrated in their pursuit of Lovren as Southampton remain reluctant to let the player go.
Sky Sports have picked up this story today (July 4th) and have been reporting that an eighteen-million pound bid has been received and in-turn rejected by the Saints. Despite the differing figures both Sky & the Liverpool Echo conquer that Southampton regard Lovren as their best player and do not want to see the Croat go - Sky went one better, stating that only a fee in the region of 25 million would tempt the south-coast club into business.
It is thought that Lovren is desperate to move to Anfield (remember his Twitter flirting last summer?) and play Champions League football next term; so much so that the Southampton Daily Echo seem to have been briefed by Lovren's representatives that the player is willing to strike after his transfer request was rejected. The reasons for this are of course not known for sure but Southampton Daily Echo journalists suggest that a 'gentleman's agreement' that Lovren could leave for the right figure (20m) has been broken.
Rodgers is said to be a big fan of the domineering central defender and is thought to believe Lovren would bring the leadership to the leaky Liverpool back line that is required to reduce the concentration lapses that ultimately cost the Reds their 19th league title. Reports have suggested that Lovren has become disillusioned with the Southampton project after the departure of Pochettino to Spurs; the ambition of the player is to test himself at the highest level - Liverpool are offering the player this opportunity.
There's a sense of De Ja Vu with the early reports regarding Lovren & Liverpool. Similar noises were made by the Southampton board regarding Lallana and he is now getting ready to don the Liverbird for the 2014/15 season. The transfer of Dejan Lovren to Liverpool looks set to rumble on.