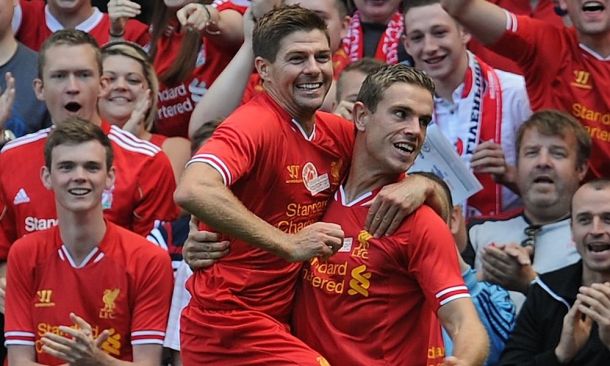 After Steven Gerrard called time on his illustrious international career, which saw scouse born midfielder lead his nation to a World Cup and a European Championship, and also saw the legend lead England, without the captaincy, to two more European Championships as well as another 2 World Cups. The Liverpool skipper is undoubtedly one of the greatest footballer, this football-mad-nation has ever seen, with his name sat proudly amongst some wonderful company in the list of most capped players, with only former Real Madrid and Man United midfielder, Beckham, ahead of Gerrard for most capped outfield player.
However, although England boast a host of fantastic players down the years, Jordan Henderson believes that Gerrard is the greatest player to have graced the Wembley surface with the three lions upon his chest.
"He's probably been the best player this country has ever seen - not only as a player, but also as a leader and a captain.
"For me, playing with him is a pleasure and hopefully I can continue to do so for a very long time at Liverpool.
"For England supporters, it's disappointing because he's such a big player, but at the same time, for Liverpool fans it's a big plus because it means he'll be fresher and can have more breaks when internationals are on - and he'll be raring to go."
Henderson added: "He's still got a huge part to play [at Liverpool]. That's probably swayed his decision in terms of being fresh for the Champions League. He wants to make sure he's 100 per cent in every game for the club.
"That is what will have been playing on his mind, and he'll have a huge impact this season."
"I've always said since day one since I came here, he's helped me progress as a player and as a person as well," he said. "I've got a lot of thanks to give to him for that.
"Going away with England, he made it very comfortable for me - along with many other players as well. I'm sure everyone will miss that.
"It's time for the [England] players to take responsibility and step up."
"Playing in games like that, it doesn't get much bigger," he said. "It was a great experience for everybody involved, but at the same time it was disappointing what happened.
"You've got to learn from the experiences as best you can, take it on board and keep improving as a player."