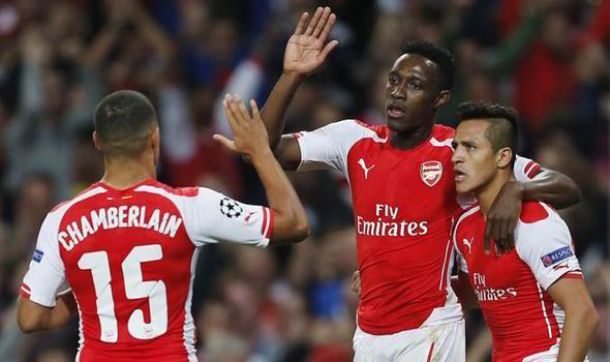 Arsène Wenger celebrated his 18th anniversary as Arsenal manager in style, as his side recorded an emphatic 4-1 victory over Galatasaray to reignite their Champions League campaign. After a disappointing 2-0 defeat to Dortmund in their opening group game, a win was imperative, but the Gunners duly delivered thanks to a stunning hat-trick from Danny Welbeck. It was arguably Arsenal's best performance of the season thus far, but what did we learn from the Gunners' comprehensive victory?
Welbeck shows his class:
Danny Welbeck produced a scintillating all-round display and recorded the first senior hat-trick of his career in Arsenal's emphatic triumph. He was clinical in front of goal and a constant menace to the Galatasaray back-four with his pace and tireless pressing. Louis van Gaal's brutal justification for Welbeck's departure from Manchester United was because 'he was not up to the standards required'.
The Dutchman highlighted Welbeck's inferior scoring record compared to Rooney and van Persie, although he was sacrificed out wide for the majority of his United career. Based on his start to life at the Emirates, the former Bayern and Barcelona manager may live to regret that bullish statement.
Wednesday night's master-class caused many to draw comparisons between Welbeck and Arsenal's record goal-scorer, Thierry Henry. It's fair to say that comparing the two in terms of quality is premature, but there are distinct similarities. Like Welbeck, Henry joined Arsenal with something to prove. Henry was also deployed on the wing at his former club, Juventus, but Wenger converted him into the Premier League's most successful centre-forward.
Arsenal's veteran manager will be hoping for a similar result with his latest project. Welbeck has pace and power in abundance, but the major question mark was his finishing. Although he wasn't prolific at United, he wasn't given the opportunity to prove his worth in his preferred position. Goals breed confidence and that was demonstrated clearly against Cesare Prandelli's side.
After an excellent toe-poke finish for his opener, he grew in stature and belief; his goals showcased his pace, power and ruthlessness. The hat-trick encompassed a variety of impressive finishes and he provides Arsenal with refreshing attacking dynamism. The Gunners have lacked a striker with genuine pace and power since Henry's departure; if he enjoys even half of the success that the Frenchman had, then Arsenal will reap the rewards.
Szczesny lacks maturity and discipline:
Wojciech Szczesny can be a frustrating individual. He has all the attributes to be a top-class goalkeeper. He is a fantastic shot-stopper and he has also become more of a confident presence as he's more assertive in terms of claiming crosses. However, he is prone to lapses in concentration which makes him a liability. Last night's sending-off was a further example of misjudgement from the Pole; his impulsiveness and recklessness has cost the Gunners on several occasions in the past. Therefore, the most frustrating aspect is that Wednesday's red card wasn't an isolated incident. Szczesny was sent off last year at the Emirates in almost identical circumstances, after rushing out and recklessly fouling Arjen Robben; albeit the Dutchman's theatrics were Oscar-worthy.
It seems Szczesny is failing to learn from his mistakes, which is worrying. Nevertheless, the major concern about the 24-year-old is complacency. He seems to lose focus and make needless and rash decisions. His distribution is another glaring flaw in his game. He puts the Gunners' defence under unnecessary pressure with his clearances. An error such as this, led to Manchester City's equaliser just three weeks ago.
He doesn't analyse the game in the correct manner; he bases his game on impulse and adrenaline. Although he was dropped for Lukasz Fabianski towards the latter stages of the 2012/2013 season, his first-team spot has been virtually unassailable in recent years. However, with the arrival of David Ospina, Szczesny may be forced to fight for his place, which could be the tonic the Pole needs to regain his focus and drive.
Kieran Gibbs is the real deal:
Kieran Gibbs is arguably one of Arsenal's most consistent performers, you rarely see him have a poor game. He began his Arsenal career as a left-winger, but under Wenger's stewardship he has developed into a fine left-back. He still has the offensive quality to trouble opposition sides, but he's vastly improved his understanding and positioning over the last couple of years. He has all the attributes and is demonstrating his quality on a regular basis.
Gibbs has had an excellent week. He performed fantastically in last Saturday's North London Derby and Wenger lavished Arsenal's full-back with praise prior to their crunch-match against the Turkish giants. Wenger said: "I think Kieran will be recognised if he performs like he did on Saturday against Tottenham. He looks to me that he's going into second gear now and he realises that he can trust his body. He was inhibited for a period and what doesn't help is when you're in and out because of injuries. You need a consistent presence in the team. We sometimes forget that the first quality of a good footballer is health."
Gibbs has also received an England call-up for their upcoming Euro 2016 qualifiers. If his performances over the last 18 months are to go by, he's more than deserving of a regular International starting berth. Gibbs is certainly more stable defensively than Leighton Baines, whilst he has invaluable experience of playing Champions League football against the best sides and individuals in Europe, something that Baines and Luke Shaw have yet to experience.
The biggest obstacle to Gibbs' development is unquestionably his injury record. On several occasions over recent years, the Arsenal academy graduate has been in a rich vein of form, only to succumb to injury. If he can remain fit, the future is bright for Arsenal's ever-improving left-back.
Wenger found the right balance:
Arsène Wenger's biggest dilemma this season has been trying to find the right shape and formation to allow his side to flourish. He had been attempting to accommodate both Jack Wilshere and Aaron Ramsey in the Gunners' midfield, leaving their record-signing Mesut Ozil as a perennial figure on the left-wing. The Gunners' looked disjointed, they lacked fluency and balance. There were too many players trying to perform the same role. However, injuries to Ramsey and Wilshere forced the Arsenal boss to make alterations in personnel and formation against Galatasaray, which proved extremely effective.
Santi Cazorla was handed a rare start in central-midfield and the diminutive Spaniard performed with aplomb; he was efficient with his distribution and orchestrated a series of Arsenal counter-attacks. Alexis Sanchez and Alex-Oxlade-Chamberlain were a lethal duo out wide. Their pace, urgency and vision left the Turkish side floundering. The Gunners' build up play was not lethargic, laboured or predictable as in recent weeks; they played with intent and energy which allowed Danny Welbeck to flourish.
Crucially, Mesut Ozil was played in his preferred central-midfield position and was given freedom to roam. His performance oozed class and he has already formed an excellent understanding with Welbeck. It's no coincidence that Arsenal's only other victory in the last month, against Aston Villa, came with Ozil playing in the number ten role. This gives the North Londoners balance and creativity, and although some of the changes were enforced, it enabled Wenger to find the most effective shape for the team. They had pace, creativity and incisiveness; this could be a turning point in Arsenal's season.
Calum Chambers is improving game by game:
Arsenal's summer signing Calum Chambers has gone under the radar in recent weeks but his performances since arriving from Southampton have been hugely impressive. He possesses composure beyond his years; he's been thrust into huge Premier League and Champions League contests and has played at both centre-back and right-back, performing with aplomb. His best display in an Arsenal shirt came in the North London Derby; which simply illustrates how strong he is mentally. He is not fazed or daunted by facing top-class players, he relishes the challenge. It's quite remarkable to think that he had only made 22 senior appearances prior to his move to the Emirates; he looks like a seasoned professional.
Arsène Wenger was full of praise for the 'remarkable' 19-year-old this week, commenting: "He has been remarkable in every position. He has an unbelievable engine. He goes and goes. It's not often that you see that quality."
Arsenal's long-serving manager praised the youngster's versatility; due their current defensive injury worries, he will unquestionably play an instrumental role over the next few months. Arguably the toughest test of his career will await him this Sunday, as Arsenal travel to a Chelsea side in ominous form. Chambers will be up-against the mercurial Belgian Eden Hazard, one of Europe's finest technicians. The former Southampton man will have to be at his very best, but judging by his displays this season, he may well be up to the challenge. He'll need to be, in order for Arsenal to secure a positive result at Stamford Bridge.