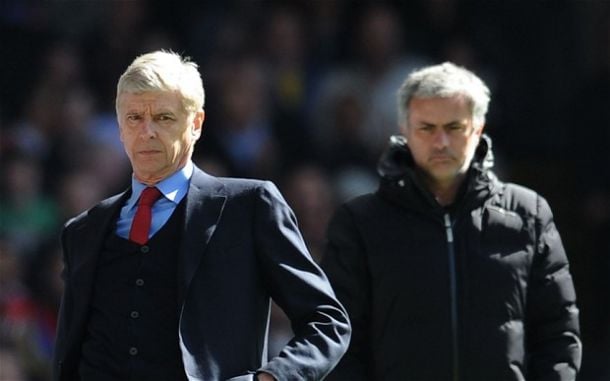 Football is a crazy world; a world where people question your ethics, your philosophy and your loyalty when, in the end, you're the one who is doing the right thing while the others are doing the wrong.
They call you a failure and they mock you when you don't win enough trophies when, after all, it is you who will have the bright future ahead. That's how the whole world is now anyways.
That is the story of Arsene Wenger and Jose Mourinho.
Coming in as an unknown, Wenger transformed Arsenal into the English powerhouse it is today. His dietary and his tactics revolutionized English football and European football. He has made young promising players great players and average players good players, won Arsenal lots of trophies in the process and helped the club move from Highbury stadium to the Emirates while still competing with the top clubs.
Wenger is praised by defending his players no matter what, he is loved by absolutely every player he coached and he is known to have respect for everyone.
He definitely had his fights with Sir Alex Ferguson and the rest, but the one with Jose Mourinho stands out the most.
In the season 2013-2014, Jose Mourinho claimed Arsene Wenger was a "specialist in failure" and that if he hadn't won anything for nine years he wouldn't even come to London let alone still managing Chelsea.
The comments certainly hurt Wenger, a manager more than ten years Jose's senior and a very respected man in the football world.
Jose Mourinho is certainly a manager with great abilities. He is a winner and is ruthless in what he does. Winning the Champions League with FC Porto and Inter Milan were highlights of his career and his teams were always top of every league.
The difference?
Mourinho had endless amounts of money in every team he managed. At Chelsea he bought players for fun, at Inter he had the money to buy world class players and at Real Madrid, well we all know what happens when you're manager of Real Madrid.
The way Mourinho manages his teams is totally different to how Wenger does as well.
Jose's team is always based on power, defensive stability and flair among his attacking players. He doesn't mind winning the ugly game from time to time while playing defensively and counter attacking to score.
Arsene Wenger though plays the technical, passing game based on attacking players with pace.
The two managers have their differences. Jose Mourinho is the type who would want to win no matter what, he has a ruthless approach and can get a little arrogant in press conferences. On the other, hand Arsene Wenger is a lot less arrogant, he never talks about his current or ex players and he respects managers and players.
Until Jose Mourinho shows how he can be consistent with a low budget, commitment to one team and the ability to nurture young talent and bringing them through to the first team, many Gunners will continue to believe Arsene Wenger has the upper hand.