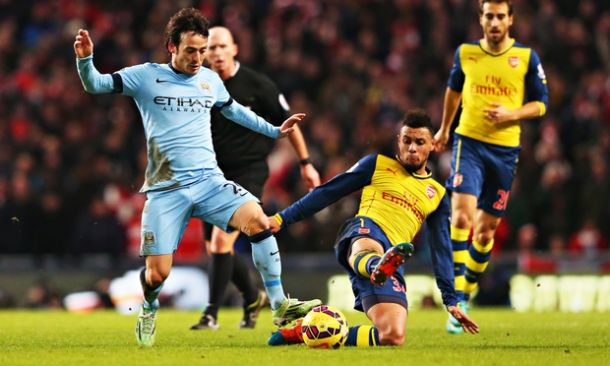 When Francis Coquelin was abruptly sent out on loan a few matchdays into the new season, especially at a time when Arsenal's defensive performance was woeful, it raised quite a few irate eyebrows. Then, he was called back from his loan spell after just three months. Then out of nowhere, when Mikel Arteta got injured, it seemed like the club had a star in the making. Coquelin seemed to put in a hard day's professional performance in each game and many said his litmus test would be the match against the defending champions – Manchester City. He did not disappoint.
For the greater part of the last decade, Arsenal have been renowned for their amazing scouting network and unearthing young talent and having abundance of youth quality. Yet very few have proven to have the ability to step up to the first team and perform when it matters. Francis Coquelin has been with Arsenal for as long as most people can remember and yet, he is only 24-years-old. He might not be the bulkiest or strongest central defensive midfielders around but he sure is one of the most passionate and aggressive tacklers currently in the game. There were quite a few people who questioned why Francis didn't get a break earlier and yet, when you look at the short loan spell earlier in the season, with hindsight it seems like he was being prepared and given some match practice because he had a role to play in Arsenal's current season.
Arsène Wenger is known for his tendency to bring in rough talent and polish them into world class players rather than go and buy proven talent and work with them. It is hence no surprise that Arsène is pleased with the seemingly sudden progress that Coquelin has made. At a time when the whole world's media seemed to be pressurizing the Arsenal manager to go out and get defensive reinforcements the Frenchman would be very pleased to see one of his own protégés step up to the fore.
Arsène has been working with youth talent and a really young squad for quite a while and it sure will come to him as a breath of fresh air that one of his earliest acquisitions has finally stepped up to the big stage. Francis Coquelin's rise to the occasion could very well mean that Arsène does not need to urgently look into the transfer market for a suitable successor for the Arsenal captain. He can focus his attention and transfer funds on getting defensive cover at the back and he's already brought in 17-year-old Krystian Bielik from Poland. Why wouldn't he then term the opportunity to promote from within the ranks as a blessing in disguise?