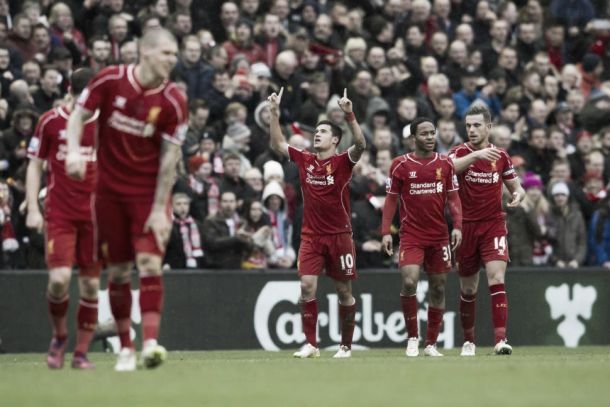 Philippe Coutinho is demonstrating the same guile of ducking and weaving between players as shown on the futsal courts of Brazil as he a youngster, according to his manager, Brendan Rodgers.
The midfielder has been in sizzling form for the Reds of late, serving up another match-winning display against Manchester City, with a wonderful goal to match at Anfield on Sunday.
Rodgers spoke of his admiration for the Brazilian, as he drew comparisons between the boy who can be seen on YouTube, flaunting his magical futsal skills, and the man who has come up with the goods so consistently this season.
"What he gives to the team, he offers that gold dust to how we play," said the manager. "He's a wonderful player.
"If you see his videos on YouTube, playing futsal when he was 11 or 12 in Brazil, he's playing the same game now only as an adult.
"We knew he had ability, it was just about trusting that ability and allowing it to grow."
The 2013-14 campaign saw the forward go from strength to strength; however, this season Coutinho has arguably gone to a whole new level, adding a ruthlessness in front of goal to his already stunning skillset. However, in that season he could only manage 39% shot accuracy. Since then, he has been staying after training to better his shooting skills which he lacked this season and last, the sessions after training have played dividends as the Brazilian has saved Liverpool with some unbelievable strikes.
"I'd seen him play with [Samuel] Eto'o and [Wesley] Sneijder in big games [at Inter] and he was just the type of player I love," said Rodgers.
"He has a beautiful arrogance on the ball, his touch is magical but he's effective and efficient with it and playing here at Liverpool, with the dynamics of how we want to work, is perfect for him."