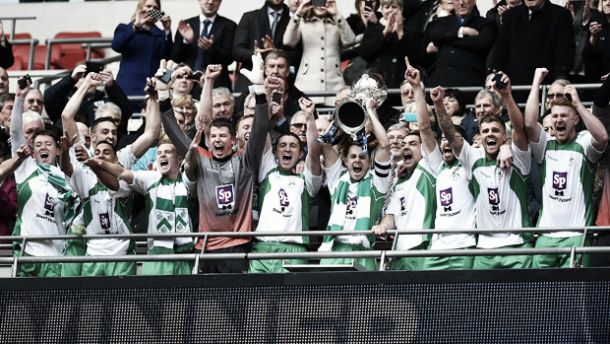 Goalkeeper Adam Nicklin became the hero of the FA Trophy final, despite a shaky 90 minutes in goal, as North Ferriby United instigated a comeback from two goals down to lift the trophy after a tantalising penalty shoot-out.
In-form striker Louis Moult and Jay Harris commanded by a 2-0 lead within the hour for the Conference Premier side, and the Welsh side look to be cruising to lift the silverware for a second time in three years.
However, a cool finish from the spot saw Liam King hand United a lifeline with just 14 minutes left. And against all odds, substitute Ryan Kendall equalised late in normal time in spectacular fashion, silencing Wrexham fans before sending the travelling North Ferriby fans into ecstasy.
With extra-time required to separate the two sides at Wembley Stadium, Kendall believed he had nodded the winning goal home with 101 minutes on the clock. As the underdogs prepared to celebrate a historic victory, Wrexham striker Moult appeared once again to smash home a spectacular volley from 18 yards two minutes from time.
Breaking the hearts of North Ferriby supporters and players, Nicklin stepped up between the sticks for a tense shootout. Despite an unstable game during normal time, which saw numerous miskicks and mistakes from the 26-year-old, he improved considerably during extra-time and looked confident on his line for the deciding penalties.
Despite an optimistic start from both sides, four continuous penalty misses for the non-league outfits saw sudden death emerge. And with Nicklin saving Steve Tomassen's penalty to cap an extraordinary comeback for the Villagers, the goalkeeper ran the length of the field in order to celebrate their first ever FA Trophy.
Having started the match 18 places below their Welsh opponents, the East Yorkshire club saw more than 3,000 supporters among the 14,585 strong crowd packed into Wembley just two days after England's impressive friendly victory. And with North Ferriby populated by just 4,000, the Conference North side were finally able to celebrate after losing the 1997 FA Vase final at the Old Wembley.
Speaking after the match, a despaired Kevin Wilkin, manager of Wrexham, said: "I'm gutted. We had a great opportunity to put ourselves in the driving seat and to give the game away like we have, I feel we've left people down today.
"There were no issues, but then we started dropping off and getting deep again. We didn't defend crosses, we didn't get tight to people and gave them time and space. But credit to North Ferriby, they stuck to their work.
"I'm here to do a job. I've worked hard at it, had a couple of great cup runs but the league form hasn't been exactly where we need it to be. There's been a lot of changes, and we need to keep pushing that on for Wrexham."
North Ferriby winger Jason St Juste opted to miss St Kitts and Nevis's 2018 World Cup qualifier against the Turks and Caicos Islands so he could feature at Wembley, and was named Man of the Match for his impressive performance before struggling with cramp late on in the fixture.