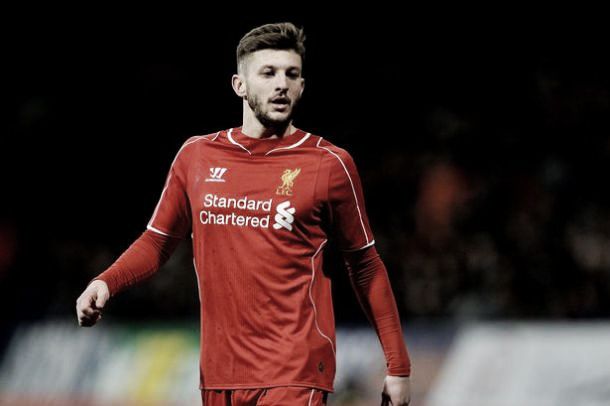 Despite admitting that his performances have not been reminiscent of his £24 million price tag, England international and Liverpool midfielder Adam Lallana believes that he can finish the season with an FA Cup triumph.
Whereas, his involvement in this weekend's FA Cup semi-final at Wembley against Aston Villa is under question, due to his continued recovery from a groin injury sustained in March in Liverpool's 2-1 loss against Manchester United. It's yet another injury which has troubled his debut season in the red half of Merseyside, he also missed the majority of pre-season due to knee ligament damage.
Lallana is clearly disappointed with his debut season as a Liverpool player, "It's not gone great," he stated.
"It started off with injury and I've had another over the last few weeks with a few more in between.
"It's been quite frustrating if I'm being honest and I haven't been out on the pitch as much as I'd have liked.
"Getting injured and missing pre-season I feel played a big part in my recurring injuries. It's a very important part for a footballer to get the basis of the fitness in.
"But I want to be fully fit for the run-in, we've still got an outside chance of making the top four, and that's something I want to be a part of. And obviously the last game of the season is the FA Cup final.
"I'm looking to come back in next season, get a good basis in with my fitness and kick on from there."
On the other hand, Lallana can help his side cap off a disappointing season for both himself and his side with Champions League qualification and an FA Cup triumph. With City faltering in the league and Arsenal the only other strong side remaining in the FA Cup, both remain realistic possibilities for Brendan Rodgers' side.
"We knew it wasn't going to be easy with the amount of new recruits that came in. But I think we have proved to everyone and ourselves that we are a good team," Lallana said to the theFA.com.
"We've put in some great performances over the second half of the season and we'll be looking to build on that over the next couple of years. It would be the icing on the cake to win on Sunday and get to the final.
"It's been exciting playing in the new formation, but I feel we can utilise a number of different formations which is always handy to have. The last couple of games we have reverted back to the old system, but it gives us the opportunity to change and switch back if that's what the manager wants to do."
Although, in theory they should win at Wembley weekend, but Aston Villa can prove to be tough Premier League opposition, looking reinvigorated recently after the appointment of new boss Tim Sherwood. Lallana is aware of the strengths that Sherwood's Villa side hold, but remains confident that he and his teammates can book a place in the FA Cup Final.
"They've picked up and had a great result at Tottenham last week. That shows they are definitely in good form," he said,
"[Christian] Benteke is finding the net again so we have to keep our eye on him, but we'll be concentrating on ourselves and playing well. We have enough in our team to win.
"We said at the beginning of the season our aim was to get to the final of a competition and win some silverware. We are still in that position at the moment. Liverpool is known for winning lots of silverware and I think it's important that we continue that this year."
Liverpool face Aston Villa in the FA Cup Semi-finals at Wembley on Sunday at 3pm GMT.