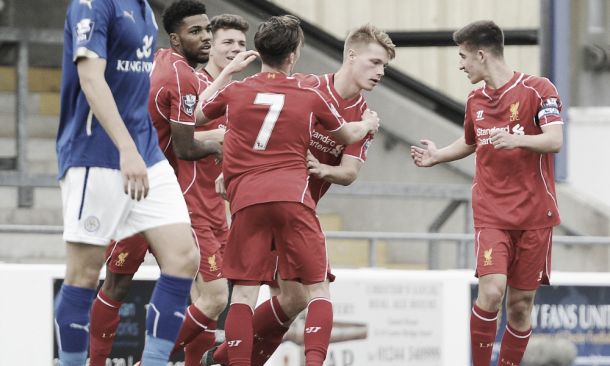 Liverpool U21s manager Michael Beale insisted that he would happily swap any possible league triumph for a first-team debut for one of his young side.
Beale saw his young Reds side come back from a first-half deficit to Leicester as a powerful header from centre-back Dan Cleary and captain Cameron Brannagan's strike from range reversed the scores to move them top of the table.
Manchester United later reclaimed top spot thanks to a slim 1-0 win over Southampton, but Beale insisted that whilst his side remains in good stead to compete for the league title with two games to go - he would rather see the development of his players in the Liverpool ranks.
"It's more important that we managed to solve a problem at half-time where they were bigger and stronger and their style of play was really affecting us," Beale said after the 2-1 win at Chester's Deva Stadium.
"We've got to not get carried away with the league here, these are development games and I'd be underselling the players if I just focused so much on the results because I haven't been all season.
"That was the chat at half-time really: 'You seem too focused on the result and tense and I just want you to play the way we work every day' and that's a big lesson for them today.
"For us it is about development. If you could give me one more debut between now and the end of the season or winning this league, I'd take the debut every time because that's what this team's about.
"Every game we play, yes we've got a game plan to win and do well but that cannot override us getting a player in the first team. That's ultimately what this team's about."
Goalkeeper Danny Ward prodcued a superb individual performance to help keep Beale's men in the game when they already trailed in the first 45 minutes. The manager showered the youngster, who has made a number of appearances on the first-team substitutes bench, with praise despite refusing to get carried away with his side's form.
"I was just pleased with the second half, I thought that was more like the team which you would want to play against Chelsea and the sort of style you want," added Beale.
"Danny Ward hasn't been in action recently and he came in and make three or four excellent saves first half. We've not had too many games where we've had to rely on our goalkeeper and it was a time for him to come in and showcase himself today.
"We've had other games where it was all about the wide players or the midfielders and today was about Danny Ward a little bit so I'm really pleased for him."
But though the Reds eventually emerged victorious, Beale was far from impressed with what he saw before the break - as his side allowed visitors Leicester to dominate much of the game.
He said: "We didn't change shape at half-time, I think we changed mentality.
"We weren't happy with the way the game was going, we didn't feel that that's going to be enough to get a player out of this group and into the first team. They were underselling themselves, we said, and they had to be brave and play in the style we wanted, even if it meant we lost this game.
"We had to show a different style in the second half and we did. I thought players came into the games a lot better.
"I thought Sheyi (Ojo) and Ryan Kent as the game went on got more space, the same with Harry Wilson before he came off, and Jerome (Sinclair) who hasn't played in a long time coming in and starting,"
The Reds now have only two games left of their campaign, with Norwich at Anfield their final fixture of the season. But before they call curtains on an enthralling campaign, Liverpool travel to Aldershot to take on Chelsea on Thursday night - a side who recently won the FA Youth Cup, beating Manchester City over two-legs.
"We had a really good night at Chelsea last year, there was 5,000 there and it was a particularly good game and a night we're proud of, with Jack Dunn scoring the winner," Beale said.
"They are fighting for the league themselves, they're U19 European champions, holders of the U21 league, FA Youth Cup winners, them boys have won everything.
"It's another test and I've got a lot of friends in that camp but it won't make any difference on Thursday."