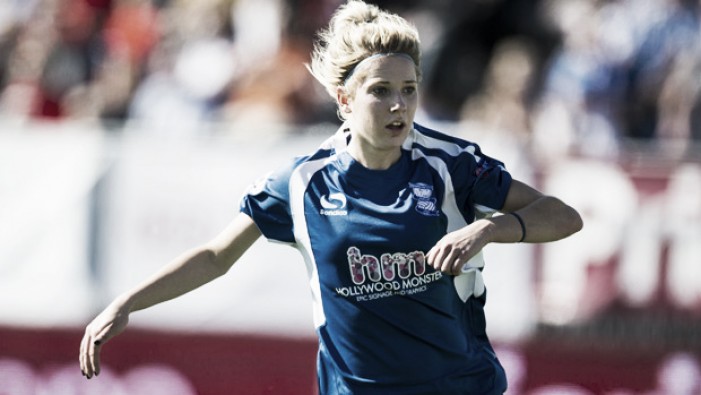 Birmingham City Ladies striker Kirsty Linnett has signed a new deal with the club, details of which remain undisclosed. The former Arsenal player and England youth international is a real fan favourite in the Midlands.
Recovery from injury setback to Champions League star
She signed for local club Leicester City at the age of ten, where she remained for six years. She was snapped up by Arsenal at the age of 16, after which she suffered two unfortunate Anterior Cruciate Ligament tears in quick succession, which kept her out of action for two years. Linnett joined the Blues in December 2012, and enjoyed her first taste of UEFA Women's Champions League action, helping the club reach the semifinals of the competition, notching up four goals and an assist. She scored four goals in seven matches in the FA WSL Continental Tyres Cup in the 2015 season, including a stunning finish against former club Arsenal.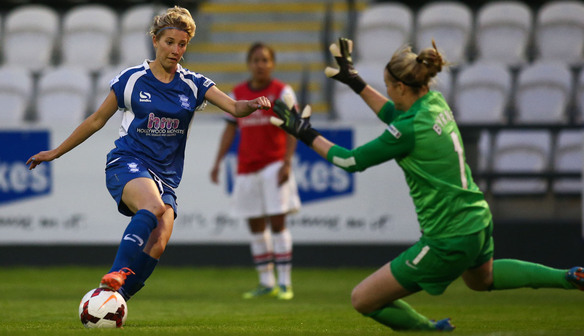 The Leicester-born forward has represented England at several age groups, including the U15, U17, U19 and U23, scoring two goals in 12 matches for the national team in UEFA competitions.
Blues manager David Parker said he was delighted that "fan favourite" Linnett had signed a new contract and decided to stay on at the club. He said she was a "prestigious talent" who was "capable of great things, having already played three seaons in the FAWSL 1 at such a young age". He believes the club is a "great platform for her to make great strides in the game"
Parker believes Linnett has what it takes to "get the crowds out of their seats with her trademark skills" and remains certain that Blues fans will be looking forward to watch the number 9 in front of goal next season.
Linnett joins Alice Peplow, Sophie Baggaley, Mel Lawley, Emily Westwood, Charlie Wellings, Aoife Mannion, Alex Windell and Freda Ayisi in renewing their contract with the midlands club. The club have also confirmed the signings of ex-Liverpool fullback Corina Schroder and 19-year-old striker Coral Haines, following the departure of England international Karen Carney and goalkeeper Becky Spencer to Chelsea.