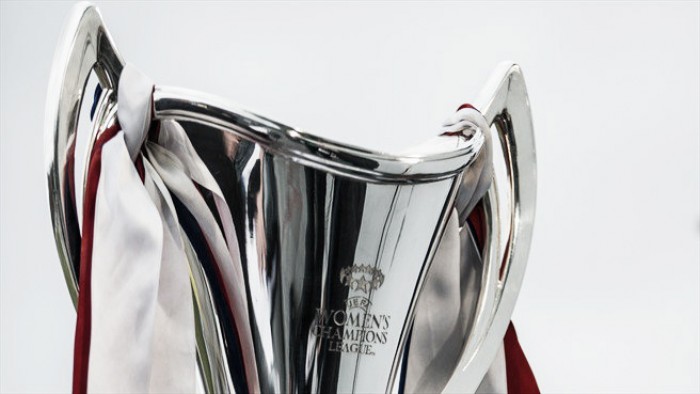 The draw of 2016/17 Uefa Women's Champions League qualifying round was held on 24 June in Nyon, Switzerland. The 36 teams of different nations were allocated into four seeding positions based on their UEFA club coefficients at the beginning of the season. They were drawn into nine groups of four containing one team from each of the four seeding positions.
First, the nine teams which were pre-selected as hosts, Apollon Limassol (Cyprus), Osijek (Croatia), Cardiff Met Ladies (Wales), Medyk Konin (Poland), Pomurje (Slovenia), SFK 2000 (Bosnia) Wexford Youths (Republic of Ireland), PK-35 Vantaa (Finland) and Twente (Netherlands) were drawn from their own designated pot and allocated to their respective group as per their seeding positions. The remaining 27 teams were drawn from their respective pot which were allocated according to their seeding positions.
In each group, teams play against each other in a round-robin mini-tournament at the pre-selected hosts. The nine group winners advance to the round of 32 to join the 23 teams which qualified directly.
KF Hajvalia will be the first women's Kosovar team to compete in a UEFA competition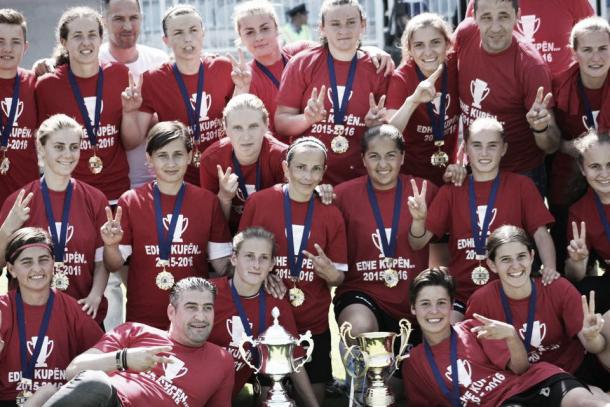 The Federation of Kosovo is a member of UEFA and FIFA since May 2016 and for the first time, will have a club to play in the UWCL. The KF Hajvalia, team from the city of Pristina was the winner of the country's national championship in season 2015/16 and will make his debut in the qualifying round. The Kosovar team is in Group 1 along with Apollon Limassol, PAOK (Greece) and KÍ Klaksvík (Faroe Islands).
The qualifying groups are these:
Group 1: Apollon (Cyprus) *, PAOK (Greece), KÍ Klaksvík (Faroe Islands), Hajvalia (Kosovo)
Group 2: Standard Liege (Belgium), Osijek (Croatia) *, Minsk (Belarus), Dragon 2014 (Republic of Macedonia)
Group 3: ŽFK Spartak (Serbia), NSA Sofia (Bulgaria), Breidablik (Iceland), Cardiff Met (Wales) *
Group 4: Olimpia Cluj (Romania), Medyk Konin (Poland) *, Pärnu (Estonia), Breznica Pljevija (Montenegro)
Group 5: FC Zürich (Switzerland), Pomurje (Slovenia) *, Slovan Bratislava (Slovakia), KS Vllaznia (Albania)
Group 6: SFK 2000 Sarajevo (Bosnia and Herzegovina) * WFC Kharkiv (Ukraine), Ramat HaSharon (Israel), Rīgas FS (Latvia)
Group 7: BIIK-Kazygurt (Kazakhstan), Gintra Universitetas (Lithuania), Wexford Youths (Republic of Ireland) *, Criuleni (Moldavia)
Group 8: PK-35 Vantaa (Finland) *, Avaldsnes (Norway), CF Benfica (Portugal), Newry City (Northern Ireland)
Group 9: FC Twente (Netherlands) * Konak Belediyespor (Tuquia), Ferencvaros (Hungary), Hibernians (Malta)
With (*) the hosts teams.
Competition with a great number of rookies teams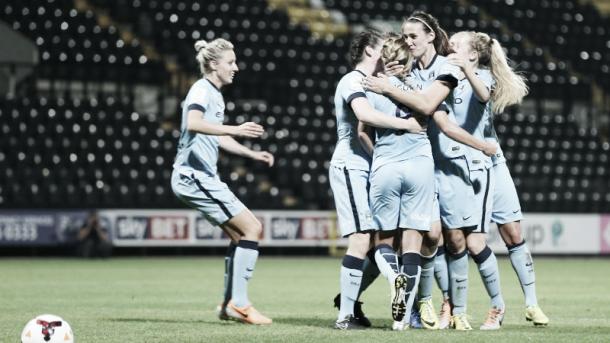 The UWCL will feature nine teams vying for the first time the tournament. Are they Eskilstuna United, Manchester City, Sturm Graz, Avaldsnes, Ramat HaSharon, Newry City, Breznica Pljevija, Criuleni and Hajvalia. The Faroese champions KÍ Klaksvík maintain their unique record of entering all 16 seasons of UEFA women's competition.
Defending champions, Lyon and Wolfsburg, the runner up in last season, will only start the competition in the round of 32. The greatest champions of the tournament, the FFC Frankfurt with 4 titles not compete in the tournament this season.
The qualifying phase will begin on August 23 and will end on the 28th of that month the Round of 32 draw will be in September.